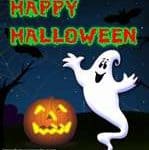 No tricks here, just lots of savings for creatures of all ages. Halloween fun can be frightfully expensive. However, bargain hunters can scare up lots of monster savings around town, when they haunt the restaurants and businesses offering spooky specials.
Plus, on Halloween, frugal families and their "little monsters" can find treats all over town. (The best treat of all for parents? Saving money!) Please note any age restrictions and/or costume requirements, before making plans. Keep checking back for more deals, as they're announced through All Hallows Eve.
No bones about it, these Halloween deals really scare up the savings for characters of all kinds!
The deals are valid Sunday, October 31 (unless noted otherwise) at participating locations, while supplies last. Limit one offer per person.
Feed the "little monsters" at Applebee's on Halloween. Kids (12 & under) eat FREE on October 31 — up to two kids per adult entrée purchased. You must mention the offer to the server, prior to ordering.
Children choose from a variety of entrées from the Applebee's Kids Menu, including their choice of a side dish and juice, milk or chocolate milk. The offer is for dine-in only.
It's all treats at The Cheesecake Factory. From October 25 to 29, spend $40 or more on a pick-up order through the chain's website or delivery order via DoorDash and get a FREE slice of Reese's Peanut Butter Chocolate Cake Cheesecake or Hershey's Chocolate Bar Cheesecake.
Be sure to add the slice to your cart and use promo code TREATME, before submitting your order.
Find lots of spirits at Chili's! Sip on the restaurant's Halloween-themed Spider Bite 'Rita for just $5 — all month long.
Enjoy monster savings at Chipotle Mexican Grill on Halloween night. The popular Mexican eatery is bringing back its popular Boorito giveaway for the 21st year by scaring up $5 entrées for all on October 31 — from 5 p.m. to closing.
You could scare up a monster win on Halloween, thanks to this offer from the Colorado Lottery. Get a FREE Colorado Lotto+ ticket ($2 value), when you purchase a Powerball ticket valued at $10 (or more) on a single ticket on October 31.
Downtown Aquarium offers waves of fun with its Halloween Fest. Kids in costume get 1/2 price admission with the purchase of an adult ticket — from October 29 to 31. Children 2 and under get in FREE. Costume required.
Get horrified at Harkins Theatres! Experience A Nightmare on Elm Street on the big screen again for just $5 on October 29 and 30. The iconic horror film plays twice each day at the chain's location — showtimes vary.
Families are invited to bring their kids to Central Park's HashTAG for a treat — no trick! Costumed kids on October 30 and 31 will get a FREE Spooky Pancake. Plus, families will be entered into a drawing to win a complimentary family breakfast. The restaurant is located at 10155 E. 29th Dr. in Denver. Costume required.
Kids will flip for this giveaway at IHOP. On October 29, kids (12 & under) can sink their "fangs" into a Scary Face pancake for FREE — from 7 a.m. to 10 p.m.
Cookie monsters (actually, all monsters, witches and ghosts) will want to head to Insomnia Cookies for a sweet treat. Show up to the cookie shop in your Halloween costume for a FREE Classic Cookie — on October 30 and 31. Costume required.
On Halloween, it's treats for all at Krispy Kreme. Costumed customers of any age get a FREE doughnut of their choice on October 31. Costume required.
Plus, the shop is offering a "Saturday Scary Sharies" dozen for just $1 with the purchase of any dozen on October 30. The sweet offer is available in-store or online with promo code SCARY.
LaMar's Donuts & Coffee is serving one of the most popular treats of all on Halloween — donuts! Any customer in costume gets a FREE donut. Specialty donuts are not included. (If you choose a specialty donut, there will be an upcharge.) Costume required. There are 10 shops are in Colorado. Costume required.
Parents will want to stop at McAlister's Deli over the Halloween weekend. From October 29 to 31, enjoy two (2) FREE Kids Meals with the purchase of an adult entrée — use promo code HALLOWEEN21. There are only two locations in Colorado — Grand Junction and Pueblo.
Every kids loves McDonald's, no matter the holiday. Get Halloween Treat Pack for $1 with 12 coupons for FREE treats for kids — available through October 31.
Slice into the pizza chain's Jack-O'-Lantern Pizza (a large, thin-crust pepperoni pizza) for $11. Price may vary by location. The specialty pizza is available through October 31. The pizza arrives unsliced, so you'll need to do your own carving first — before digging into the zesty "pumpkin."
Heat up the oven and carve out a fun Halloween meal, thanks to Papa Murphy's. Slice into the take-n-bake pizza chain's Jack-O pizza for just $10. The specialty pizza is available through October 31.
Spice up your Halloween at Qdoba Mexican Eats. Qdoba Rewards members enjoy a buy-one-get-one FREE entrée on October 31. If you're not a member, you can sign-up anytime between now and even on Halloween to get the tasty deal.
If you're throwing a Halloween party, consider a spread from Red Robin for all of the princesses, monsters and more. Save $25 on a catering order of $100 or more with promo code HALLOWEEN25 — through October 31.
Romano's Macaroni Grill is thanking first responders in a big, delicious way. First responders get FREE Mom's Ricotta Meatballs and Spaghetti entrée — all month long in October.
Once again, Sawaya Law Firm is making the roads safer over the Halloween weekend. Too many spirits celebrating Halloween? Don't drink & drive. Get FREE cab, UBER or Lyft ride home — up to $35, from October 29 to 31.
Show your love for Snarf's Sandwiches on Halloween, Dress up as "Sam, Chip or Bev" from the sub shop's logo and get a 7″ non-specialty sandwich for FREE — dine-in only. Costume required.
Halloween is the time to be corny and silly with friends and family! And you can make it "cornier" at the Sonic Drive-In with its monster special on October 31 — get a corn dog for just 50¢, all day. There is no limit, so everyone can bite into a dog for just a few bucks.
Families will enjoy the view at ViewHouse on Halloween. Mini monsters (12 & under) dressed in costume enjoy its spooktacular brunch for FREE on October 31. The offer is valid from 10 a.m. to 2 p.m. at all four Colorado locations — Centennial, Colorado Springs, Denver and Littleton. Costume required.
Chill out at Wendy's for Halloween. Get the chain's Halloween BOO! Book for $1 with 5 coupons — each good for a FREE Jr. Frosty — available through October 31.
Want to scare up more savings?
Check out our "Halloween Happenings On The Cheap for 2021" — click here.
Stumped for what to wear this year?
If you still need a costume, click here for 100+ cheap and easy costumes.
Hungry for more food deals?
Thursday, August 11, 2022
Friday, August 12, 2022
Saturday, August 13, 2022
Sunday, August 14, 2022
Monday, August 15, 2022
Tuesday, August 16, 2022
Wednesday, August 17, 2022
Thursday, August 18, 2022
Friday, August 19, 2022
Saturday, August 20, 2022