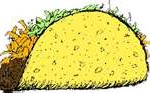 Olé! For many, it doesn't get much better than Taco Night or Taco Tuesdays. Tacos are popular for so many reasons, but mainly because they're quick, easy and, most of all, delicious. You can customize it to your liking, whether you enjoy extra cheese or prefer yours with a little extra spice. Plus, tacos please every taste at the table, including the pickiest eaters of all — kids! And Del Taco is making it less expensive to enjoy tacos twice a week.
The fast-food Mexican restaurant has not just one, but two Taco Nights every week at participating locations — from 3 p.m. to 11 p.m. each night.
Note: Price, participation and hours may vary by location.
Every Tuesday, get three (3) Snack Tacos for $1.69. That makes each taco just 57¢! (The tacos are regularly 89¢ each.)
Every Thursday, get three (3) Grilled Chicken Tacos for $2.69. That makes each taco just 90¢! (The tacos are regularly $1.59 each.)
With no limit, family and friends can definitely enjoy a frugal fiesta. Plus, the chain has a 20 Under $2 value menu.
If you really love Del Taco, join its loyalty club Del Yeah! Rewards for more savings and perks. Plus, get two FREE Del Tacos just for signing up.
There are 21 locations in Colorado.
Hungry for more food deals?
Sunday, June 4, 2023
Monday, June 5, 2023
Tuesday, June 6, 2023
Wednesday, June 7, 2023
Thursday, June 8, 2023
Friday, June 9, 2023
Saturday, June 10, 2023