Bargain hunters, this is for you. Here's a long list of thrift and consignment stores in Denver, Boulder and beyond. There's a fine line between a thrift store and a vintage store and we take the heat if you think we inaccurately categorized a specific retailer. Also, this not a comprehensive list. There are certainly others out there. Please feel free to email info@milehighonthecheap.com and let us know what we've missed. We'll add them as time permits. Also, please include the URL of the store's website. Make sure to subscribe to Mile High on the Cheap so you don't miss any deals.
Thrift Stores
A+ Thrift Store
15355 E. Colfax Ave., Aurora 80011
720-858-7935
Proceeds benefit Arising Hope
arc Thrift Stores
There are 24 arc locations along the Colorado Front Range
ARES Thrift Store
2536 Spruce St., Boulder
303-444-8088
Proceeds benefit local charities
Assistance League Denver Thrift Shop
6265 E. Evans Ave., Ste 8, Denver 80222
303-322-5205
Proceeds fund numerous programs.
Christian Action Guild Thrift Shop
1401 Ford St., Golden, 80401
303-279-5674
Proceeds meet the needs of CAG clients
Global Thrift
9110 W. 88th Ave., Westminster, 80005
303-993-6831
Goodwill Denver
Goodwill has 24 stores in metro Denver, 5 in Northern Colorado, 3 Outlet World locations and the DéjàBlue Boutique
Habitat For Humanity ReStore
There are 5 locations in the area: Aurora, Denver, Highlands Ranch, Littleton and Wheat Ridge. Appliances, furniture, paint, fixtures, flooring, building materials, cabinets, rugs and more home improvement items
Not Your Typical Thrift & Consignment
12028 E. Mississippi Ave., Unit GH, Aurora 80012
720-235-8339
Second hand and brand new everyday items, clothes, tools, dishes, toys, furniture & jewelry.
Peak Thrift
4890 Pecos St., Denver 80221
720-484-5689
Proceeds benefit Urban Peak
Sister Carmen Thrift Store
701 W. Baseline Rd., Lafayette
303-665-4342 ext. 184
Proceeds benefit Sister Carmen Community Center programs
The Good Couch
North Location:
West 115th Ave. #5, Northglenn
303-246-2174
South Location:
2045 S. Valentia St., Denver 80231
303-437-7150
Specializes in the refurbishment and sale of quality used couches, loveseats, sectionals and sets. Two locations. You find which location serves your neighborhood, check out the inventory, pick your couch (prices range usually from $200 to $400) and they deliver it to you for FREE.
Treasure Trunk Community Thrift Store
5892 W. 44th Ave., Wheat Ridge
303-421-9205
Proceeds benefit Family Tree programs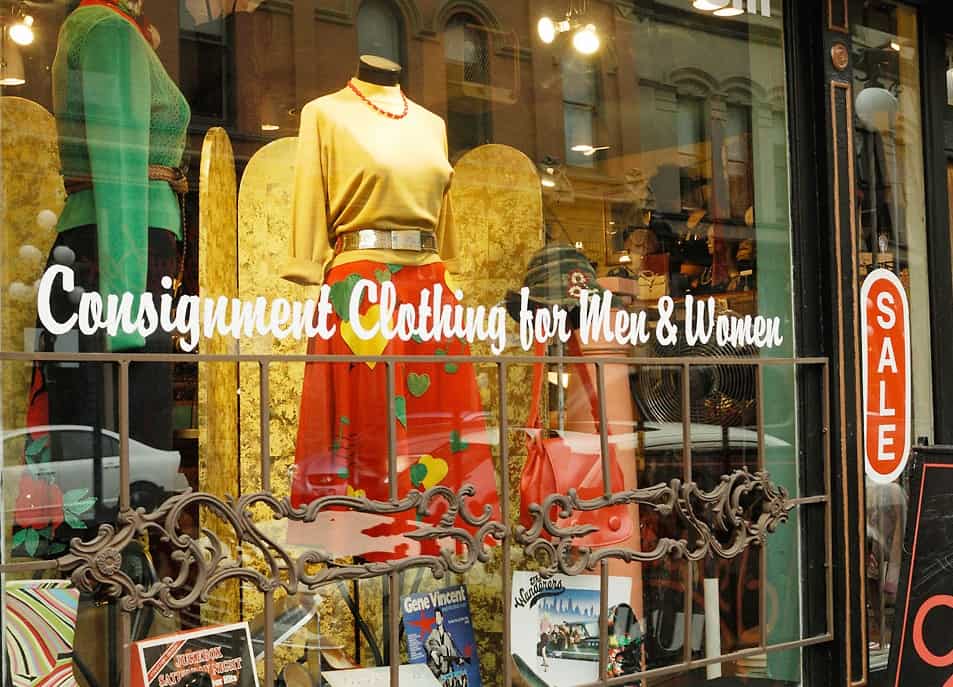 Consignment Stores
Women's & Men's Clothing
Athena's Closet
5305 E. Colfax Ave. #B, Denver, 80220
303-997-4336
Women's clothing (sizes 14 and larger)
Babareeba!
3629 W. 32nd Ave., Denver, 80211
303-458-5712
Women's clothing
Birds & Belles Boutique
1113 S. Pearl St., Denver, 80210
720-296-2047
Women's clothing
BOSS Vintage
10 S. Broadway, Denver, 80209
303-871-0373
Clothing from the turn of the last century plus lots denim
Buffalo Exchange
51 Broadway, Denver, 80203
303-866-0165
Trendy vintage and used clothing and accessories for men and women
Buffalo Exchange Denver Annex
226 E. 13th Ave., Denver 80203
303-866-0164
Clothing for women and men
Clotheshorse Consignment Boutique
4232 Tennyson St., Denver, 80212
303-477-7800
Recycled new women's clothing, designer samples and boutique overstocks, gently-used items
Clothes Mentor
8601 W. Cross Dr., Littleton, 80123
720-922-3588
Women's clothing, size include petites and maternity
Clothes Mentor – Park Meadows
8872 E. Maximus Dr., Lone Tree, 80124
303-649-1369
Women's clothing including petites and maternity
Common Threads
2707 Spruce St., Boulder, 80302
303-449-5431
High-end designers of women's clothes
Common Threads
1575 S. Pearl St., Denver, 80210
720-379-4598
High-end designer labels
Cotton Kloset Consignment
16524 Keystone Blvd., Unit E, Parker, 80134
303-805-2551
Sells plus size clothing and accessories
Crave Consignment Shop
1193 Bergen Parkway #M, Evergreen, 80439
303-670-0290
New and used clothes, purses, jewelry, shoes and other accessories
Crossroads
1545 Pearl St., Boulder, 80302
720-565-5961
Women's and men's apparel, accessories and footwear
Dapper Men's Apparel
3045 S. Broadway, Englewood, 80113
303-761-0560
Men's clothing
Door No. 3
2060 Youngfield St., Lakewood, 80215
720-639-6568
Women's and men's clothing, antiques, furniture, and decor
Fabulous Finds Upscale Consignment
600 S. Airport Rd., Longmont, 80503
(in Meadowview Village Shopping Center)
720-340-4152
Women's clothing, furniture and home décor
Also, Fabulous Finds Fashion Outlet (benefiting A Woman's Work)
6565 Gunpark Dr. (next to the Gunbarrel King Soopers), Boulder, 720-340-4152
Fate
1610 E. Girard Pl. Suite K, Cherry Hills Village, 80113
NW corner of Hampden & Gilpin in "The Marks"
303-843-9956
Women's clothing
Found Underground
901 Main St., Louisville
303-666-6900
Women's clothing and accessories, handbags, scarves, shoes (trendy, vintage)
Goldmine Vintage
3533 Tejon St., Denver
720-328-8561
Women's and men's vintage and retro clothing, footwear, accessories. Also, vinyl records.
Inner Me Consignment Boutique
3041 S. Broadway, Englewood
720-542-9526
Fine women's clothing, shoes, accessories and home decor
Laura Christine
5501 S. Broadway #185B, Littleton, 80120
303-795-3085
Plus size women's clothing
Lifestyle Consignments
Sherman Village Shopping Center
1225 Ken Pratt Blvd., Longmont 80501
303-485-2617
Women's fashions and accessories
Mercer Place
1388 S. Broadway, Denver, 80210
303-765-4776
Women, men and children's clothing
My Best Friend's Closet
4 locations: Southlands, Northfield Stapleton, Westminster & Fort Collins
Women's clothing and shoes.
Plato's Closet
2510 Arapahoe Ave., Boulder 80301
303-444-2274
Gently used brand-name clothing, footwear and accessories for teen and 20s tastes.
Plum Consignment
2373 Central Park Blvd. #106, Denver, 80238
303-322-7586
Women's clothing
Queen Esther's Closet
6500 W. 120th Ave., Broomfield, 80020
720-328-1959
Upscale boutique with designer women's clothing, shoes and accessories.
Rags Consignment
2027 W. 32nd Ave., Denver, 80211
303-953-0816
Women's clothing and accessories
Regal Vintage
1866 S Broadway, Denver, 80210
303-830-0216
Vintage clothing, accessories and footwear for men, women and children
Renewed Treasures
6512 S. Broadway, Littleton, 80121
720-446-1877
Women's, men's and children's clothing, furniture. Proceeds benefit Love Inc.
Rockin' Robin's Retro & Resale
233 Main St., Longmont, 80501
303-652-4144
Vintage, women's clothing, men's clothing
Sandy's Closet
4990 Leetsdale Drive, Denver, 80246
720-336-9481
Nearly new clothing and accessories for women, men, and kids. Proceeds benefit Keshet of the Rockies.
Sassy Seconds
8250 W. Coal Mine Ave., Ste. 8, Littleton, 80128
303-972-7900
Women's clothing, and accessories
Second Love
3440 W. 32nd Ave., Denver, 80211
720-398-8843
Women's clothing
She She's Corner
7562 S. University Blvd., Centennial, 80122
303-779-2550
Women's clothes, furniture and home accessories
Shop Girl
Cottonwood Plaza, 7960 Niwot Rd.
Niwot, 80503
303-652-0439
Women's high-end fashions, contemporary and vintage,  jewels, shoes and more
The Avenue Consignment Boutique
7777 W. 38th Ave., Wheat Ridge, 80033
303-484-9425
Women's clothing, some plus sizes
The City Consignment
7475 E. Arapahoe Rd., Ste. 10, Centennial, 80113
303-741-8902
Women's clothing
The Trunk Consignment
995 Bridge St., Brighton, 80601
720-383-8482
Women's clothing
Threads Consignment
5560 W. 88th Ave., Westminster, 80031
303-469-3100
Women's clothing
Threads Consignment
545 West South Boulder Rd., Ste. 150, Lafayette, 80026
720-833-7000
Women's clothing
Turn Style Consignment
5066 S Wadsworth Blvd., Ste. 115, Littleton, 80123
720-245-2310
Women's, men's and kid's brand-name apparel, home furnishings
Treasures Upscale Consignment
2770 Arapahoe Rd., #110 and #118
Lafayette
720-890-0909
Women's petite to plus sizes, plus home furnishings
Turn Style Consignment
151 W. Mineral Ave. #100A, Littleton, 80120
720-557-8084
Women's, men's and kid's brand-name clothing and designer accessories
Your Best Friends Closet
2910 E. 6th Ave., Denver, 80206
303-333-7467
Women's clothing and accessories
Children's & Teens Clothing & Gear
A Wee Bit Worn
17020 E Quincy Ave., Aurora, 80015
720-870-1118
Children's clothing, gear, toys
Back On The Rack
600 S. Holly St. #104, Denver 80246
303-335-0191
Children's clothing, shoes and gear.
Bumps & Bundles
2600 East St., Unit A, Golden, 80401
303-279-9224
Children's clothes, maternity clothes, equipment, toys and accessories
Childish Things Consignment
3183 Walnut St., Boulder, CO 80301
303-442-2703
Children's clothes, books, maternity clothes and baby supplies
Cotton Kids Consignment
10920 S. Parker Rd. Ste B-5, Parker, 80134
303-840-9901
Children's clothes, shoes, toys, books, maternity, strollers
Kid to Kid Arvada
7310 W 52nd Avenue, Arvada, 80002
303-422-1000
Children's clothes, toys, entertainment and gear
Kid to Kid Aurora
15035 East Mississippi, Aurora, 80012
303-752-2757
Children's clothes, toys, entertainment and gear
Little Britches
26437 Conifer Rd., Conifer, 80433
303-838-8360
Gently used children's clothing (size newborn to 16), toys, accessories and maternity
Little Tykes Trading Post
15250 E. Hampden Ave., Aurora, 80014
720-870-7191
Baby gear & equipment, clothes (sizes 0-10), shoes, toys and furniture
Plato's Closet
Multiple locations across the metro area & Colorado
Secondhand clothing for teens and young adults
Second Hand Kids
420 E. 120th Ave. #B10, Northglenn, 80233
303-255-1944
Children's clothing up to size 10/12, gear, toys and books
trendyXchange
2353 S. Havana St., Aurora, 80014
720-748-9100
Clothing for teens and young adults.
Furniture & Home

Affordable Consigned Furnishings
1600 South Abilene St., Aurora, 80012
303-693-7077
Residential and office furniture, rugs, lamps
Amazing Garage Sale
4919 N. Broadway, Boulder, 80305
303-447-0417
Vintage furniture and accessories (much mid-century)
The Blue Chair
3427 S. Broadway, Englewood, 80113
303-761-1408
Home decor and furniture
Celine Repeats
17914 Cottonwood Dr., Parker, 80134
303-766-7467
Furniture
Cherry Knolls Consignment
4231 S. Buckley Rd., Aurora, 80013
720-870-1018
Furniture, accessories and decor
Clutter Consignment
2500 30th St., Boulder, 80301
303-386-3423
Furniture and home decor ranging from vintage to contemporary
Colorado Furniture Consignments
1193 Bergen Pkwy., Ste. O/P/N, Evergreen, 80439
303-679-8000
Gently-used furniture, home decor, lamps, wall art and accessories
Design Repeats
8200 South Colorado Blvd., Centennial, 80122
303-670-2900
Furniture and home accessories
Estate Alchemy
2966 Valmont Rd., Boulder 80301
303-598-6903
Second-hand furniture and accessories; estate liquidation services
Greenwood Consignment Gallery & Thrift Shop
3600 Arapahoe Ave., Boulder 80303
303-245-0800
Not-for-profit consignment gallery upstairs for furniture, home décor and jewelry; downstairs thrift shop for clothing, sporting goods, household items. Both support Greenwood Wildlife Rehabilitation Center
Joy's Consigned Furnishings
5030 E. Hampden Ave., Denver, 80222
303-757-7269
Furniture, art and accessories–for about half of original retail pricing
La Cache
400 Downing St., Denver, 80218
303-871-9605
Antiques, sterling, crystal, china, art, fine linens, small rugs, jewelry and furniture.
Lifestyle Consignments
1225 Ken Pratt Blvd., Longmont, 80501
303-485-2617
Furniture, home decor and women's clothing
Lush Life Consigned Furnishings
1745 S. Broadway, Denver, 80210
303-733-1009
Furniture and home decor
re | for your home
2845 Walnut, Denver, 80205
720-398-6200
Home decor and furniture
Tables to Teacups
455 Weaver Park Rd. #600 (off Alpine and Third), Longmont
303-495-7270
Furniture, decorative items and home accessories.
Treasures Upscale Consignment
2770 Arapahoe Rd.,  Ste. 110 & 118, Lafayette
720-890-0909
Vintage and retro home furnishings