We've had many debates with fellow bargain hunters about where to find the best grocery deals in town. For many, Safeway is at the top of the list. To be fair, we know many readers consider Safeway to be "too expensive." However, we have found lots of savings at Safeway (especially since being acquired by Albertsons), so we've created a guide for navigating its aisles for the best deals and discounts. We have decades of experience as both Safeway customers and bargain hunters, so, hopefully, we can offer some "valuable" insight. (We've even been known to save upwards of 75% on our grocery bill.)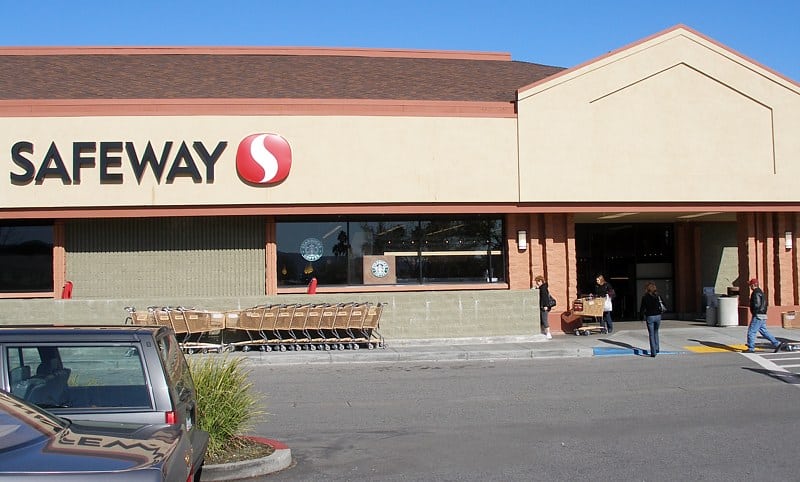 It's important to note that Safeway is the sole grocery chain to double coupons in Colorado. (After years of offering the bonus savings, King Soopers stopped doubling coupons in August 2016.) It's one of the best strategies for racking up the savings at checkout. As a result, the policy offers a significant money-saving advantage to shopping at Safeway over other chains — more details below.
Store hours: Safeway is open 7 days a week. Most locations are open daily from 5 a.m. to midnight. (There are no locations open 24 hours.) Safeway is typically closed just one day a year – Christmas Day. For locations, click here.
The low down: Safeway began operating in Colorado in 1932. Today, there are 102 locations in Colorado. Since being acquired by Albertsons in January 2015, its sales and promos have become a hybrid of both chains. Here in Colorado, most of the existing Albertsons locations were converted to Safeway in late 2016. (There are still 7 Albertsons locations in Colorado — Durango, Grand Junction, Colorado Springs and Pueblo. On March 1, the Albertsons locations in Fort Collins and Loveland will be converted to a Safeway.)
Loyalty program: The quickest way to get savings is to sign-up for its Safeway Club Card. Membership is FREE. The shopper loyalty program is the only way to get sale prices. In addition, it's the only way to earn fuel points to save money at the pump. As a member, you also have access to exclusive bonus offers, giveaways and/or discounts. Once you're registered, simply enter your phone number at checkout for all of the savings. Without it, you'll pay full price and miss out on lots of offers, so it's foolish not to join.
As an added incentive, the loyalty program also includes Just For U — a personalized program offering discounts on items you've previously purchased. Once you've established a shopping history, you will be able to download offers to your account specific to just you. (As an example, if you purchase bananas on a regular basis, you may see an offer for a lower price per pound — not available to the general public.) New offers are added weekly. Note: The offers are not automatically applied to your account, you must download them to your card.
From our experience, we've had several issues with redeeming Just For U offers. One of the biggest is simply that the discount is not given at checkout. Because checking out can be fast-paced, it takes an eagle-eye to catch errors. Smart shoppers should always double-check their receipt before leaving the store. Bring your smartphone or print-out of such offers to address any disputes over a discount. For the most part, the customer service desk will gladly resolve the discrepancy and give you a refund for the price difference.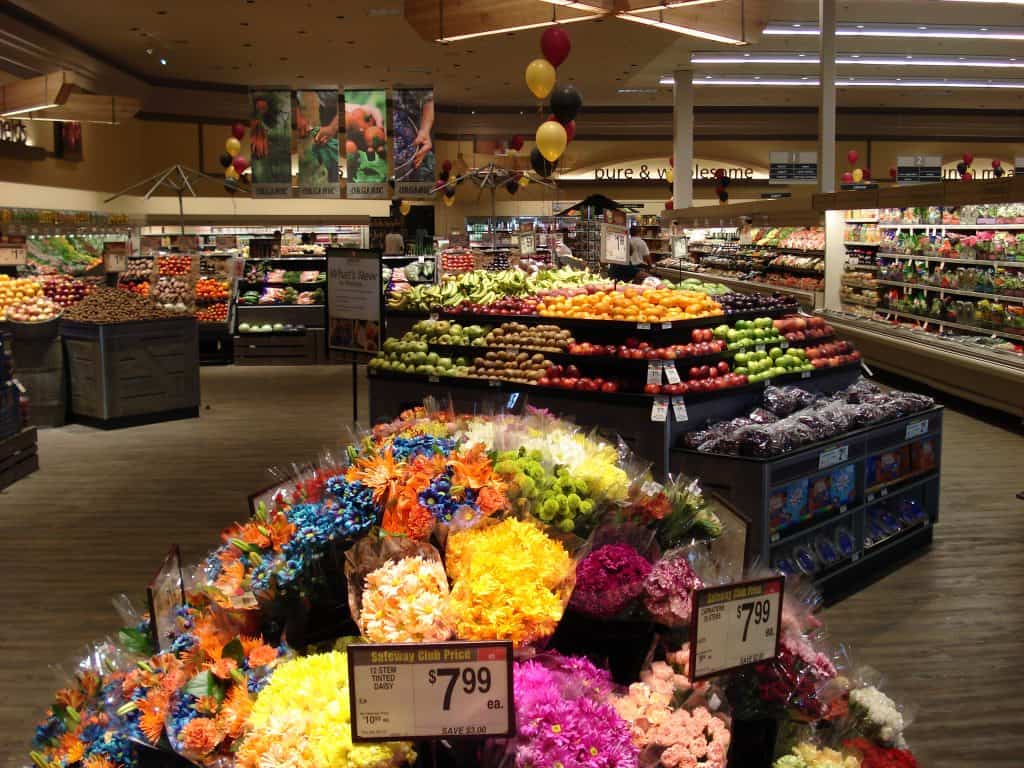 Clearance: Safeway has clearance items, also known as "Manager's Specials." It's usually a few shelves or racks dedicated to just items on clearance. (In some stores, they put the items in one or two grocery carts — usually at the store entrance to get your attention.) The location differs at each store, but, for the most part, it's located at the back of the store. Find where it's located at your store and make it a permanent stop on your shopping route. (If you can't find it at all, ask an employee for its location.)
On these shelves, you'll find discontinued items, damaged or opened products, "old" packaging and overstock. It's even better because you will always find discounted bakery items at really sweet prices – usually 50% off. Clearance flowers and produce can be found in the floral and product department, respectively.
As bargain hunters, we have no problem with damaged or opened packages, as long as the item inside is still intact. (However, severely dented cans are not recommended, especially if they're bulging or rusted.) The clearance at Safeway is usually "feast or famine" – overflowing with deals or nearly bare. That's why it's important to check it every time you shop because it changes every day.
You can also find clearance on regular aisle shelves. Close-out items are usually noted by a red tag. MHOTC Tip: You can use coupons on clearance items, making the savings truly remarkable. By doing so, you could easily save 75% or more on an item.
Freebies: Safeway does not offer any FREE items on a regular basis. The only option of getting a FREE item is by joining its Just For U loyalty shopper program. On occasion, they will offer a FREE item to select members — usually for a new product or flavor. Just For U is personalized, so the process of offering such coupons is not fully known. We know some customers who've never received a FREE item, while others get freebies every week or so. (The program's algorithms are based on shopping habits and money spent.)
Weekly ad: Found in Wednesday's edition of The Denver Post. (You can also access the ad online.) Not only can you review the sales prices for the week, find lots of store coupons to clip*, as well as other money-saving promos, in the circular. Sale prices typically run from Wednesday through Tuesday of the following week. (*You can also add store coupons digitally to your Safeway Club Card account.)
Rain checks: When a sale item is out-of-stock, don't waste your time running around from location to location on a "treasure hunt." Safeway will offer a rain check on any advertised item out-of-stock. Request a rain check at checkout or the customer service desk. Rainchecks expire 30 days from the date it's issued. Plus, you can only purchase up to 6 items per rain check — less, if noted. (Note: For special sales, typically $5 Fridays or 3-Day Weekend sales, they will not issue rain checks.)
Mobile app: For more convenience, Safeway has an app for customers, making saving money and time a little easier. In the app, you can download digital manufacturer and store coupons, create a shopping list, view the weekly ad, review Just For U offers, track fuel points, find store locations and more. For more information, click here.
Online coupons: Safeway does not offer printable online coupons. However, you can download digital coupons to your Safeway Club Card for use in-store. The available coupons are updated every week (usually on Wednesdays), so it's important to check and download new coupons often. As with paper coupons, digital coupons have expirations dates – keep track of all of the coupons downloaded to your account. You can also add store coupons onto your card rather than clipping them from the weekly print ad.
Bundle discounts: Thanks to Albertsons' acquisition, many of Safeway's sale are going the way of buy more, save more." Just about every week, the grocery chain offers additional savings, if you buy more of a particular product line. For example, if you buy 3 items, you will save another $1 off per item or overall bundle discount. If you do the math, the savings can be of great benefit to your bottom line.
Oftentimes, buying just one or two more items would be the same price you'd pay anyway without the bonus savings. (For those who say, "But I don't need 6 jars of pasta sauce." Share the extras with a friend or family member or ask them to chip in, so everyone can benefit from the savings. Better yet, create your own "mini-store" at home and store the bonus items for future use. It's well worth the space and time, when you don't have to pay full price down the road. Remember, you can use manufacturer coupons on top of bundle discounts for really big savings.
Manufacturer and store coupon policy: As we noted before, Safeway is the only major chain in the Denver metro area to double coupons. (Safeway does not have a specific digital coupon policy.) Here is the coupon policy:
Coupons will only be redeemed for the specific items included in customer's purchase transaction.
Paper coupons must be presented at the time of the purchase transaction. Photocopies of coupons will

not

be accepted.
Coupons are subject to advertised offer limitations, as well as all other limitations and restrictions on the coupon.
Coupons may

not

be applied against a FREE item received in any offer.
Manufacturer coupons that display another retailer's logo or name will

not

be accepted — unless such coupon is for a specific item with the same product identifiers as the product included in the customer's purchase transaction and is sold and available at the store.
Expired coupons will

not

be accepted.
Coupons that appear distorted, blurry or altered in any way will

not

be accepted.
Safeway reserves the right to refuse any coupons at its discretion.
To fully review the current coupon policy, click here.
Double coupons: Safeway is the only major grocery retailer to still double coupons in the Denver metro area. Manufacturer coupons are doubled up to $1. Unless noted on the coupon, any coupon under 50¢ will be doubled up to $1. Any coupon between 51¢ and 99¢ will have the remaining amount deducted for a total savings of $1. (For example, a 75¢ off coupon will have 25¢ added for the maximum savings.) Bargain hunters know that double coupons is the best way to save big at checkout. When you combine double coupons on top of sale prices and/or store coupons, the savings can be significant — sometimes upwards of 75% off to FREE.
Coupon stacking: You can stack coupons at Safeway, by using a manufacturer's coupon on top of a store coupon. You can also stack manufacturer's coupons (paper or digital) on top of sale prices for maximum savings. As we noted before, you can also use coupons on clearance items. Note: You cannot stack a paper manufacturer's coupon on top of a digital manufacturer coupon for the same item – just one or the other. If you do so, according to Safeway, the higher value coupon will be the only one applied.
Fuel points: Shoppers get revved up for discounts at the pump and, fortunately, Safeway offers fuel points. When you shop (and use your Safeway Club Card), earn one fuel point for every $1 spent. (Restrictions apply.) Plus, earn 2x fuel points on gift cards every day. For every 100 points, save 10¢ on a gallon of gas at Safeway Fuel Centers only – up to $1 (for 1,000 points.) Be sure to look for occasional bonus fuel point offers on gift cards and select products. For more information, click here.
Pricing Accuracy Guarantee: According the local Safeway Communications & Public Affairs Manager, this is posted at every checkstand: "If the price charged is higher than the shelf or advertised price, you will receive the item FREE, limit one of each item. You will be charged the lowest advertised price for all additional identical items. Excludes fuel, alcoholic beverages, tobacco, pharmacy and dairy products." However, our experience with this policy has been very inconsistent, so check for the sign or ask to speak with a manager. We've rarely received an item for FREE because we're told no such policy exists — even though it does. Stand your ground.
Return policy: Again, the return policy is posted at every checkstand, according to our source: "We want you to be pleased with everything you purchase at this store. We are committed to providing fresh quality products every day to our customers. If a purchase is not as you expected it to be, return it for a refund, exchange or adjustment to your satisfaction." Of course, with a receipt, a return will be much easier. Without it, your return is at the discretion of the manager.
Price-matching policy: Safeway does not price-match any of its competitors. However, other retailers will price match Safeway advertised prices, namely Super Target. (Walmart has discontinued price matching at many of its stores, so clarify first.)
Reusable bags: To help the environment, Safeway encourages customers to bring their own reusable bags. However, they do not offer any discount for doing so.
Online grocery shopping: While it's not a money-saver, it's a time-saver. Safeway will deliver groceries to your front door. The service allows customers to order groceries online and, then, have them delivered 7 days a week between 9 a.m. and 10 p.m. There is a $49 minimum purchase requirement. In addition, there is a $12.95 delivery fee per order under $150. (The fee drops to $9.95, if your order exceeds $150.) There may also be a fuel surcharge. As an incentive to give the service a try, the fee is waived for first-time orders, as well as $5 off, with promo code HIFIVE — through March 17. To review FAQs, click here.
Super Safeway: Coloradoans are fortunate because they have a great resource for finding deals at Safeway. Super Safeway is a local blog "started by a couple of Colorado women who are savvy couponers and love shopping at Safeway!" They personally research and vet the best bargains to be found every week at Safeway in Colorado — click here. (They also offer Safeway gift card giveaways on a regular basis.) It's like having personal shoppers doing all the legwork for you before you head to the store — FREE of charge.
For more money-saving tips: