With a Walgreens seemingly on every other corner, finding bargains and deals is easier (and more convenient) than you might think at the ubiquitous drugstore.
If you know how to shop its aisles smartly, Walgreens can be a source for many low-cost household essentials. Navigating the ins and outs of bargain hunting the chain can be tricky. (In our opinion, Walgreens has one of the most confusing coupon policies out there, especially with its Register Rewards program. We're die-hard "cheapskates" and we still get tripped up.)
Our guide breaks it down for novices and experts alike. With some patience, smart shoppers should be able to "nurse" their need for saving money with these tips and tricks.
Store hours: Walgreens is open 7 days a week. Most stores are open daily from 7 a.m. to 10 p.m. Hours vary (as do pharmacy hours), so check first. Some stores are open until 11 p.m. or midnight. Plus, there are five stores in the metro area open 24-hours (pharmacy hours may differ) — Aurora (12051 E. Mississippi Ave.), Denver (1111 S. Colorado Blvd.), Highlands Ranch (9141 S. Broadway), Parker (19028 Lincoln Ave.) and Thornton (4001 E. 120th Ave.) Walgreens is open 365 days a year, with limited hours on major holidays.
The Low Down: Walgreens has 57 locations in Colorado. They're one of the largest drugstore chains in the U.S., with more than 8,000 locations. In fact, a store is located within five miles of 75% of Americans. Walgreens interacts with 8 million customers daily. In addition, about 85 million customers are active members of its Balance Rewards loyalty program.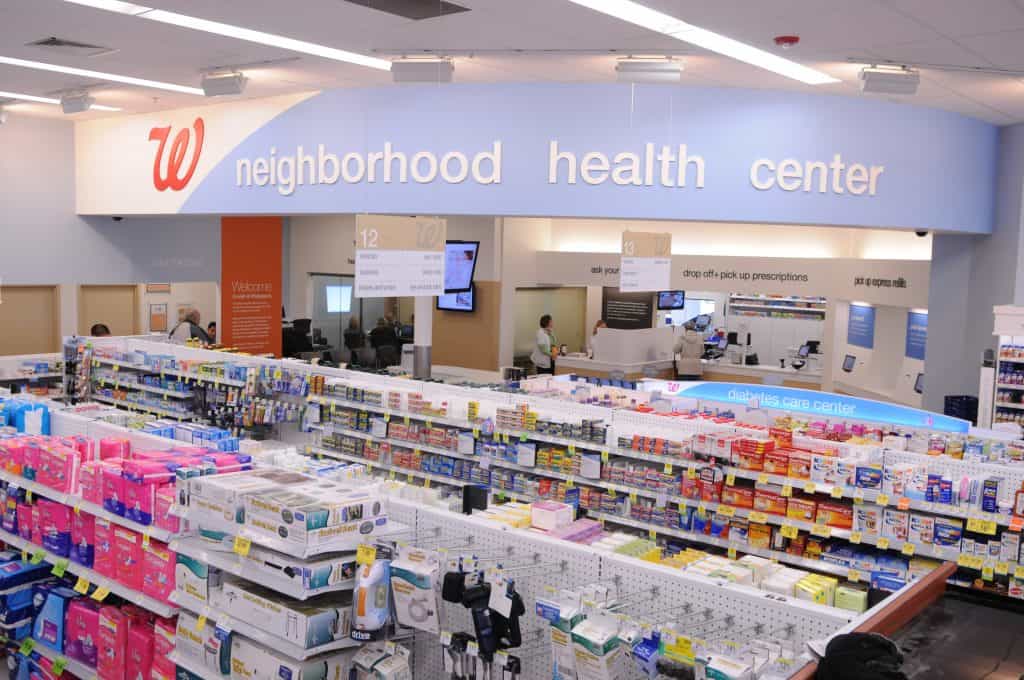 Clearance: Usually found in the back of the store on one or two end caps. (On occasion, clearance carts or bins can be found at the store entrance.) Walgreens clearance shelves can get messy, but it's definitely worth the time to rummage through for bargains. You can also find clearance in the aisles — just look for the bright orange tags.
Clearance is largely based on overstock and impending expiration dates. The percentage off ranges, but usually starts at 25%, with intervals at 50% and 75%. You can also find items at 90% off, but are often picked off quickly. Frugal fanatics make Walgreens a regular stop — just a quick glance down each aisle for orange tags. (The clearance tags are impossible to miss.) You can be in and out in a few minutes, but the stop can be well worth it, especially when you find items at 90% off. (Always check toys, office supplies and household cleaning supplies, as they regularly have clearance items for sale.)
Most clearance tends to be exclusive to each location, so just because an item is marked down at one store does not mean such will be true at one nearby. However, there can be some clearance items, usually seasonal, which are market-wide.
MHOTC Tip: Manufacturer's coupons can be used on clearance items, too. By doing so, you can get lots of everyday products for pennies on the dollar, especially health & beauty, household cleaners and kitchen pantry items.
Coupon policy: Standard. You can review the store's complete coupon policy online. However, there are a few notable restrictions:
When purchasing a single item, Walgreens accepts one manufacturer coupon and applicable Walgreens coupon for the purchase of a single item, unless prohibited by either coupon offer.
When purchasing multiple items, Walgreens accepts multiple coupons for multiple qualifying items, as long as there is sufficient stock to satisfy other customers, unless a limit is specified on the coupon. Management reserves the right to limit the quantity of items purchased and/or prohibit the purchase of excessive quantities. An excessive quantity is any quantity above and beyond normal household usage.
Walgreens will not accept coupons that exceed the selling price of an item and no cash back is ever provided in exchange for any coupons.
Coupons that appear distorted, blurry or altered in any way shall not be accepted; all coupons must have a clear and scanable bar code.
Weekly ad insert: Found in most Sunday newspapers (or in-store near the entrance) and online at Walgreens.com. Besides weekly sale items, circulars include store coupons. (Store coupons can also be downloaded to the store's customer loyalty card, Balance Rewards.) Weekly sale prices run from Sunday to Saturday.
MHOTC Tip: You must purchase multiple items, as stated in the ad to get the sale price. Otherwise, you'll pay more per item. (For example, if an item is on sale at 2 for $5, you must purchase two items to get each one for $2.50. If you purchase just one, you will pay more.)
Monthly coupon book: Walgreens publishes a monthly coupon book filled with store coupons and offers. The money-saving book can be found near the store entrance.
Online coupons: Find a mixture of Walgreens and manufacturer coupons on its website. Coupons are paperless and can only be downloaded to a customer's Balance Rewards account for in-store usage. There are limits on the number of coupons you can download.
Balance Rewards loyalty program: To join, click here. Membership is required to get all sale prices. Members earn 10 points for every dollar spent. In addition, every week, the store offers bonus points on select items — review its weekly ad for such offers.
Members can also earn points by being active and making healthy choices. Get 20 points per mile when you walk, run or cycle. Plus, get 20 points per weigh-in, blood pressure test, blood glucose test and earn points while you quit smoking/tobacco. Point limits apply per activity.
As a member, you can redeem a minimum of 1,000 points and a maximum of 50,000 points in a single transaction.
Here are the redemption levels allowed:
1,000 points = $1 off
2,000 points = $2 off
3,000 points = $3 off
4,000 points = $4 off
5,000 points = $5 off
10,000 points = $10 off
20,000 points = $20 off
50,000 points = $50 off
Rewards can be spent on just about anything in the store, with some exceptions. The $50 limit allows bargain hunters to go on a mini-shopping spree using manufacturer's and/or store coupons, only buying sale-priced items and filling their cart with clearance merchandise. If you use the points wisely, you can easily walk away with bags of stuff valued at $100 or more. (If you're really savvy, and have the right timing, you can often find items at 90% off — always, always look for the orange tags in the aisles and endcaps.)
MHOTC Tip: It's easier to just enter your registered phone number at checkout than searching for your membership card every time.
Register Rewards: Walgreens seems to be offering fewer Registered Rewards (RR), so look for them carefully in the weekly ad. RR is basically an "instant rebate" at checkout. Earn a RR coupon when you make a qualifying purchase of eligible item(s) as advertised. The RR coupon will print at the register, along with your receipt, to redeem on your next shopping trip. (RR are not tied to any specific item, so you can basically purchase any item(s) equal to the amount of the RR.) There is a limit of one RR coupon printed per offer, per transaction.
You cannot purchase two of the same item on a single RR promotion and have two RR coupons printed in the same transaction. However, if you make those purchases in separate transactions, you can earn two separate RR coupons. Note: The number of manufacturer's coupons and RR coupons cannot exceed the number of items purchased (or the amount of your purchase) in a single transaction.
Beauty Enthusiast: Since many make Walgreens the only stop for everything health and beauty-related, bargain hunters should join its Beauty Enthusiast (BE) rewards program for more benefits. (BE is considered its "Balance Rewards beauty club". However, you need to enroll in BE. It's not automatic with enrollment in Balance Rewards. To enroll, click here. You must have a Balance Rewards account to sign-up.)
After joining, earn 5,000 points (worth $5) for every $50 spent on beauty products, including cosmetics, nails, skin care, hair care, fragrances, beauty accessories and bath products. (The following are excluded from earning points: Prescriptions, baby hair care, baby skin care and men's grooming products.) Even better, you don't need to spend $50 in a single transaction. Purchases accrue over time — just check the bottom of your receipt for a running total. Once you've reached the $50 threshold, the 5,000 points will automatically be applied to your Balance Rewards account.
For deal-seekers, there's one big question: Can Balance Rewards be stacked? Yes. Whether, you've registered for Everyday Points (10 points per $1 spent on almost everything every day) or purchase a featured beauty product with bonus points, you will earn both, in addition to your beauty purchase counting toward your $50 spend total.
Price-matching policy: None.
Return policy: Items may be returned to any of its locations within 30 days of purchase for an exchange or refund. With original receipt, items will be returned for the full purchase price. Refunds will be issued in the original method of payment. No receipt? Walgreens may accept some returns without a receipt. However, you will only receive store credit and the return requires a state ID.
Reusable bags: No discount for using your own bag.
Senior discount: Senior Savings Day is the first Tuesday of the month. Customers 55 and older receive 30% off all eligible regular-priced items from its family of store brands and 20% off all other regular-priced eligible items. (Restrictions apply.) A Balance Rewards membership is required to get the savings. MHOTC Tip: If you don't qualify, consider asking an older relative or friend to go shopping with you to get in on the savings.
Store credit card: None.
Coupon stacking: Yes. You can stack coupons on a single item — a manufacturer's coupon on top of a store coupon. At Walgreens, you can triple-dip, when you stack a 1.) a manufacturer's coupon on top of 2.) a store coupon on 3.) a sale item. There's the possibility of quadruple-dipping, if you get 4.) Balance Rewards points or a Register Rewards coupon on the same item, too.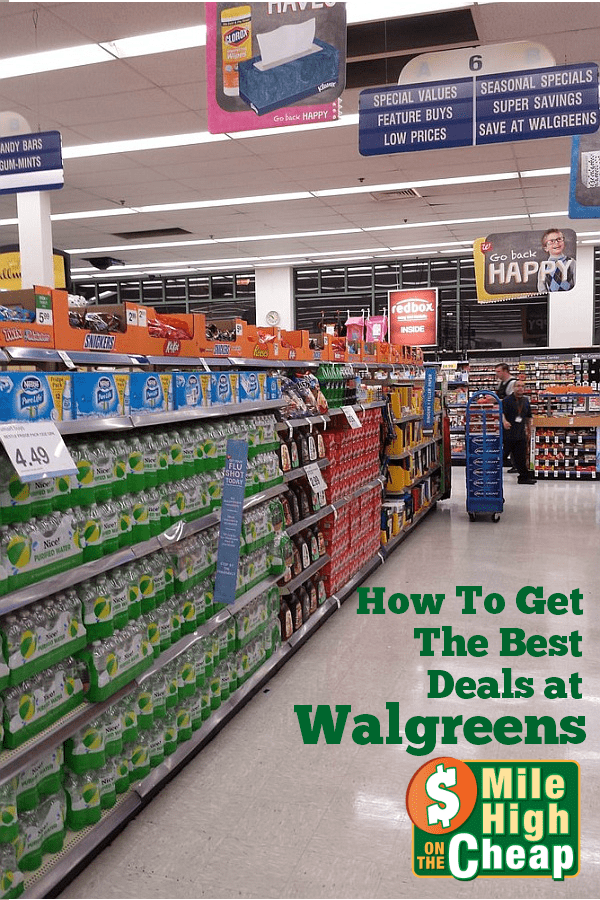 Prescription Savings Club: While not insurance, Walgreens offers a Prescription Savings Club with additional savings for customers. Membership fee is required — $20 for individual or $35 for family per year. For complete program details, click here. The benefits include:
5% to 20% savings on most immunizations
10% bonus on Walgreens Brand and Nice! products and in-store photofinishing services
10% savings at Walgreens Healthcare Clinic
Savings on preventive and lifestyle medications insurance may not cover
Additional prescription discounts on pet medications, all compound medications, nebulizers and diabetic supplies with a prescription
Plus, in Colorado, the drug store offers safe medication disposal kiosks at select locations, available during regular pharmacy hours. The kiosks provide a year-round, safe and convenient way to dispose of unwanted, unused or expired prescriptions, including controlled substances and over-the-counter medications for FREE.
Freebies: Walgreens regularly offers FREE items (usually candy, a beverage or health & beauty item) via its Register Rewards program. Such offers can be found in its weekly ad insert. The offers require customers to pay for the item upfront. In return, customers receive a Register Rewards (RR) coupon, valued at the cost of the item, good for their next visit on any purchase. Note: You cannot use the RR coupon to purchase the same item from which the RR was generated, as it will not produce another RR for that item. However, you can use your RR to purchase other RR promo items and it will produce the RR for that item. (Yes, it's very confusing.) MHOTC Tip: Use the RR coupon immediately, as they have a short redemption period — usually about two weeks. In addition, it ensures you won't forget to use it.
For more money-saving tips, read "How To Get The Best Deals at Target".