Denver International Airport is undertaking a major renovation of its main terminal, which means travelers ought to leave additional time to navigate the ever-changing detours. Click here for alerts on terminal and roadway conditions.
RTD's A Line to Denver International Airport provides travelers with an increasingly popular option getting to and from DIA from Union Station and intermediary stops.
When deciding on which option is best for you and your party, think not only money, but also time. Calculate how many of you will be traveling. And remember that you won't just be going to the airport but returning from it.
Unless you choose to drive, you can mix and match. Here are the current ground transportation and parking options (please let us know at info@milehighonthecheap.com if you find any changes is services or rates).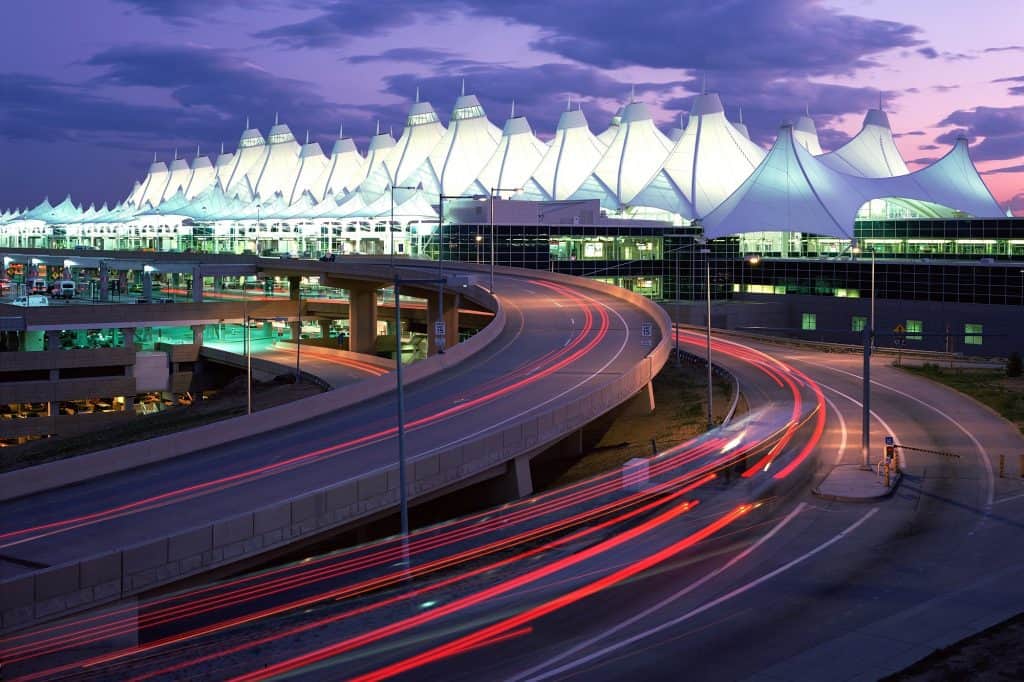 GROUND TRANSPORTATION
RTD A Line. BEST DEAL. This commuter train between Union Station and Denver International Airport runs every 15 minutes most of the day. Ride time: 37 minutes. Six intermediary stations offer parking. Fare is $10.50 for a 3-Hour Pass (which replaces the old one-way transfer). Half-price for 65+ Medicare recipients. Youth 6 to 19 cost $3.20 each way. Children ages 5 and younger ride FREE with a fare-paying adult. Your ticket includes transfers to/from other routes.
It costs $2 daily to park at most RTD Park-n-Ride facilities, with the first 24 hours FREE, but the parking lot at at the RTD A Line station (61st and Peña) costs $4/day. The old SkyRide routes AB, AF, AS and AD, and some local and regional bus routes as well as stations were affected when the A Line went into service last year. Click here for details. RTD airport service fares actually were lowered from $13 with the opening of the A Line.
Denver Airport Shuttle. Currently, door-to-door private car, van or SUV shuttle. Approximately $35 from downtown Denver, $45 from Golden.
Taxi. Flat rates to/from downtown Downtown Denver, $55.57; Denver Tech Center, $61.57; Broomfield and Louisville area, $70.57 (Yellow Cab only) Boulder, $88.57. Other destinations are on the meter.
Uber and LYFT Ride-Sharing Services. $31 to $41. Download their apps on your smartphone to use.
GreenRide. Longmont: Hourly service for the introductory fare of $20 plus $12 for each additional passenger on the same booking. Parking is FREE and limitless. Also, residential pick-up service from zip codes 80501, 80503 and 80504. Service is from/to the new Longmont HUB, 206 S. Main St. For more information, call 303-997-0238. Fort Collins, Harmony Transportation Center (no overnight parking) or Loveland-Fort Collins Airport (FREE parking at airport), $29 ($24 senior). Wellington or Cheyenne, WY. $55 ($49 senior). Boulder, Meadows Shopping Center, $38 ($35 senior). Door-to-door and hotel service available. Second passenger, $20. Kids, $10. 970-226-5533.
PARKING
Garages connected to the DIA main terminals, $24 per day. Economy lot within walking distance though shuttles also operate to the terminal, $13 per day. Shuttle lots (including Pikes Peak and Mt. Elbert), $9 per day.
The newest service is the FREE bag drop service at the Pikes Peak and Mt. Elbert shuttle parking lots. Passengers can now check bags and print boarding passes prior to parking the car and boarding a shuttle to the terminal.
Off-airport options
All off-airport commercial lots offer FREE shuttle service to/from the terminal. For extra savings, look for AAA, AARP or military discounts. Check websites for printable discount coupons that can knock a few bucks off your rate.
Depending on the operation, you'll find self-park outdoors, covered parking and valet parking options. Many will also let you reserve a spot in advance assuring that you won't be driving around looking for an available space. Taxes are usually additional.
FINE Airport Parking. Rates start at $6 per day for outdoor self parking with a coupon. Their indoor parking lot is truly indoors (meaning it is totally enclosed not merely "covered" with open sides). With one of the closest locations to the airport, you'll find the shuttles arrive every 5 to 7 minutes, so minimal waits. FINE sometimes promotes FREE roses, FREE coffee and hot cocoa and FREE popcorn. The company also has a loyalty program and downloadable app through which you can earn free stays and services.
ParkDIA provides outdoor, indoor and valet spaces for 7,500 vehicles currently starting at $4.48 per day for outdoor spaces. Their rates, like some other off-airport facilities, do fluctuate. Ticketless parking with mobile app to track shuttles, reserve and pay for parking, record your space and more. Complimentary coffee, water and WiFi in the lounges. Electric car charging stations.
The Parking Spot, $7.95 daily uncovered, including FREE bottled water and FREE USA Today (Monday-Friday, while supplies last). Note that all parking is uncovered and it is among the lots farthest from the terminal.
Canopy Airport Parking, $10 daily uncovered, $16 daily covered. ExpressToll users can sign-up for a Rewards program and get 25% off rates.
USA Airport Parking, $10 daily uncovered, $15 daily covered. New for 2018: Click here for two coupons, one good for 40% off ($6 a day) for uncovered parking or $2 0ff covered of uncovered parking, both valid through July 31, 2018.
WallyPark, $13.95 daily self-park; $17.95 daily valet uncovered.
And if you don't mind not knowing the exact location of your airport lot until you have reserved and paid in advance, check out Top Airport Parking. Their "Cheap Park" deal promotes off-site DIA parking starting at $3.99 per day.