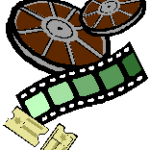 This deal isn't exactly "cheap". However, if you love independent films and documentaries, it's a great way to save money at Landmark Theatres. Going to the movies can be an expensive adventure, so frugal film fanatics are always on the lookout for discounts at the box office and concession stand. Plus, this offer might be a good gift for friends, co-workers or neighbors — just give tickets away in pairs.
Landmark Theatres' Film Aficionado Ticket Book come with 25 discounted tickets — just $9 per ticket. That makes each book $225.
To make it more economical, split the cost with friends and family, so everyone can enjoy the discount at the box office.
Here's the fine print:
Aficionado Tickets are accepted at all Landmark Theatres, except Greenwood Village in Denver.
Film Aficionado tickets are valid for any film at any time (including Friday and Saturday nights), except those designated as "special engagements".
Additional service charge applies at Aquarius Theatre/SF-Pen ($1.50) or for any 3D film ($2.50).
For more discounts at the box office, check out our round-up of Tuesday ticket deals in Denver.