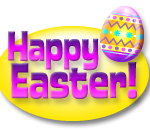 The Front Range is hopping with Easter Egg Hunts! Here's the latest, based on what we could dig up. Hunts are sorted by date and listed alphabetically. Most are FREE, unless otherwise noted. A few are requiring pre-registration, so if you see one of interest, be sure to sign up immediately.
Remember to bring some sort of basket or bucket for the kids to collect their eggs and treats. Be sure to note the time and date of all events, as some divide the hunt based on age.
And, since candy-seeking kids can sweep an entire field of treats clean in a matter of minutes, we suggest arriving early to nab a good spot.
Know of any we have missed? Email us the details at info@milehighonthecheap.com.
Happy Egg Hunting!
If you haven't subscribed to our daily e-newsletter yet, what are you waiting for? You're missing out on so much frugal fun, just ask our more than 20,000 subscribers — sign up now!

Saturday, April 3
Aurora
Vista Peak Exploratory Egg Hunt, 9 a.m. to noon. Registration required for one of three timeslots (9 a.m., 10 a.m., 11 a.m.). Each time slot allows for a limited number. Sign up here. Masks will be required for school-aged children and up. Church at the Creek, 24500 E. 6th Ave., Aurora.
Denver
Christ Community Church Egg Hunt, 9 a.m. to 10 a.m. Outdoor egg hunt. Gather in the lower parking lot (on the E. Girard Ave side) and then go into the gated area on the west side of the building where the kids can search for Easter Eggs. Please bring a basket/bag. 8085 E. Hampden Ave., Denver.
Mile High Flea Market Easter Candy Hunt, 7 a.m. to 5 p.m. All kids receive a free Easter Candy Grab Bag when they enter the market. Bag will be filled with candy, surprise coupon and and mystery prize egg. Admission $3/adults, kids under 12 FREE. Admission gives you access to acres of shopping, foods and rides. 7007 East 88th Ave., Denver, 303-289-4656.
Spring Festival & Easter Egg Hunt, 9:45 a.m. to 11:45 a.m. Line up at 9:45 a.m. Rope drops at 10 a.m. sharp! Egg hunt and photo ops with the Easter Bunny. Bring the whole family out for a wonderful community event hosted by Tennyson and Berkeley business owners. Cesar Chavez Park, 4147 Utica St. (W. 41st & Tennyson), Denver.
The Urban Farm Spring Fling, 9 a.m. to 11 a.m. & 11 a.m. to 1 p.m. Family-friendly egg hunt, meet chicken and rabbits and kids crafts. Bring a basket or bucket to collect eggs and trinkets hidden around the farm. Admission $6 per person (kids under 12 months free). Registration required. Buy tickets here. 10200 Smith Rd., Denver.
Englewood
Burrito Blitz and Egg Hunt, 10 a.m. to 11:30 a.m. Fun and free event with Breakfast burritos, coffee, giveaways and, of course, an egg hunt. The entire event will be held outside. Calvary Church – Englewood, 4881 S. Acoma St., Englewood.
Highlands Ranch
Great Easter Egg Roll Thru, 9 a.m. to 10 a.m. Hop into your car and drive through the event stopping at booths that will have FREE eggs, treats, or crafts for all the children, ending with photos with The Easter Bunny! Held outside. Tickets will be $3 per car load during time sessions. Limited spots! Registration required! Sign up here. Eastridge Rec Center, 9568 University Blvd., Highlands Ranch.
Lakewood
Drive-Thru Easter Eggstravaganza, 10 a.m. Families will drive by themed trunks as they listen to the Easter story from their cars. They will also receive a bag of Easter eggs and craft supplies to do all the fun projects at home at the end of the drive-through journey. Bethlehem Lutheran Church, 2100 Wadsworth Blvd., Lakewood.
Littleton
Jared's Nursery Easter Egg Hunt, 10 a.m. to 11:30 a.m. More than 19,000 eggs were safely found last year! Staggered start times by age group. Under 1 starts at 10:10 a.m., 1-2 yr olds at 10:15 a.m., 3 & 4 yr olds start at 10:40 a.m., 5 & 6 yr olds start at 11 a.m., and the last group (and those that miss the earlier ones) are for 7 and older starts at 11:20 a.m. Event is over by 11:30 a.m. Bring your cameras for pictures with the Easter Bunny. 10500 W. Bowles Ave., Littleton.
Valley View Christian Church Egg Hunt, 5 p.m. to 6:45 p.m. A fun family evening that starts after the 3:30 p.m. Easter service. Food trucks will be here for you to grab some dinner, plus plenty of fun including bounce houses, lawn games, an egg hunt (up to 5th grade) and egg toss competitions for everyone 6th grade and older. 11004 Wildfield Lane, Littleton.
Wheat Ridge
Applewood Baptist Church Easter Eggstravaganza, 10 a.m. to noon. FREE pancake breakfast, carnival games for the kids, bounce houses, a barrel train, live bunnies, candy and more all held outdoors. Performances by world-class illusionists, David & Teesha Laflin. Register for free tickets here. 11200 W. 32nd Ave., Wheat Ridge.
Eggstra Easter Fun