Story by Jenny Finke. Denver is a great place to eat gluten-free. In fact, many of Denver's bakers and restaurateurs cater to a wide-array of food allergies and intolerances. When you can't eat gluten, Denver has your back!
As the publisher of Good For You Gluten Free, I've being eating gluten-free since 2012 and am awe-struck at the sheer number of dedicated gluten-free bakeries catering to the growing and loyal gluten-free community. You don't realize how much you miss cupcakes, pizza and bread until you can no longer eat it at whim. These bakeries make living without gluten a bit more palatable.
I set out to discover and try as many gluten-free bakeries in the Mile High City as possible. In addition to visiting each dedicated gluten-free bakery, I took it upon myself to taste-test a few of the gluten-free goodies at each, all in the name of research. It was a tough job, and somehow I survived the challenge unscathed.
The following are some of my favorite gluten-free bakeries (listed alphabetically). Take special note of each bakery's hours of operations, and call ahead, to make sure they're open when you decide to visit.
331 Main St, Longmont, 80501
Open Tuesday to Saturday from 6:30 a.m. to 2 p.m.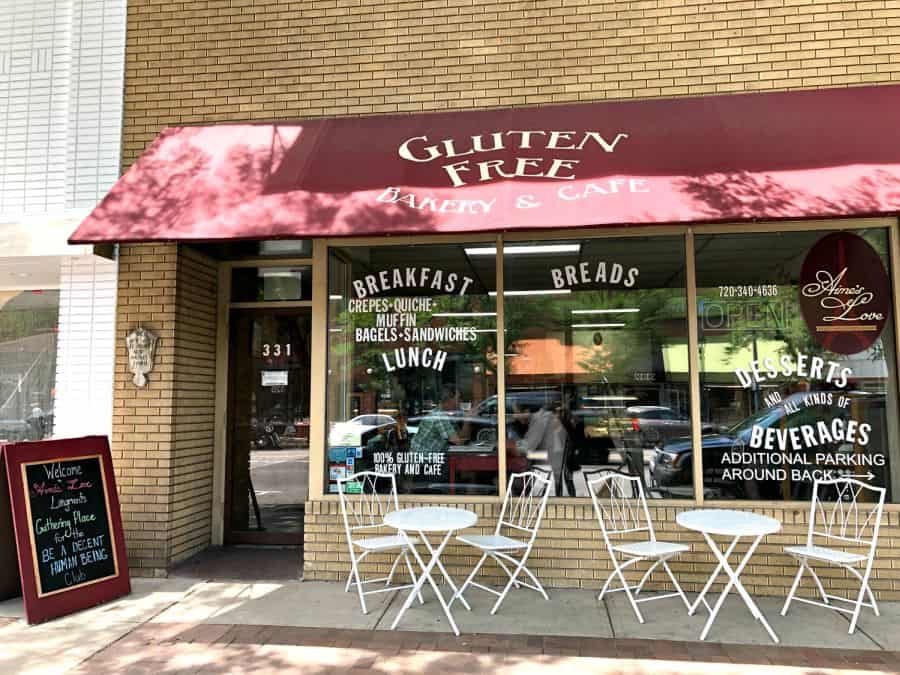 Aime's LoveI first tried Aime's Love treats at the Nourished Festival in Denver, where I quickly realized this gluten-free bakery is the real deal. Co-founders Jennifer Walter and Morgan Elizabeth Dalton make sure the display case and freezer are always stocked with treats (although they were out of eclairs when I got there – bummer). The selection was outstanding – every pastry and bread you can image. I particularly enjoyed the lemon bars and cookies and cream cupcake.
Aime's Love also makes specialty cakes and boasts a good-sized breakfast and lunch menu with gluten-free paninis, savory and sweet crepes, quiches, chicken pot pies, bagels and more. I had the classic grilled-cheese sandwich and it gets a big thumbs up from me.
14011 W Quincy Ave. J, Morrison, 0465
Open Wednesday to Friday from 8:30 a.m. to 5:30 p.m. and Saturday from 8:30 a.m. to 12:30 p.m.
This charming bakery serves up gluten-free cupcakes, cookies, muffins, breads and more – all baked fresh in its dedicated gluten-free facility. A particular favorite item of mine is the freshly baked everything bagel. I had the joy of sampling this bagel right out of the oven – yum!
The Allergy Free Baking Company is a 100 percent gluten- and nut-free facility, and the staff says it can easily accommodate dairy, soy, corn and egg allergies or other intolerances.
Co-founders, Nicole and Jeremy Kurland, started baking up allergy-friendly treats after two of their sons and a close friend were diagnosed with multiple food allergies. You can tell everything at the Allergy Free Baking Company is baked from a place of love.
2369 S Trenton Way, Denver, 80231
Open Tuesday to Wednesday from 9 a.m. to 5 p.m., Thursday & Friday from 9 a.m. to 6 p.m. and Saturday from 9 a.m. to 3 p.m.
Deby's Gluten-Free is a 100 percent dedicated gluten-free grocery store and manufacturing facility that carries more than 275 gluten-free items including its proprietary gluten-free flour blends and amazing breads and pizza dough.
Doug and Monica Poole started Deby's Gluten-Free in 2005 as their entire family of five either have celiac disease or a gluten intolerance.
If you're looking for fresh gluten-free treats, visit Deby's on a Saturday where you'll find 10+ tables of fresh gluten-free products for you to purchase and eat, including bagels, doughnuts, cinnamon rolls, biscuits, muffins, cupcakes and more.
Get there early (9:00 am sharp) for the best selection because the good stuff goes fast!
7255 S Havana St. #110, Centennial, 80112
Open Tuesday through Friday 7 a.m. to 4 p.m. and Saturdays 8:30 a.m. to 4 p.m. Closed Sunday to Monday.
The Gluten Escape is a dedicated gluten, dairy, soy protein, tree nut, and peanut free gluten-free bakery, and 95 percent of its products are also egg-free (vegan). The bakery always has a wide-array of gluten-free treats awaiting you in its fully stocked display cases.
Enjoy everything from brownies, cupcakes, cookies, breads and pies as well as grab-and-go items including a turkey sandwich on a pretzel roll or a personal-sized pizza.
I had the opportunity to sample some of The Gluten Escape's moist cupcakes, which I must add, are beautifully frosted as well. I also met the owner, Kathy Letson, on several occasions and it's obvious she is passionate about catering to the vast needs of Denver's gluten-free community. She, herself, contends with a slew of food allergies and intolerances, as do many members of her family.
641 S Broadway, Boulder, 80305
Open Tuesday to Friday from 10 a.m. to 5 p.m. and Saturday from 10 a.m. to 3 p.m.
While Kim and Jake's products can be found in grocery stores (Whole Foods and Alfalfa's Market) and at select coffee shops and restaurants throughout Boulder and the Denver metro area, if you get a chance to visit Kim and Jake's store-front bakery in South Boulder, do it!
During your visit be sure to stock up on the freshest and most delicious gluten-free baked breads Denver has to offer. Bread is what Kim and Jake's is known for (at least in my opinion!).
I had the opportunity to try Kim and Jake's fresh baguette right out of the oven. It was incredible — the tastiest gluten-free bread I've ever had to this day, hands down. There also are sweet treats available for purchase and they bake custom cake orders as well.
206 Fifth St, Castle Rock, CO 80104
Open Tuesday through Sunday from 8 a.m. to 3 p.m.
I loved my visit to No Cow Café where I had the difficult task of choosing which of the sweet treats I was going to sample. I had to show some restraint, right? I tried the coffee cake muffin, lemon cake doughnut and my personal favorite, the chocolate mini cake. These baked goods are truly tasty – well done, No Cow!
In addition to being a dedicated gluten-free bakery, No Cow Cafe also is a full-service café with plenty of seating in a well-lit space. You can enjoy a peaceful breakfast or lunch off No Cow Café's modest but expanding breakfast and lunch menu.
For breakfast, choose between eggs, waffles, pancakes and French toast, and for lunch, choose from sandwiches, nachos, baked potato or cheesy fries. Don't be fooled by the sloppy No Cow Café website (it's a disaster) because the bakery is clean, appealing and oh-so-pleasant.
5721 Olde Wadsworth Blvd, Arvada, 80002
Open Sunday to Tuesday from 9 a.m. to 5 p.m. and Wednesday to Saturday from 8:30 a.m. to 8 p.m.
Rheinlander's Bakery is one of the most charming and exciting bakeries I've ever been to… and guess what? It's been around for more than 50 years.
Rheinlander's is nestled in Olde Town Arvada and specializes in German and European baked goods. You can literally smell sweet scents wafting from the bakery before you even enter the bakery.
Maro and Ed Dimmer founded Rheinlander's in 1963 and have been selling gluten- and sugar-free recipes for at least 18 years (in addition to an assortment of other baked goods). Rheinlander's is NOT a dedicated gluten-free bakery, however, Maro told me herself that she has celiac disease.
She understands gluten-free and designed the bakery with two separate kitchens, two separate display cases, color-coded serving wares and plates, and a knowledgeable staff who gets it.
You'll see a huge dedicated gluten-free selection on one-side of the bakery, completely separate from the gluten baked goods. Do yourself a favor and order a gluten-free éclair – it's heavenly.
8172 S Holly St, Centennial, 80122
Open Tuesday to Friday from 8 a.m. to 6 p.m. and Saturday to Sunday from 8 a.m. to 4 p.m.
Wave the Grain is a new-ish dedicated gluten-free bakery that boasts a "celiac safe kitchen." At Wave the Grain, you'll find an assortment of breads, cakes and cupcakes, pastries and as well as on-the-go breakfast and lunch options including breakfast burritos and quiche.
The owner, Allyson Kulinski, says on the bakery's website that her passion for gluten-free baking started when her special needs son was diagnosed with celiac disease.
I took my son with me to sample a variety of sweet gluten-free treats (all were exceptionally tasty) and we couldn't resist ordering a satisfying gluten-free breakfast burrito as well. Wave the Grain is an excellent place to quench those gluten-free sweet cravings.
Honorable Mentions
In addition to this list of dedicated gluten-free bakeries, I want to add two honorable mentions that didn't make the list because they're technically not "bakeries."
The first is mmm…coffee!, which is a dedicated paleo coffee shop that also offers a select number of paleo baked goods, and the second one is Just Be Kitchen, which is an excellent dedicated gluten-free restaurant where you can find a few specialty paleo treats in addition to its vast savory menu.
Gluten-Free Got You Down?
There's no reason to be sad if you're gluten-free and living in the Mile High City. With dedicated gluten-free bakeries across the area, the Denver metro area has you covered from end to end!
If you're curious about gluten-free, or have been gluten-free for a long time, I encourage you to visit my website, Good For You Gluten Free, to learn the ins and outs of the gluten-free diet. I can help you manage your symptoms and eat safely, whether you have celiac disease, a gluten sensitivity or are just avoiding gluten because it makes you feel better.
Guest contributor Jenny Finke lives in Englewood, Colorado with her husband and their two children. She has been gluten-free since 2012 after being diagnosed with celiac disease. Jenny is an integrative nutrition coach and writes an educational gluten-free blog called Good For You Gluten Free.