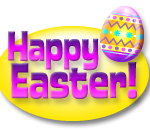 We think this is one of the best deals around for families seeking low-cost Easter fun. Free Easter activities are being offered at Bass Pro Shops and Cabela's from Saturday, April 13 through Sunday, April 21. Easter Egg Hunts for the wee ones ages 2 to 10 are scheduled for Saturday, April 20 only at 2 p.m. (Be sure to register at 1:30 p.m.) Find 5 eggs and exchange them for candy.
Kids can get a FREE 4 x 6 photo taken with the Easter Bunny (The Big Rabbit is around from 11 a.m. to 6 p.m. on Saturdays; noon to 5 p.m. on Sundays; 5:30 p.m. to 7:30 p.m. Monday to Thursday, and from 2 p.m. to 8 p.m. on Friday.)
And, kiddos can have fun with FREE hands-on craft projects such as creating an Easter wreath (April 13 & 14 starting at noon both days), create a hanging bunny (April 19 from 3 p.m. to 7 p.m.) or a standing Easter Bunny (April 20 & 21 starting at noon both days.).
Bass Pro Shops is at 7970 Northfield Blvd. in Northfield at Stapleton, Denver.
Cabela's Lone Tree is at 10670 Cabela Dr., Lone Tree.
Cabela's Thornton is at 14050 Lincoln St., Thornton.