Thanks to the lunar calendar, the Chinese (or Lunar) New Year is a bit of a moving target. This year, it begins on Tuesday, February 1 and celebrations last for as long as two weeks. 2022 marks the Year of the Tiger (taken from the Chinese zodiac). Those born in 1938, 1950, 1962, 1974, 1986, 1998, 2010, and 2022 are brave, competitive, unpredictable, and confident.
Celebrations are an explosion of light and sound with fireworks, music and traditional lion dances. Never one to miss a party, Colorado will celebrate Chinese New Year will host many activities and parties, some for the kiddos and others for grown-ups.
Here are some we could find. If you know of any we've missed, email us at info@milehighonthecheap.com and we'll try and get them added to the list.
Also, check out a huge list of free things to do around Denver this week. And if you haven't subscribed to Mile High on the Cheap's email list, sign up now. There's no better way to ring in the new year!
Friendly Reminder: Double-Check Beforehand
Mile High On The Cheap thoroughly vets every item published and strives for 100% accuracy. However, details may change without notice or errors may occur.
As always, prices, hours and participating locations may vary.
Some events and activities may be canceled or postponed with little to no notice.
Please verify all deals and events with the business or venue, before ordering or making plans. 
Friday, January 28
Friday, January 28, 7:15 p.m. to 8:45 p.m.
Joyous Chinese Cultural School presents both an in-person and online celebration at Waterstone Community Church. Enjoy music and dance performances by students, as well as acrobat Lina Liu. In-person tickets are $15 for adults, $8 for children (4-17). Virtual tickets are $15 per family. Buy tickets here. 5890 S. Alkire St., Littleton.
Saturday, February 1
Town Center at Aurora
Saturday, February 1, 11 a.m. to 8 p.m.
KidX Club Holiday Krafts spotlights the Lunar New Year. Stop by this FREE event to learn about the holiday and create a fun craft. Held in the Center Court between Macy's and Dillard's (Lower Level).
Saturday, February 5
Saturday, February 5, 11 a.m. to 4 p.m.
Celebrate Chinese New Year with events all day including lion dances and special performances. 333 S. Federal Blvd., Denver.
Southridge Recreation Center
Saturday, February 5, 2 p.m. to 3 p.m.
Special performance by the Great Wall Chinese Academy with dragon and lion dances, martial arts and both choral and instrumental performances. Tickets to the show are $10 and are available in advance online here. If not sold out, tickets available at the door. 4800 McArthur Ranch Rd., Highlands Ranch.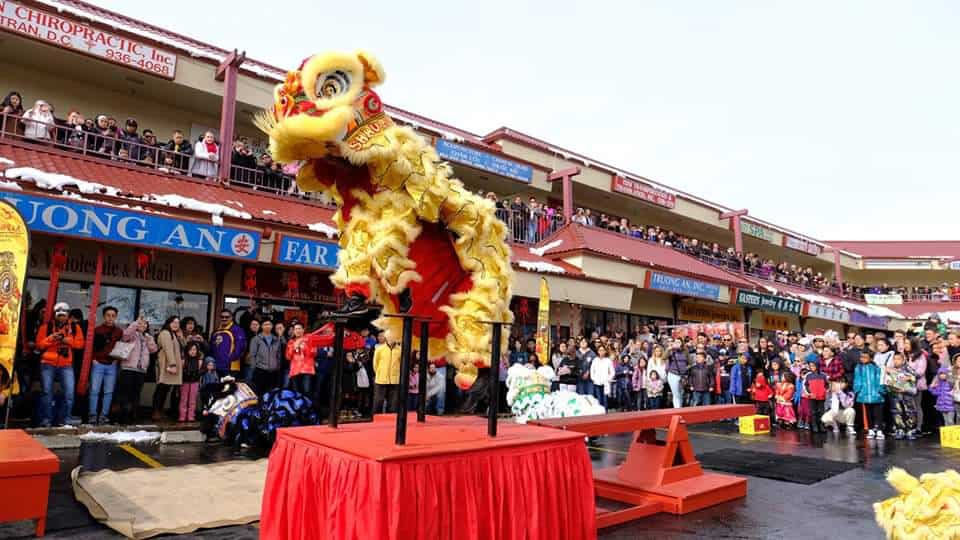 Sunday, February 6
Sunday, February 6, 11 a.m. to 4 p.m.
Celebrate Chinese New Year with lion dances and special performances. 333 S. Federal Blvd., Denver.
Now Pho
Sunday, February 6, noon to 5 p.m.
Hosted by Now Pho, KUTEA, Saigon Travel, Denver Street Partnership at the Federal Plaza. Performances by Colorado Asian Heritage Center which include: lion dance on high poles (jongs), dragon dance, drum show, traditional dance and more. They will also give out li xi (red envelopes) for good luck. 1147 S. Federal Blvd., Denver.
Saturday, February 12
Lone Tree Arts Center
Saturday, February 12, 8 p.m.
It's a festive gathering for the biggest holiday in the world: the 2022 Lunar New Year of the Water Tiger. Immerse your family in the sound of firecrackers, cymbals and drums that accompany the acrobatic lion dancers and be mesmerized by the vibrant colors from the motions of the endless floating lines of fabric, costumes and props that are created by the agile dancers and warriors. Choreographer Nai-Ni Chen has been making dances that bridge the richness of Asian artistic heritage and the dynamism of American dance for the past 30 years. Tickets $35 to $45. Purchase here. 10075 Commons St., Lone Tree.