This event is canceled for 2020. The Adams County Fair, which dates back to 1888 and is now the largest county fair in the state, runs Wednesday to Sunday, July 31 to August 4. Entry to the fairgrounds and most of the jam-packed schedule is FREE, but the Rodeo, concert by Aaron Watson, Truck Pull, Demolition Derby and Dia de la Familia Mexican Rodeo are ticketed events (ranging from $10 to $25).
Friday is designated 9News Kids Day, featuring a FREE Kids Zone with inflatable obstacle course, stand-up paddleboards, the change to meet Dinger, Bernie and Broncos cheerleaders.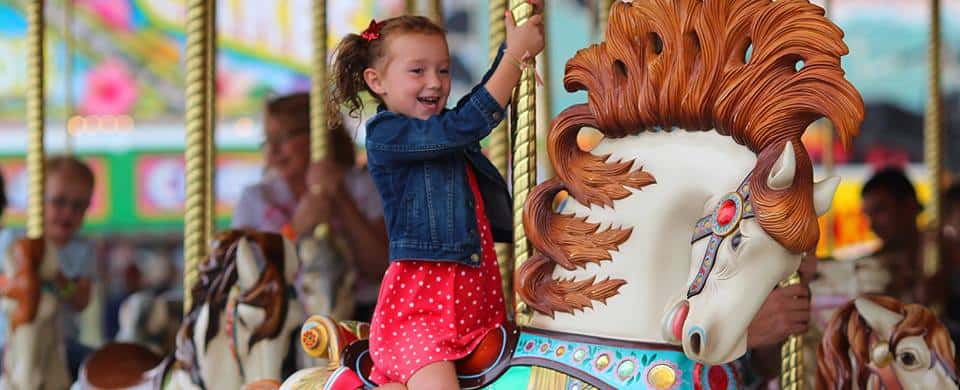 Senior Day is on Thursday, August 1 beginning at 10 a.m. in the Waymire Dome Building. Guests 55 and older may enjoy a FREE lunch, then take in the resource fair and play bingo.
Wristbands good for unlimited carnival rides are $15 on Friday before 3 p.m. and valid until 4 p.m. The unlimited ride wristband is $20 on Wednesday, $25 on Thursday and $30 for the rest of the fair. Individual ride tickets are available for $2 each on Sunday only.
Hours are 6 p.m. to 11 p.m. on Wednesday and 10 a.m. to midnight the rest of the week.
Parking is $10 per car at the Regional Park. But FREE off-site parking with FREE shuttle service is available from Prairie View High School, Brighton High School and Shadow Ridge Middle School.
There's tons more information on the Fair website. Adams County Regional Fair Complex, 9755 Henderson Rd., Brighton. For more information, call 303-637-8000.