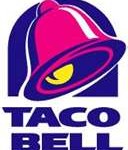 Ring the dinner bell! The deal is on for hungry bargain hunters — today, Monday, August 3. Can you hear the crack of the bat…or is that the crunch of a taco? If you need another reason to cheer on the Colorado Rockies, Taco Bell is again offering its very popular taco promo this baseball season — from March 26 to September 28. Most locations in the Denver metro area are participating. However, as always, check first before ordering or, even better, call ahead. (There may be other locations participating in Colorado — just check first.)
The day following any regular season game in which our beloved Colorado Rockies score 7 runs or more (win or lose), fans score big at Taco bell, too.
From 4 p.m. to 6 p.m., get the Colorado Rockies Special, four regular crunchy tacos for $2, at participating locations in Colorado — in-restaurant only. You must order four tacos to get the discounted price. (The offer excludes any other tacos on the menu — only regular crunchy tacos allowed.) There is no drink purchase required, as has been questioned in years past.
The offer is available via the drive-thru window. However, you must have the appropriate number of people in your vehicle to order multiple Rockies specials. As an example, you can't have two people in the car and order three specials because you're taking one home to friend or family member. The most you could order would be two specials.
Given the tacos regularly sell for $1.39 each, the savings are definitely a homerun — a discount of about 65%.
Limit one special per person, per qualifying day. Plus, you must be present to get the deal. The offer is not valid via any delivery service.
A family of four could easily eat dinner for under $10…and probably still have a few tacos left over for a midnight snack.
Keeping up with the offer's availability can be challenging because of so many games. To make a little easier, go to the Colorado Rockies website to check the previous day's score, so you know when it's "Crunch Time." (Follow MHOTC for updates, too, as we usually post when the offer is "at bat" the day of its availability.)
Thirsty, too? The promo time overlaps for one hour from 4 p.m. to 5 p.m. with the fast-food chain's daily Happier Hour promo, which runs from 2 p.m. to 5 p.m. During those hours, get a medium drink or regular Freeze for $1, too. That means you can enjoy four tacos and a drink for $3.
Now, that's savings hungry bargain hunters will go to bat for every time. Go, Rockies!
Hungry for more food deals?
Monday, August 3, 2020
Tuesday, August 4, 2020
Wednesday, August 5, 2020
Thursday, August 6, 2020
Friday, August 7, 2020
Saturday, August 8, 2020
Sunday, August 9, 2020