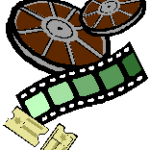 Wahoo! The Super Mario Bros. Movie is now in theaters. Based on the World of Nintendo's Mario games, the film invites audiences into a vibrant, thrilling new universe unlike any created before in an action-packed, exuberant cinematic comedy event. While working underground to fix a water main, Brooklyn plumbers Mario (Chris Pratt) and brother Luigi (Charlie Day) are transported down a mysterious pipe and wander into a magical new world.
But when the brothers are separated, Mario embarks on an epic quest to find Luigi.
With the assistance of a Mushroom Kingdom resident Toad (Keegan-Michael Key) and some training from the strong-willed ruler of the Mushroom Kingdom, Princess Peach (Anya Taylor-Joy), Mario taps into his own power.
MHOTC readers can enter to win an admit-two Fandango code to see the film in theaters. In addition, one lucky winner will also win an awesome prize pack filled with Super Mario Movie goodies.
To enter, go here and fill out the entry form. Where it asks "Where did you hear about this contest?" be sure to type in Mile High on the Cheap.
Entry deadline is Sunday, April 9, 2023. Winners will be notified by email on Monday, April 10 and sent codes to redeem through Fandango.