Imagine a place where everything is made out of trash. Or more, really cool stuff that other people may look at as trash. With a towering, life-sized giraffe constructed of random things, giant swings, toy trains, digging tools and plenty of arts, crafts and things to explore, Junkyard Social Club in Boulder has become a magical place for kids and parents alike.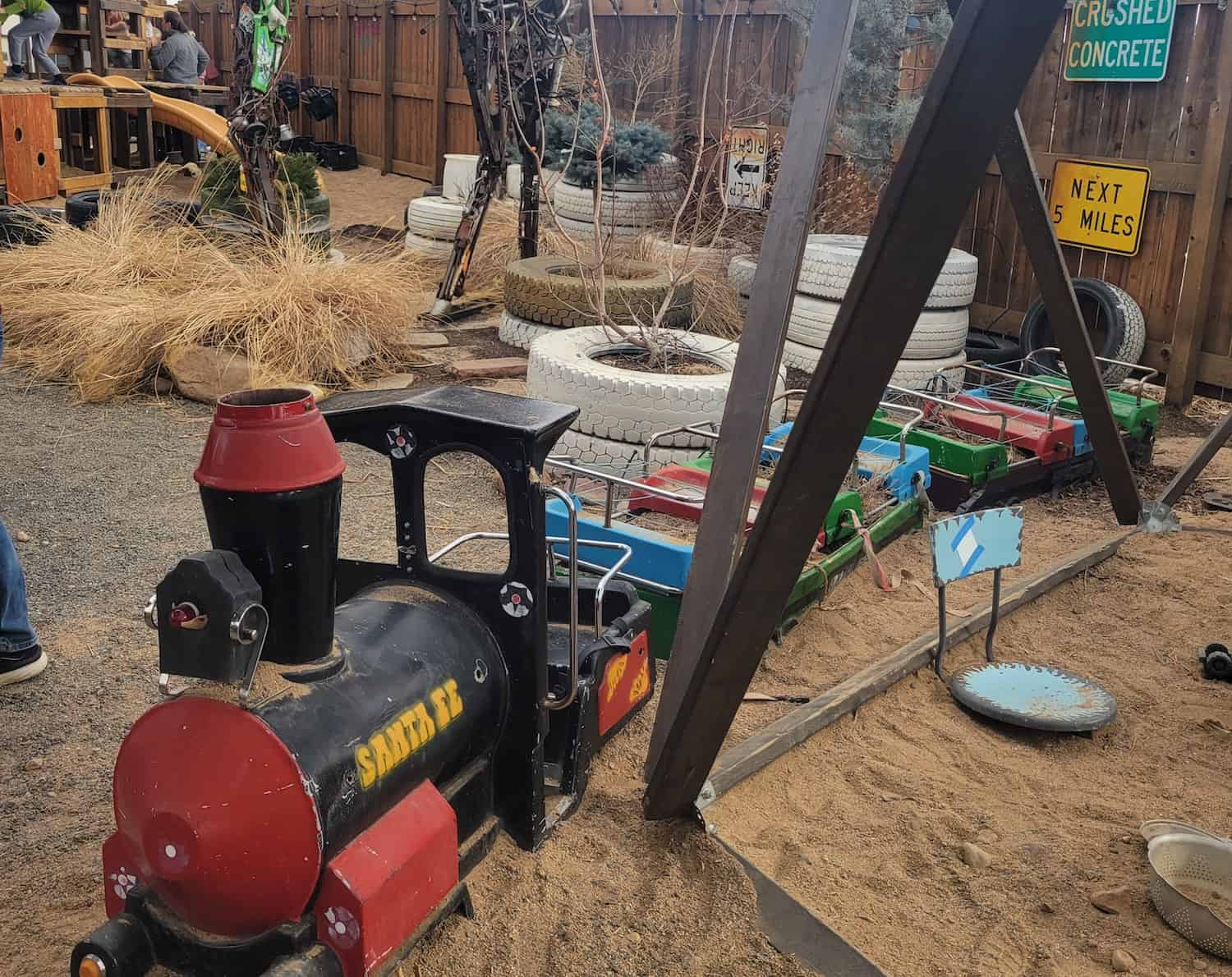 And, that's just how owners Jill Katzenberger, Sharon Reiter, Leo Borasio and Ryan Madson wanted it to be when the dreamed it up during the pandemic in 2020.
Having worked on projects together the three years prior, the quartet aimed to create something new that would embrace their love of art and design while also fitting in with the Boulder kid scene.
They also wanted to make this community-centric space a non-profit, which is how the idea for collecting "junk" came in.
Through online free markets to local junkyards to things found within their own circle of friends, Junkyard Social Club was born inside a former print warehouse.
First came the cubicle-style playground, then the Rainbow Stage, a mural by the late artist Alicia Cardenas and an octopus painting by Drew Button.
In 2021 the stunning giraffe sculpture made by artist Mitch Hoffman took up residency. While the latter can't actually be played on, it's a great catalysis for an I Spy game or seek-and-find where your kids look for the various items such as a license plate, the letter "S," a wrench and a bicycle wheel.
When the doors to this wonderland opened in 2021, Junkyard Social Club offered a unique playground great for kids of all ages.
Then, the team expanded, adding a cafe and inside lounge space that's used for parties, art and events.
With this addition, the space not only remained an ideal spot for children, but their adults too.
Now, while the little ones played you could sit back with a cup of coffee or even bring a laptop and use the WiFi to get some work done.
In 2023 the liquor license came in. Today, food and other beverages such as wine and beer are also sold.
Junkyard Social also hosts special events and adult-only nights after hours including the quarterly storytelling event Story Collective, game nights and dance parties.
While the space proves unique in how it's run and the overall feeling, the best part is that here, kids don't have to be afraid of breaking anything as they run through the jungle gym, glide on swings, act out on a stage, hop through a tire obstacle course or launch rockets made of cardboard and pompoms.
It's the epitome of a kid-centric playground, created by adults who still like to play. Or at least, like to watch their kids have fun while catching up with a friend inside the establishment.
And, even though the $12 kid admission isn't cheap, there's no time limit and all funds go to support the non-profit.
Junkyard Social Club, 2525 Frontier Ave., Boulder, 970-368-5865
How to save at Junkyard Social Club
Family memberships are $40 a month for unlimited play and also includes 15% off the cafe and discounts on classes and camps.
Ask for punch cards instead of toys that next birthday or holiday.
Look on social media for discount codes.
Hours
Tuesday through Sunday: 10 a.m. to 6 p.m.
Closed Mondays
Open Play Admission
Adults: Suggested $5 donation
Kids 2 and up: $12
Kids under the age of 2: FREE