Whether you're a fan of toe shoes or can't tell a tutu from a toucan, The Nutcracker is sure to win you over (and is the perfect introduction to ballet for children). The holiday classic receives stagings across the Front Range, from small dance school recitals to full-blown, big-budget productions with live orchestra and all the trimmings.
But no matter the dance troupe, Nutcracker dazzles audiences with glittering snowflakes, shimmering sugarplums, the thrilling battle between the Mouse King and the oh-so-handsome Prince and more, all to Tchaikovsky's extraordinary score. Spend a little or spend a little bit more, the choice is yours. (We've noted any discounts.) Here are some productions to check out: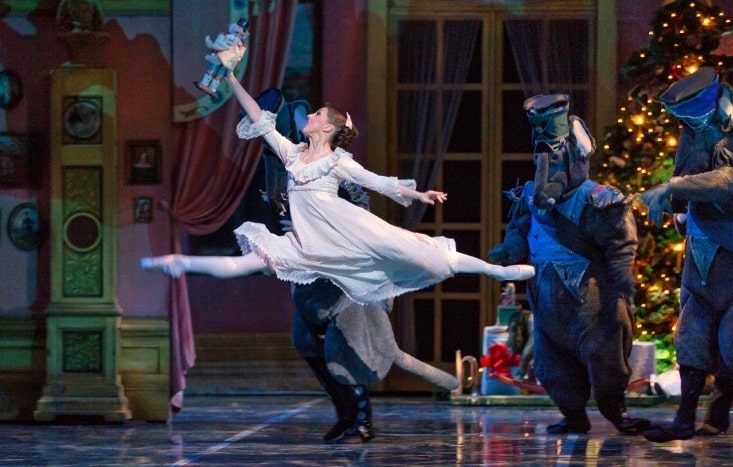 Dance Conservatory of Denver. November 18 & 19. "The Children's Nutcracker" is performed by children ages 3 to 17 and is geared towards an audience of all ages.  Enjoy a less formal but magical rendition of this holiday classic. Tickets: $25. Lakewood Cultural Center, 470 Allison Pkwy., Lakewood.
Colorado Ballet. November 24 to December 24. Largest production in the state, with Tchaikovsky's extraordinary arrangement performed live by the Colorado Ballet Orchestra. The real deal, with a full professional production with company dancers and local children. Tickets: $30 to $155. Ellie Caulkins Opera House. Discounted tickets may be available through Goldstar.
Classical Ballet Academy. November 28 & 29. Traditional three-act production. Guest artists include Alexander Glusacov and, from Kansas City Ballet, Liang Fu. Tickets: $37. Lakewood Cultural Center, 470 Allison Pkwy., Lakewood.
Boulder Ballet. November 24 to 26. One of Colorado's major productions of the holiday tradition, with a cast of more than 80 dancers including the professional company and charming young student dancers, a full live orchestra, spectacular scenery and special effects. Macky Auditorium. CU Boulder. Tickets $15 to $67. Buy here. Also December 2 & 3 with the Longmont Symphony Orchestra at Vance Brand Civic Center, 600 E. Mountain View Ave., Longmont.  Tickets: $12 to $35. Buy here. Discounted tickets for Longmont may be available through Goldstar.
Littleton Youth Ballet. December 1 to 3. Features a cast of more than 150 children, pre-professional dancers, and guest artists, this delightful ballet (with full backdrops and beautiful costumes) will transport you to a simpler time and an enchanting place. Colorado Ballet guest artist to be announced and soloist Francisco Estevez will be featured in the evening performances on Friday and Saturday. Tickets: $20 to $36. Buy here. (Prices are $2 more at the door.) Joanna Ramsey Theatre, 6933 Raleigh St, Westminster.
Moscow Ballet. December 8 & 9. Great Russian Nutcracker is a fully produced (60-foot growing Christmas Tree, seven backdrops featuring Russian heritage, 10-foot tall puppets, 40 dancers and 100 costumes) national tour of the Christmas favorite. Tickets: $28 to $89. Buy here. Discounts for AAA members and seniors when you present your ID and/or membership card and purchase at the box office. Paramount Theater, 1621 Glenarm Pl., Denver.
Ballet Ariel. December 8, 10, 16 & 17, 22 & 23. Full-length productions with beautiful costumes and exciting choreography danced by Ballet Ariel's professional company and school students. Tickets: $38. Lakewood Cultural Center, 470 Allison Pkwy., Lakewood.
Colorado Conservatory of Dance. December 9 & 10, 16 & 17. Sixty CCD students join guest artists Cervilio Miguel Amador and Melissa Gelfin of Cincinnati Ballet for performances on December 9 & 10 and Prima Ballerina Adiarys Almeida and her partner Taras Domitro (former principal dancer with San Francisco Ballet) on December 16 & 17. Tickets: $22 to $42. Performing Arts Complex at PCS, 1001 W. 84th Ave, Denver.
The Nutcracker of Parker. December 14 to 17. Colorado School of Dance's performances include local casting combined with professional dancers and professional backdrops and sets. Tickets: $24 to 29. PACE Center, 20000 Pikes Peak Ave., Parker.
Centennial State Ballet. December 15 to 17. Features Longmont pre-professional and academy students as well as guest artists with live orchestra accompaniment. Tickets: $17 to $22. Niwot High School Auditorium, 8989 Niwot Rd.
Summit Dance Academy. December 19 & 20. Tickets: $18 to $20. PACE Center, 20000 Pikes Peak. Ave., Parker.