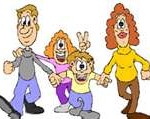 For 10 days Lakewood plans to encourage residents to experience the city's heritage, culture and the arts. INSPIRE Arts Week Lakewood runs from Friday, May 27 through Sunday, June 5 with dozens of free and low-cost arts and cultural experiences. This year, events will be spread across Lakewood at more than 20 locations including galleries, cultural centers, shops and more.
The list includes 40 West Arts Creative District, Lakewood Arts Council Gallery, Washington Heights Arts Center, Arts on Belmar at Block 7, Belmar Library, Lakewood Cultural Center and more.
A Rockin' Block Party is planned for Saturday, June 4 at the Heritage Lakewood Belmar Park (801 S. Yarrow St.). From 5:30 p.m. to 11 p.m., enjoy FREE kids activities, music by Hazel Miller (doing a tribute to Aretha Franklin), food trucks and free popcorn to munch on while watching a family-friendly movie "Hairspray" under the stars.
Other events include interactive arts demonstrations, art walks, studio tours, and more.
For a complete list of events and fees check out the INSPIRE Arts week website.