Target is always on target for savings, if you know how to shop the aisles smartly. Target is one of those stores that you stop by to pick up just one or two items and end up with a cart full at check-out. It seems you can always find more than you need, especially great bargains and clearance. Navigating the ins and outs of bargain hunting at Target can be tricky for the non-seasoned shopper. Our guide breaks it down for novices and experts alike. With a little "Target practice", smart shoppers should be able to regularly hit the bulls-eye on bargains at the popular big-box retailer with our tips and tricks.
Store hours: Target is open 7 days a week. Most stores are open daily from 8 a.m. to 10 p.m. Hours vary (especially closing time), so check first. Some stores are open until 11 p.m., while others close at 9 p.m. In the metro area, there is one major exception. The SuperTarget in Glendale is open 7 a.m. to 11 p.m. every day. Target is typically closed only two days a year — on Easter and Christmas Day.
The Low Down: Target has 41 locations in Colorado, with one notable stand-out. It may just be an urban myth, but we've always heard that the Glendale SuperTarget is one of the chain's busiest locations in the U.S., possibly because it's the area's only location to sell wine and full-strength beer. The parking lot always seems to be full and the check-out lines long. Though it has a large selection of merchandise, many sale or popular items can be out-of-stock because of its high-traffic. Plus, its clearance shelves tend to get cleared quickly. As a result, if you're on the hunt for good clearance, you're better off shopping a different location.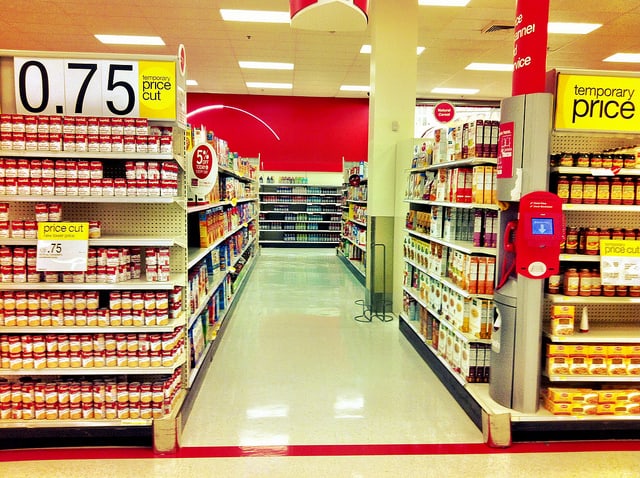 Clearance: Target has great clearance, usually found on one or two end caps in each department. You may also find the occasional clearance on aisle shelves. The markdown interval is reflected on the upper-right hand corner of the red tag — you'll see a tiny 15, 30, 50, 70, 85 or 90. (If you can't make it to the store, you can also find clearance items online at Target.com — just not as good, in our opinion. Plus, you'll have to pay for shipping, unless your order meets the purchase minimum for FREE shipping.)
There are many theories as to Target's markdown schedule. However, several factors determining how and when items get marked down, including market area, unsold inventory and manager discretion. As a result, it's very tricky to narrow down an exact policy. Plus, just because an item is marked down at one location does not mean such will be true at the Target down the street. MHOTC Tip: Always double-check the clearance price at one of the in-store self-scan stations. We often find items are marked incorrectly and the discount is greater than what is tagged.
Overall, here's a general guideline for when to check for price drops:
Monday: Electronics, accessories, children's clothing, books, baby and stationery
Tuesday: Domestics, women's clothing, pets and food
Wednesday: Men's clothing, health & beauty, baby, gardening and furniture
Thursday: Housewares, lingerie, shoes, toys, sporting goods, décor and travel
Friday: Auto, cosmetics, hardware and jewelry
Holiday clearance: Target is one of the best places to stock-up on holiday merchandise, whether it's for Valentine's Day, Halloween or Christmas. Seasonal merchandise is one of the rare items that reaches the most-coveted 90% off in its final days on the shelf. When holiday items peak at 90% off, fill your cart with decorations, costumes, wrapping paper and gifts for the next year's celebration. MHOTC Tip: Holiday items are reduced by 50% the day after the holiday — 30% for candy and seasonal foods. About a week later, items usually go down to 70% off. Then, a few days later, anything left hits 90% off. If you're lucky enough to shop the morning of the final markdown, you'll get some amazing bargains.
Big-ticket clearance: Even big-ticket items go on clearance at Target, including appliances, electronics and furniture. If you're a "clearance hawk" and watching a big-ticket item closely, check back every 5 to 7 days for the next markdown. (Remember, always scan the bar code for price verification. Don't assume the clearance tag is correct.) Other smart shoppers may be watching the same item, so know your budget and what you're willing to pay at the very least. If your timing is right, you can find the bargain of a lifetime.
Coupon policy: Standard. (If you forget a coupon, you can still redeem it easily – just bring back your receipt and coupon to Guest Services on the same day. Most locations are cautious, if you bring it back days or weeks later.) You can review the store's complete coupon policy online. However, there are a few notable restrictions:
Only one manufacturer coupon (paper or Cartwheel digital), one Target coupon (mobile or paper) and one Cartwheel offer can be combined per item — unless otherwise noted on coupon.

Limit of four identical coupons

per household, per day — unless otherwise noted on coupon.
All valid coupons must have a scannable barcode.
Weekly ad insert: Found in most Sunday newspapers (or at Guest Services) and online at Target.com. Besides weekly sale items, circulars include store coupons – usually for bonus offers. For example, spend $25 on select items and get a $5 Target gift card at checkout. These coupons are also available by text, in most cases.
Online coupons: Find manufacturer coupons on its website. Target no longer offers printable store coupons — only manufacturer coupons on its website. (You need to have access to a printer. Print in black & white, to save on the expense of colored ink.) For convenience, you can search by category. There are limits on the number of coupons you can print. Plus, you may need to download the required security software before printing — intended to prevent consumers from printing multiple coupons.
Loyalty program: Target Circle. As a member of the loyalty program, every time you use a non-RedCard form of payment and identify yourself as a Target Circle member, you earn rewards at a rate of 1% of the eligible purchase amount (minus the value of any promotions, discounts, coupons and Target Circle Earnings reward redemptions.) Basically, for every $100 you spend on qualifying purchases, you'll earn $1 back. (For example, a $10 reward would require you spend $1,000.)
Price-matching policy: Target offers a "Price Match Guarantee." They will match the price, if you buy a qualifying item and then find the identical item for less at Target.com, select online competitors (including Amazon) or in a competitor's local print ad. Price matches may be requested at time of purchase or price adjustments within 14 days after purchase. The full list of online competitors is available at Guest Services. MHOTC Tip: SuperTarget locations carry groceries, so remember to review the local grocery ads for more price-matching opportunities – including Albertsons, King Soopers, Safeway, Sprouts Farmers Market and Whole Foods Market.
Return policy: The store has a generous return policy. Most unopened items in new condition returned within 90 days will receive a refund or exchange. Some items have a modified return policy less than 90 days. Those items will either show a "return by" date or "return within" day range under the item on the receipt. (REDcard holders get an extra 30 days to return items, when you purchase an item using the card.)
No receipt? Target will accept some returns without a receipt. However, you will only receive store credit and the return requires a state ID. Returns without a receipt are tracked and there is an annual limit. (It's widely believed the limit is $70 per customer, per year. However, such information is unconfirmed. However, once you've reached your limit, you cannot return any items without a receipt until the following calendar year.)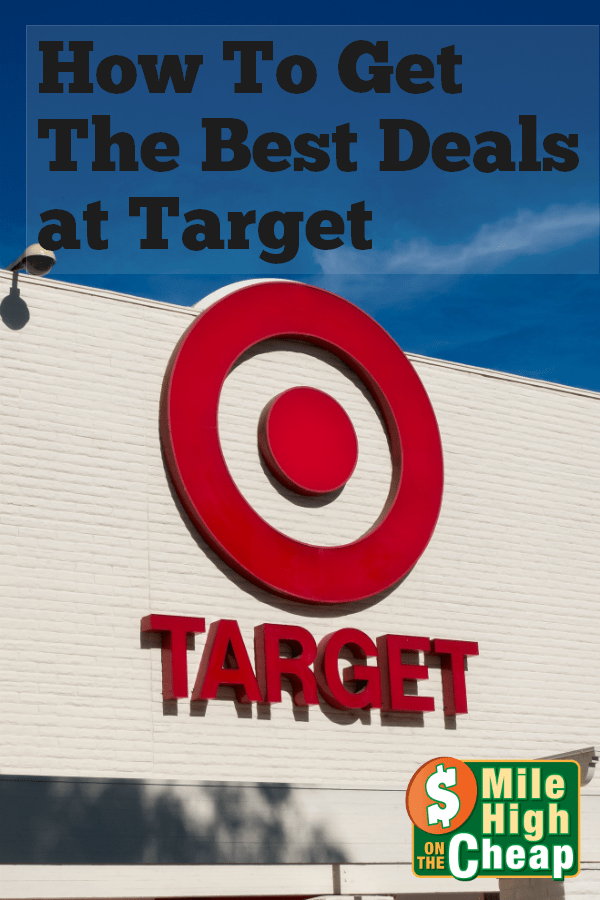 Reusable bags: Bring your own reusable bags and Target will give you a 5¢ discount at checkout for each bag. It's not much, but it can add up on those power shopping trips. According to the retailer, so far, shoppers have used more than 190 million reusable bags for $9.5 million worth of nickels given back. MHOTC Tip: Keep reusable bags in your backseat or trunk, so you never leave home without them.
Bullseye's Playground: The chain offers "Bullseye's Playground" (formerly known as the "Dollar Spot") right at the entrance to the store (usually just one side.) The "shop" offers lots of seasonal and holiday items for just $1, but also includes items priced at $2 and $3. Even these items get marked down on a regular basis, with some items costing just a little change. It's the perfect spot to find small gifts for kids or parties. The stock usually changes every month or so.
Cartwheel by Target: The Cartwheel by Target app offers additional savings on hundreds of items ranging from 5% to 50% off. Download the app and add the offers to your shopping list. When you checkout, present the barcode via a smart phone. Cartwheel by Target is also available to those without a smartphone. Register on a desktop computer, then choose the offers you want. Print a list of savings with a barcode to present at checkout. It's even more on target because you can use the app in combination with sale prices, store coupons and manufacturer's coupons. Some Cartwheel discounts are limited, while others are unlimited, so be sure to check. However, all of the offers have an expiration date.
Store credit card: REDCard holders receive an additional 5% off at the register on their entire bill, free shipping at Target.com and an extra 30 days to return items. Remember, credit card bonuses are not deals, if you don't pay your credit card off in full every month. The interest you pay monthly outweighs any savings you get at checkout. The discount is probably best used by expert bargain hunters who are fiscally responsible.
Coupon stacking: Yes, you can stack coupons on a single item — typically a store coupon on top of a manufacturer's coupon. However, Target is one of the few places where you can actually sextuple-stack discounts at checkout. The skill is definitely not for newbies to the world of savings. Here's how it works: Use a 1.) manufacturer's coupon, 2.) a store coupon, 3.) the Cartwheel app for additional percentage off, 4.) and pay using a REDcard for an additional 5% off on a 5.) sale-priced item. For the die-hard smart shopper, you can sextuple-stack by 6.) bringing your own reusable bag for another 5¢ discount at check-out. (We've only done it once, when the stars were aligned.) However, it's easy to use 3 to 4 of the money-saving methods with a little preparation, before you shoot for bargains at Target. MHOTC Tip: Manufacturer's coupons can be used on clearance items, too. By doing so, you can get lots of everyday products for pennies on the dollar, especially health & beauty, household cleaners and kitchen pantry items.
Freebies: If you're shopping at a SuperTarget, kids (12 and under) get a FREE cookie or piece of fruit at the bakery counter. The chain claims to give away up to 50,000 freebies every week to little ones.