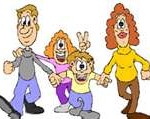 Explore the dark side of nature at the next University of Colorado Museum of Natural History's Family Day on Saturday, December 8. Look up at the stars to chart your path. Listen closely for the sounds of nocturnal animals scurrying. And, learn all about what's up when the sun goes down.
Be sure to check out the Paleontology Hall at 11:30 a.m. for a special program by the Nature's Educators with live animals.
Enjoy hands-on science and art activities. Collaborators for this program are graduate students from the Evolution Outreach Committee who are dedicated to communicating science in fun and understandable ways for visitors of all ages.
The event, appropriate for all ages, runs from 10 a.m. to 4 p.m. and admission is FREE. Henderson Building (15th & Broadway), Boulder, 303-492-1666.
CU Museum of Natural History
1030 Broadway
Boulder, CO 80309
303-492-1666