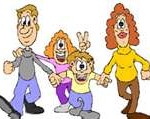 Go with the (ice) floe, tighten your chinstraps and waddle in some fun at the next University of Colorado Museum of Natural History's Family Day on Saturday, April 20. The Museum is accentuating Antarctica, the coldest, windiest place on earth for the final Family Day of the semester.
Meet the CU scientists who venture into some of the harshest climates and learn about what it is like to live there. Step into an actual tent from Robert Falcon Scott's ill-fated journey, try on modern expedition clothing, make your own ice core and much more.
Enjoy hands-on science and art activities. Collaborators for this program are graduate students from the Evolution Outreach Committee who are dedicated to communicating science in fun and understandable ways for visitors of all ages.
The event, appropriate for all ages, runs from 10 a.m. to 4 p.m. and admission is FREE. Henderson Building (15th & Broadway), Boulder, 303-492-1666.
CU Museum of Natural History
1030 Broadway
Boulder, CO 80309
303-492-1666