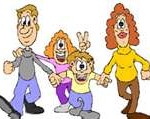 It's all about "aviators" at the next University of Colorado Museum of Natural History's Family Day on Saturday, April 21. Look up in the sky, what's soaring by? A bird, a bat, a bee or a seed? Many animals, and even plants, have evolved to travel through the air.
Take an up-close look at wings covered in feathers, scales and fur — what structures help them fly? How does flight help them survive? Spend the day with your heads in the clouds, exploring the successes and challenges of nature's aviators.
Enjoy hands-on science and art activities. Collaborators for this program are graduate students from the Evolution Outreach Committee who are dedicated to communicating science in fun and understandable ways for visitors of all ages.
The event, appropriate for all ages, runs from 10 a.m. to 4 p.m. and admission is FREE. Henderson Building (15th & Broadway), Boulder, 303-492-1666.
CU Museum of Natural History
1030 Broadway
Boulder, CO 80309
303-492-1666