Just added: Romano's Macaroni Grill. Sometimes it's easy to forget that Colorado is, by nature, an agricultural state. Though it may be a month or more before our farmer's markets open (they are considered essential businesses), in the meantime there are other options instead of the supermarket for locally-grown fruit, vegetables, meat and more. Some are wholesalers who are opening their doors to retail customers because of so many restaurant closures. Others are restaurants, butcher shops, farmers or specialty retailers. We plan to update this list, so bookmark it and keep checking back.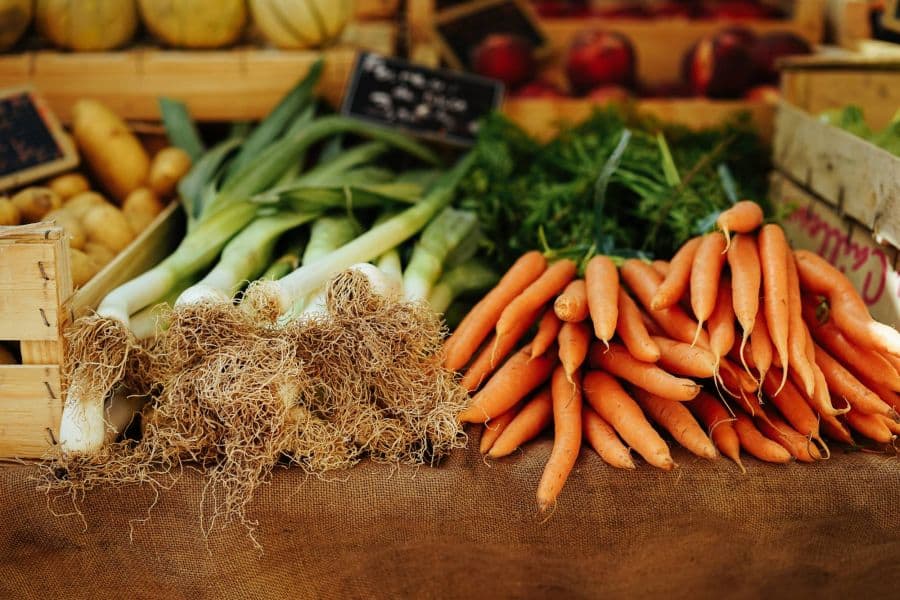 Check each company for details for pick-up and delivery options. Also, be sure to scan each company's offerings — some sell only in bulk or prepackaged boxes, others let you pick and choose specific items. If you know of other local markets or vendors selling to the general public, please send an email to Laura@milehighonthecheap.com and I'll try and add it to the list.
5280 Produce delivers fresh produce to its customers on a weekly basis. They offer a small and large produce box at $22 and $30. Produce boxes will vary from week to week and details will be posted on this page and their Facebook page. On occasion, they also receive meat bundles. Order in advance if possible. Cash only. Pickup hours (which may vary): Thursday & Friday from 5:30 a.m. to 1 p.m. and Saturday from 5:30 a.m. to 9 a.m. 1890 E. 58th Ave., Denver.
Altamira Foods is a local food service distributor providing the region's top restaurants with great ingredients. Now, you can get those same ingredients in your own home using Altamitra Door Step. Stocks everything from fresh produce, meats and poultry to cheese, eggs, bread and even baking essentials. Place your order by 10 p.m. for next day delivery (no deliveries on Sunday). Orders over $50 delivered for free.
The butcher shop and market offers a variety of provisions from meats, cheeses and eggs to bone broth, coffee and household goods. Order over the phone at 720-479-8296 for quick, curbside delivery without having to step foot in the door. 1606 Conestoga St., Boulder.
From the folks that bring you Black Cat Bistro and Bramble & Hare comes Farm Provisions. The online market sells vegetables, meats, greens, flour, cornmeal, eggs, apple sauce, honey, coffee and more. Call 303-444-5500 or place an order here. Curbside pick-up hours are noon to 8 p.m., delivery is from 2 p.m. to 7 p.m. 1964 13th St., Boulder.
The restaurant is selling pantry items from three locations — Cherry Creek, Park Meadows and 28th Street in Boulder. Order dairy, produce, meat & seafood, dry pasta, sauce, bread, desserts, beer & wine. Order online here for pickup or delivery.
For $25 per week you receive a bag filled with fresh fruit and vegetables from Colorado farmers. This is a recurring service, meaning that when you sign up you will be charged and receive a delivery every week. However, their website says that you can cancel or skip a week at any time. Delivery day depends on where you live. Check here for all the details.
This wholesaler is selling prepackaged boxes to the public including Vegetable Favorites ($25), Roastin' Roots ($25), Fruit Box ($25), Salad Box ($29) and Premium Produce Combo ($35). Items in the box are subject to availability. Print out this order form and drop it at their front door or scan/email your order to sales@coosemansdenver.com. When your order is ready, they will call you for a pick up at their front door. 5135 Peoria St., Denver, 303-371-3130.
The meal assembly company is a bit different than the other options. It offers 17 new menu items to choose from each month. Medium-size meals which serve 2 to 3 people run $15 to $30 each. Typically, people come and assemble a month's worth of meals at one time, take them home, put them in their freezer, then take out what you need and cook as directed. However, right now you can place an order, a staffer assembles all the meals and you pickup curbside. The staff is all ServSafe certified. There are 4 locations: Arvada, Centennial, Parker and Colorado Springs. Go here and click on "Get Started" to choose a location and pickup date.
Know for their fresh fruit "floral-style" arrangements, the company is now selling fresh fruits and vegetables boxes. Fruit box is $24.99, fruits and veggies box is $29.99. Contents vary. Choose from pickup in store or home delivery. Get started here by clicking on Free Next-Day Delivery.
Offering a pickup and local delivery program with a rotating selection of high-quality, bulk packaged kitchen staples at wholesale pricing. Stocks meats, eggs, flour, fish and more. Order from the current menu (it changes all the time) and pay online. Complete your order by 10 a.m. on Monday for delivery that week. Or you can opt to order on-site and pickup at the Denver warehouse Monday through Thursday from noon to 4 p.m.
You stay in your car during the pickup process. When it's your turn, place your order from the current menu and pay with a FoodMaven team member on-site, using hands-free safety precautions. A team will load your car for you. 3755 Wazee St., Denver.
This Wheat Ridge indoor marketplace has a full selection of meat, dairy, eggs, baked goods, fruit, vegetables, pasta, jams, beans, rice, grains, flour, sauces, nuts, personal care, household cleaning and candy. Click here to place your order.
Their new delivery service will let you order Four Seasons Market products for home delivery or pickup. Orders received by Tuesday midnight will be delivered on Wednesday between 11 a.m. and 3 p.m. Orders received by Thursday midnight will be delivered on Friday between 11 a.m. and 3 p.m. Orders received by Saturday midnight will be delivered on Sunday between 11 a.m. and 3 p.m.
Parking is in front of building. They are right on the #38 RTD bus line (stop at High Ct, 1/2 block west), and a few blocks from the #76 bus on Wadsworth. SNAP/Food stamps are accepted.
The minimum delivery order is $43 and a delivery charge of $7 will be added for delivery locations in Wheat Ridge. Delivery is slightly higher in neighboring cities. Orders can be picked up at the market for a fee of $2.50. 7043 W. 38th Ave., Wheat Ridge,
Offering door-to-door service for retail customers. They deliver fresh fruit and vegetable combo boxes to individuals and families in Denver Metro and Fort Collins. Shop their online products here. You'll find a wide variety of fruit and vegetables available. You pay online (there's an option to add a tip for your driver) and they leave boxes at your doorstop. No human contact.
Their grocery-to-go (look for it under "Choose a Menu") sells a Soup Kit ($20) with onions, carrots, celery, kale, garlic, potatoes, vegetable stock base and fresh herb medley. They also have fresh produce — both fruit and vegetables, as well as nuts and rice. Order online for curbside pickup or delivery. 2669 Larimer St., Denver.
The Aurora restaurant is offering local delivery services within 10 mile radius (minimum order of $50, plus pay a $10 delivery fee) for all items stocked in their deli such as German meats, cheeses, breads, flour, condiments, canned vegetables, eggs, dry goods, toilet paper, etc. Shop the deli here. For most in-need customers, drivers can also pick up essential items from other stores before they deliver to you. Check their Facebook page for details. To order: call the deli at 303-344-5488 – and then select extension 1.
Hopdoddy Pantry is stocked with beef patties, Impossible burger patties, ground chicken, eggs, bacon, cheddar cheese, potatoes, buns, milk, iced tea and toilet paper all available for takeout and curbside pickup. They also sell a "Quarantined Together Meal Kit" for $24.99. Order online or call 303-446-2337. 1747 Wynkoop St., Denver.
All three locations (Highlands Ranch, SouthGlenn and Golden) for this restaurant are only providing grocery service at this time instead of takeout from the menu. They offer fresh foods (delivered to them twice a week): meat, fish, chicken, vegetables, fruits, bread, pre-made side dishes, rice, staples, paper products and alcohol (wine and spirits). You'll find the link to the current grocery menu (updated weekly) on this page.
Check the menu for current offerings, order and pickup and delivery schedules, and hours the locations are staffed. Delivery is $10 within a 5 mile radius of each location or you can opt for curbside pickup.
The Lazy Dog Pantry is offering a Home Essentials Kit for families. They've put together a collection of those hard-to-get items and will make them available for you to pick up. Package includes: 3 lbs boneless skinless chicken breast (raw), 15 eggs, 1 gallon whole milk, 1 loaf bread, 1 lb unsalted butter, 2 lbs rice (uncooked), 2 lb onions, 2 lbs red potatoes, 2 lb carrots, 3 rolls toilet paper. Cost is $40. 24110 E. State Ave., Aurora.
The Lazy Dog Pantry is offering a Home Essentials Kit for families. They've put together a collection of those hard-to-get items and will make them available for you to pick up. Package includes: 3 lbs boneless skinless chicken breast (raw), 15 eggs, 1 gallon whole milk, 1 loaf bread, 1 lb unsalted butter, 2 lbs rice (uncooked), 2 lb onions, 2 lbs red potatoes, 2 lb carrots, 3 rolls toilet paper. Cost is $40. 14618 Delaware St., Westminster.
LoHi Steakbar now offers grocery takeout or delivery from the restaurant. There's a wide variety of produce such as lettuce, cabbage, celery, apples, grapefruit, lemons, limes, onions, potatoes, peppers, mushrooms, beets, bananas, berries and herbs of all kinds. Also on the menu is dairy, cheese, chicken, beef and bamboo toilet paper. Pickup hours are 4 p.m. to 10 p.m. Wednesday to Sunday. 3200 Tejon St., Denver, 303-927-6334.
Available for delivery are bags of mixed vegetables as well as bags of tomatoes, eggs by the dozen, tortilla chips, corn and flour tortillas. Delivery is new to them, so be patient. Click here for their ordering form.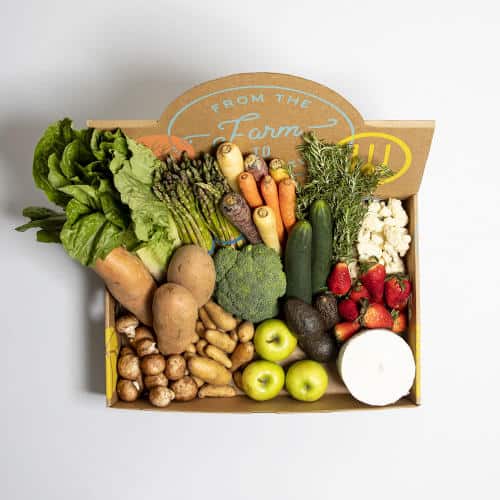 Their re-Fresh box ($60) includes romaine (1 head), broccoli (1lb), asparagus (2 bunches), cauliflower (1lb), carrots (2lb), cucumbers (2 each), sweet potatoes (3 each), potatoes (1lb), mushrooms (1lb), avocado (3 each), apples (3 each) , fresh fruit (1lb), and fresh herbs seasoning. (items may vary due to availability, no substitutions) Limited quantity available. If order fails, it means they're sold out. Please try again the next day when they should have more in stock. Colorado residents get free delivery on orders over $35.
Each Green Grazer crate is made up of 8 hand-selected individual cells, with 4 to 8 green varieties in each crate. Microgreens may be small in stature, but they pack a whopping amount of key nutrients that energize and stabilize your body. Hiding within these tiny leaves are essential vitamins and minerals, including a healthy dose of fiber, antioxidants, and Vitamins A, C, and K. Cost is $24.99 per crate, Deliveries are made on Wednesday to your home between 8 a.m. and 6 p.m. Delivery is free.
The popular chain is now offering Panera Grocery at select locations. You'll find freshly-baked bread, bagels, cream cheese, yogurt, fresh produce (avocados, tomatoes, blueberries, grapes, apples), milk and dairy. Go here and click on Panera Grocery or use the Panera app. Be sure to also check your nearest location to confirm they offer the option.
The PS Pantry sells meal kits to cook at home, as well as meat, seafood, breads, cheese, vegetables, sweets and pantry staples. Order online or call 303-446-8671 for carryout or pick-up. 1959 16th St., Denver.
Quiznos Market is selling deli meat & cheese (by the pound), artisan bread (white, wheat, rosemary parmesan and jalapeno pepper), soups, sauces & condiments. Order online.
The Boulder restaurant offers a Virtual Mini-Mart with essentials and nice-to-have provisions such as coffee, toilet paper, organic four, eggs, fresh produce, cookie dough, cocktails in a can, chips, and wine – to name a few. All items can be ordered online and delivered to you curbside. Go here and click on "Curbside Pickup – See Menu and Order".
The Macaroni Grill Grocery sells Pomodorina sauce, mahi-mahi, steak, lamb loins, mussels, gnocchi, scallops, risotto, Mediterranean olives and peppadew peppers. This is the menu for the Church Ranch Road location. Order online for pickup or delivery.
Both Denver (off Tower Rd.) and Arvada locations offer Ruby's Pantry, with select restaurant supplies available for order. These include dairy, juice, fruit, vegetables, frozen meat, bread, bottled water, condiments and paper napkins. Call your local Ruby Tuesday or visit the Ruby TueGo website and then click on Order & Pickup to see the Ruby's Pantry menu.
Most of the ingredients to make a tasty sandwich or salad are now available for purchase in the Subway Grocery. This includes fresh bread, meats such as bacon, turkey breast, roast beef and salami (sold in 2 to 5 pound packs), cheese, vegetables (tomatoes, peppers, cucumbers, etc.), sauces, snacks and cookies. Orders can be made for curbside pickup. Start here.
Taziki's Market includes an array of grocery items including produce, meats, dairy,breads, dry goods, deli sides, dressing and beverages. You can order boxes such as a Small Fruit or Veggie Box for $15 or Large Veggie Box for $30 or individual items including chicken, beef, shrimp, salmon, basmati rice, pita bread, and gallons of tea or lemonade. Orders can be made for curbside pickup or delivery. Start here and then click Order Online.
The Sheridan location has ready-to-grill steaks available. Call ahead to 303-761-7427, then pick-up daily between noon and 8 p.m.
The Farmers Market at Tributary in Golden has pulled together its vendors to offer all the fresh essentials — including alcohol — pre-packed and ready to bring home. Shop in person or order online for curbside pickup or delivery. You can get large mixed bags of produce ($35) or fruit ($15), eggs, cheese, milk, River Bear meats, cheese, bread, bagels, desserts and a full list of pantry staples. They open daily at 7 a.m. 701 12th St., Golden.
Tucci Fresh Produce is open to the public selling everything from fresh fruits and vegetables to beans. You can also buy a prepackaged crate. Their Facebook page shows a bountiful box (called the "Tuch") of produce for $25. If you have any questions feel free to call 303-292-1994. 850 E. 50th Ave., Unit A, Denver.
The restaurant offers a ready-to-cook Quarantine Kit for $80. Includes 2 rib eyes or 2 fillets, 4 burgers, 2 chicken breasts (all meats are raw), 1 dozen eggs, spinach dip, green beans, butter, dessert and 1 bottle of wine (red or white). Carry out or curbside pickup. Village at Flatiron Crossing, 1 West Flatiron Crossing Dr., Suite 100, Broomfield, 720-887-6900.
Selling fresh Denver-based Uppercut Meats direct to the public. All steaks are USDA Choice Wet Aged.
Box #1 ($35) includes 32 oz. ground beef, 2 marinated chicken breasts, 2 6 oz. sirloin steaks, 16 oz. fully-cooked braised shredded beef, 16 oz. fully-cooked pulled pork, 2 1/2 lb. beef burgers, 4 links chicken apple sausage, 2 boneless pork chops, 16 oz. Italian sausage coil.
Box #2 ($20) includes 32 oz. ground beef, 2 marinated chicken breasts, 16 oz. fully-cooked pulled pork, 2 1/2 lb. beef burgers and 16 oz. Italian sausage coil.
Available for pickup Monday to Friday from 10 a.m. to 5 p.m. at either Western Meat 537 E. 56th Ave, Denver or Altamira Foods , 6300 E. 39th Ave., Denver. If you need delivery, let them know and someone may be able to deliver to your home (within a reasonable Denver area radius). To order, call Western Meat at 303-295-0673.
What Chef's Want Denver Food Box
Currently unavailable. Sells boxes of fresh food. Choice of all produce ($75), all produce and 1 ($100) or 2 ($125) meats and all produce and all meats ($150). They also throw in freebies such as coffee, spices and toilet paper. Check here for a current list of what boxes include. Pickup on Monday, Wednesday or Friday from 11 a.m. to 2 p.m. at 5151 Bannock St. #12, Denver.
Shop in-store or order online for curbside pickup. Carries a variety of bundles (beef, poultry, vegetables, basic needs), dairy, eggs, ground meats, staples, chicken, bacon, red meats, sweets, seafood, condiments, frozen foods and more. Read instructions carefully on this page before placing your online order. 5650 W. 29th Ave., Wheat Ridge.