So, you've been invited to use Zoom for a virtual doctor's visit, fitness class or meeting. Now what? With so many of us stuck at home, video calls have become the norm. If this is the first time you've had to go "virtual" for a remote gathering, it can seem overwhelming, but don't worry. It's actually very easy to join in.
Thanks to our sister site Charlotte On The Cheap, we've got this how-to guide for Zoom and for Google Hangouts. These are just "quick" start guides. You can find much more instruction, on Zoom.com and support.google.com/hangouts/. Our guides will get you started when you're invited to use either platform. If you want to start one yourself, all the information you need can be found on one of the two above support pages.
The main differences between Google Hangouts and Zoom are from the meeting organizer's end. Essentially, Zoom has more "bells and whistles" for people who are comfortable with the tech, and lets you invite many more people. Zoom gives the hosts options like "mute everyone in the meeting" and lets participants click to "raise your hand" instead of just interrupting whoever is talking.
But Google Hangouts is plenty flexible for, say, your book club, a committee of 5 to 10 people, or a check-in video call with your far-flung family.
There are also other video call options. Skype, Facebook Messenger, Go To Meeting and join.me are a few names you might see. We won't do how-to's for all of them, but rest assured that the companies want it to be easy for you and make it all as intuitive as possible.
Note: These instructions were out together using Windows PC and Chrome browser. So things may look a bit different is you are on a Mac and/or use Edge or Firefox.
Getting Started with Zoom
You can download the app beforehand,but it will also automatically install itself the first time you follow a zoom link to join a call. Just try the link for your first call about five minutes early, to let that happen.
The meeting organizer will email you an invite that will look something like this:
Just click the link in the email (circled here in red) and Zoom will check whether the program is already on your computer, and if not, it will prompt you to download. It should be easy and pretty much run itself with a little encouragement from you in the way of OKs and "Yes" answers to prompts.
For instance, if it's a new install, when you click on the link your window should show this:
And then along the bottom of the window, you should see something like this:

Choose "Run."
At this point, your computer will most likely ask whether it's OK to let Zoom make changes. Say yes.
Then you should see a window like this, with a progress bar:
When that finishes, you should be prompted to enter the name you want displayed to others in the call, then click "Join Meeting."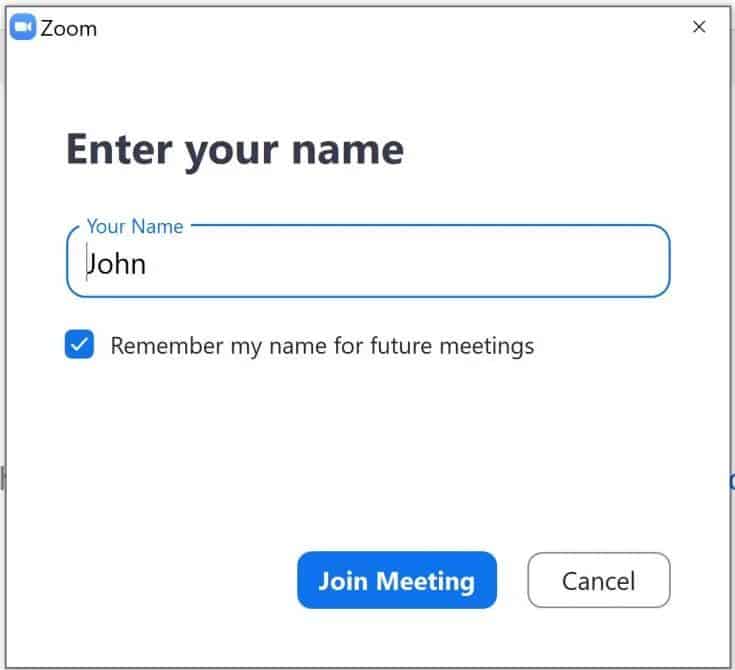 The meeting will open in a small window which you can enlarge to full screen to see everyone better.
If your computer does detect Zoom already installed, the screen might instead say something like "Please click Open Zoom Meetings if you see the system dialog."
This box is the "system dialog" referred to. Click "Open Zoom Meetings" to get in.

You'll be asked whether you want to "Join with Computer Audio." This means using the built-in microphone and speakers/headset instead of using your phone to dial in for audio.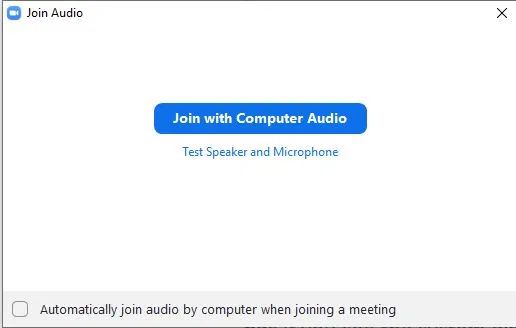 If your computer is older and doesn't have a built-in microphone and camera, you will instead be offered a dial-in number for sound. This should also be in your original emailed invitation.
Some of the useful icons on the screen include:
Mute, at the bottom right of the window (clicking this mutes or un-mutes your microphone)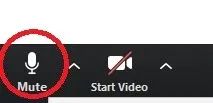 Turn camera on/off (beside Mute)
Speaker View/Gallery View, in the upper right corner of the window, lets you choose how you see the other people in the call.
Tips for Zoom Video Calls
Turn on as many lights as possible in the room, so you'll show up clearly.
Don't sit in front of a lamp or a sunny window, or you'll be backlit and hard to see.
A lot of people find a plain wall to use as a background. That's up to you, but just be aware what people will see behind you in the shot.
Unless you want to speak, it's a good idea to keep your microphone muted, especially if your dog is barking or you have other unpredictable noise sources around you.
Unless asked by the moderator, it's considered polite to keep your camera on, since seeing others' faces is the reason for using Zoom instead of a conference call.
Getting Started with Google Hangouts
When someone adds you to a meeting in Google Hangouts, it sends you an emailed invite. You can respond right away by clicking Yes, Maybe, or No in the email. If you have a gmail address, that adds the meeting to your Google Calendar.

Both the email and the calendar entry will include easy links for clicking and joining when it's time.
If this is your first Google Hangouts meeting, it's a good idea to just test it out with someone else beforehand to make sure the link works without surprise popups about downloading the program, and that your camera and microphone work. Ask someone else who has the invite to also follow the link, and then just confirm that they see and hear you and vice versa.
You can also follow the link yourself from two devices — say, phone and desktop — and check sound and image that way.
If you are prompted to download the program, go ahead and say yes to any prompts and then you won't have to do that again at meeting time. Before meeting time, take a minute to think about how you'll look on video.
Turn on as many lights as you can, so your face shows up well. Don't sit in front of a window or lamp, or you'll be backlit and hard to see. Some people prefer a blank wall as a background, or bookshelves – just be aware of what people will see behind you!
If you have earbuds with a microphone, or a headset, that will help cut down on extraneous noise. When it's time to join the meeting, click "Join Hangout" or "Join video call" in the invite or the calendar entry.
Once the hangout window opens, you have a chance to check how you look before you again click "Join Hangout" and become visible to other people.
These icons along the bottom of the display can be used to mute your microphone, leave the call (red phone) or turn off your camera. (Shown muted/turned off.) You might want to mute your mic, for instance, if your dog is barking. Turning off your camera can help lighten the load on your computer if you're freezing up, but it's always nice to see people's faces, so don't turn it off unless you have to.
Everyone shows up as small icons at the bottom, except the person currently moving or talking. Be aware that if you fidget, you might briefly be everyone's main image.
This icon opens a chat window where you can type in notes for the group to see. It's useful for sharing links during the call or letting someone know they can't be heard if their sound is malfunctioning, among other things.
Troubleshooting Google Hangouts
If no one can hear you, check that your microphone isn't muted. Similarly, your camera might be turned off. Click on the symbol to turn them off or on.
ON:
OFF:
Leaving the call and rejoining for a fresh connection can solve some problems of audibility. If that isn't sufficient, you can try to follow the link and connect from a smartphone, iPad, tablet – any other device you have.
If you can't find the link, ask the meeting host to invite you again, and that should pop up a new link you can follow from the other device.