WinterSkate, an old fashioned outdoor ice skating rink, returns to Northfield this season. The rink is set up west of Bass Pro Shops next to Zen Asian Sushi Bar. The rink will be open Monday to Friday from 4 p.m. to 9 p.m., Saturday from 11 a.m. to 10 p.m. and Sunday from 10 a.m. to 7 p.m. (Check the website for special holiday and school vacation hours.) Hours are subject to change if the weather is terrible. When in doubt, call ahead to 303-847-2987.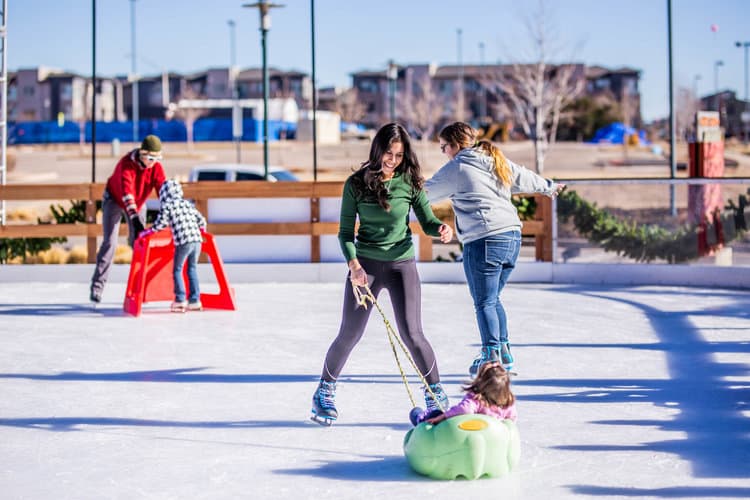 Rates are $10 for all ages and include skate rental (you can bring your own skates but don't get a discount). Reservations are required. Click here to purchase tickets.
A limited number of visitors will be admitted to the ice rink every 30 minutes. All visits must be reserved in advance by purchasing a timed ticket(s) online. You must wear a face mask while skating.
All visitors will receive a confirmation email with a safety waiver and a receipt. Entry is not guaranteed to those who walk up to purchase tickets.
Those who attempt the "walk up" purchase of tickets in-person, will be shown a QR-code to purchase tickets on their smartphones; if the present time is fully-booked, the guest will be shown other available times to skate.
Find more info here on the ticketing process.
More Festive Winter Fun
Sunday, January 24, 2021
Monday, January 25, 2021
Tuesday, January 26, 2021
Wednesday, January 27, 2021
Thursday, January 28, 2021
Friday, January 29, 2021
Saturday, January 30, 2021