We love Colorado. After all, our very wise government officials included certain–ahem–stores on the "essential services" list. And, we are totally on board with you heading to the grocery store as little as possible, and waiting until you have a list of things to buy, rather than heading there for one or two items. But maybe you're out of wine.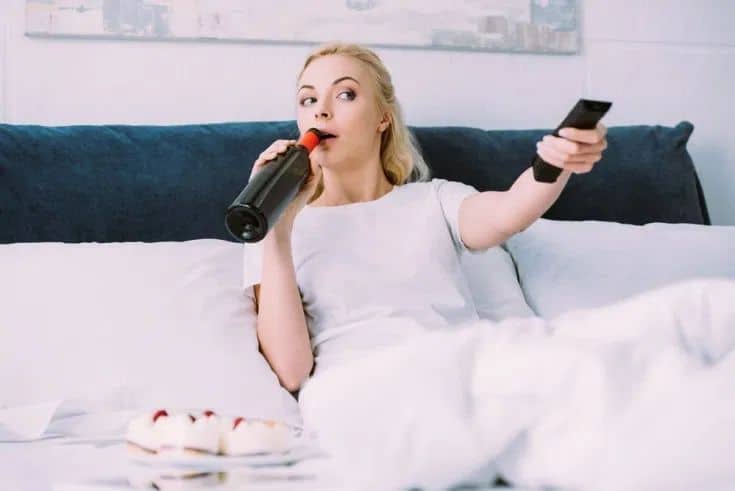 Here are a few ways to get wine delivered to your home. With some of these options, you can get the wine pretty quickly, maybe in a couple of hours, depending on demand, while some of these options might provide a lower price, but take a few days or more.
Local Wine Shops are Delivering
Some local wine shops are dealing with our current situation by offering delivery. (And many more are offering curbside pick-up.)
Here are a few that are delivering. There are almost certainly more. Check your favorite wine shop or wine bar to see if they are. Let us know, and we will add them, as time permits, as long as they have delivery information on their website or social media.
Applejack Wine & Spirits in Wheat Ridge is offering curbside pick-up and free delivery on orders over $100 throughout the metro area. A minimum $50 order (exclusive of tax and delivery) is required for any delivery. If you order between $50 and $99.99, you'll pay $9.99. Read their delivery policy here for details. You can order online or call 303-233-3331.
Argonaut Wine & Liquor on Colfax is delivering within a 25 mile radius. Minimum order of $25. Delivery fee starts at $10 and goes up based on zip code. Call 303-381-7788 for delivery cost to your neighborhood. For a limited time, they are delivering items at sale price.
Bailey's Wine & Spirits offers free delivery in the Boulder area for orders of $50 or more. For orders under $50 the charge is an extra $5. 303-494-3685.
Bonnie Brae Liquor is open with pickup and delivery, as well. A minimum order of $20 (exclusive of tax and delivery fee) is required for delivery which costs $5 within their designated delivery zone. Delivery times are arranged after placement of your order. Call 303-733-7261.
Craft Alley is actually more for beer than wine lovers, with a selection from more than 60 breweries, but they also stock wine and spirits. You can determine if you are in their delivery area by checking out this map. Free delivery on orders of 4 or more Crowlers. Call 720-577-5751 for details.
Hazel's Beverage World in Boulder is offering quick pickup and delivery only (no in-store shopping). Place orders through the website. Delivery could take from 3 to 6 days. 303-447-1955.
Mondo Vino is open for pickup and delivery to Denver, Highlands, West Highlands, Berkeley, Sloan's Lake, Wheat Ridge, Jefferson Park, Sunnyside and RiNo neighborhoods. Free local delivery with $100 minimum; $15 fee for smaller orders and orders outside of the Highlands / Downtown area. According to their Facebook page you can call 303-458-3858.
Total Beverage delivers to the greater Denver Metro, including cities of Broomfield, Denver, Boulder, Erie, Lafayette, Northglenn, Thornton, and Westminster. Use the website or the Total Beverage app. Delivery hours are noon to 8 p.m.
Order Wine Using Instacart
Instacart is a popular grocery delivery service. They will bring you wine. Instacart works with a few local grocery and liquor stores, and your zip code will determine which ones are available to you.
You can add your wine selection in with your grocery order, or order only wine. Nobody is judging these days.
Learn about Instacart and other grocery delivery services that might deliver wine with your grocery order.
Order Wine from Denver-Boulder Restaurants
Many, many local restaurants are offering delivery (and takeout.) And many of them will let you order wine as well. Some are offering discounts on wine.
You can see a big list of local restaurants offering delivery, and what their deals are, on the To-Go Denver website operated by VISIT DENVER.
Or go to DoorDash and browse.
Get a Discount on Wine Delivery from Groupon
There are many wine delivery companies. With some, you order a bundle of wines, while others are a subscription service.
You can find deals on these wine delivery services on Groupon.
When you look at these deals, make sure to note:
Shipping and other fees
If it's a subscription service that you'll need to cancel after the introductory deal
If there's currently an extra discount for wine delivery deals (look at the top of your Groupon screen.) There is periodically a 20% discount.
If they deliver to your area
Do you know of more wine delivery options? Let us know and we will add them to this post, as time permits!