If you've ever thought about ordering groceries online, now may be the time to try it. No having to set your alarm to get in early or try to figure out when various aisles are restocked. True, you can't pick and choose that specific batch of bananas or scan boxes of cereal for the latest expire date. On the otherhand, you let someone else do the heavy lifting, while you stay home. But people who have never ordered food online may be confused by the options.
For most services, you start with an app or an online portal, where you pick out what you want, list quantities and pay in advance by credit card. You also have an option to tip your shopper, which you should do. Your shopping usually is done by someone who contracts with a company to shop and then deliver the orders.
You want to be near your phone while your shopper is working, because he or she will text you if the products you want are not available to see what you would like to substitute. Or you can check a box with your order to indicate "no substitutions" and hope they take note. You may not get everything on your list, but usually about 80% of the order can be filled to your satisfaction.
Previously, you met your shopper at the door, but these days most are leaving the groceries outside and texting you to pick them up.
Walmart, Target and Costco all offer online shopping and delivery options. Whole Foods offers grocery ordering and pickup via Amazon Prime. Many local supermarkets provide deliveries via Instacart or Shipt. Some stores allow you to choose your items online, have a shopper gather them and them you drive to pick them up curbside.
In normal times, you get same-day delivery, often with a few hours of placing your order. In these times, you may need to order a few days in advance. Tip: If you are shopping at a grocery chain, changing stores may allow you to find more products or get your groceries sooner. The store closest to you isn't always your best choice.
Some stores also may charge more for items ordered than for items you buy in the store.
Here is a comparison of grocery shopping services nationwide. Your local stores may offer additional pickup or delivery services. Note that fees and costs may vary by location, and some services may not serve all communities, though we did check using a Denver zip code.
Order Groceries from Amazon and Whole Foods
Amazon offers two different online shopping and grocery delivery options. The first is Amazon Prime Now, where Prime members can shop for food, including fresh produce and perishables, and other everyday items from Amazon and Whole Foods. The service features same-day delivery in normal times.
Currently, inventory and delivery may be temporarily unavailable or take longer than usual to increased demand. When you order, your availability will be confirmed at checkout. Through April 5, Amazon's warehouses are currently only accepting essential items, such as household staples, medical supplies, and other high-demand products. This means that if you order something that doesn't fall into these categories and that is currently out of stock, you will have to wait until after April 5 or later to receive your order. But groceries that are in stock are available quickly.
A Prime membership is required to use Amazon Prime Now. There is a 30-day free trial for the program.
How to order: Visit their website or order through the Amazon Prime Now app
Cost: $12.99/month or $119/year, with a 30-day free trial available. $5.99/month for EBT and Medicaid users
Minimum purchase: $35
Same-day delivery: Yes
Amazon Prime Pantry
The second grocery delivery option offered by Amazon is their Prime Pantry. Amazon Prime Pantry's products are limited to include only household products and non-perishable foods from Amazon, and their delivery window is typically 1 to 4 business days. Plus, if you order any five Amazon Pantry items, you'll get a 5% discount, and if you order any 10 Amazon Pantry items you'll get a 10% discount.
Unlike with Amazon Prime Now, no Prime membership is required for this service. However, all Prime member will get free shipping on orders of $35 and over. If you're not a Prime member, a flat rate shipping fee of $5.99 will be applied to all orders.
How to order: Visit their website or order through the Amazon Prime Pantry app
Cost: $5.99 shipping on all orders, unless you're a Prime member, in which case orders of $35 and above have free shipping
Minimum purchase: $10
Same-day delivery: No
Other Amazon options
Amazon stocks many nonperishable items, including groceries and household products, which you can order the same way you order other items from Amazon. In some areas, you can order perishables through Amazon Fresh.
Order Groceries from Walmart
Walmart Grocery offers both grocery pickup and delivery. Their pickup service is free, but to have your groceries delivered you must pay a per-order $9.95 delivery fee or enroll in their Delivery Unlimited plan. With Delivery Unlimited, you'll pay $12.95 a month or $98 a year after a 15-day free trial.
Shop Walmart's selection of groceries online, and then choose a time slot to pick them up at your preferred store or to have them delivered to your door. You can also shop for other everyday items, such as laundry detergent and pet supplies.
If the product you selected is not available, Walmart will substitute a similar product for no additional cost. You'll also be able to edit your order for a few hours before picking it up or having it delivered.
With current demands being higher than usual, it is recommended to check time slot availability before starting your order. Typically, if you place your order before 1 p.m., same-day pickup and delivery is available.
How to order: For pickup, place your order on their website. For delivery, you can place your order on their website or through the Walmart Grocery app.
Cost: Pickup is free. For delivery, pay either $9.95 per order or enroll in their Delivery Unlimited plan for $12.95 a month or $98 a year
Minimum purchase: $30 for both pickup and delivery
Same-day delivery: Yes
Ordering Groceries and Household Goods From Target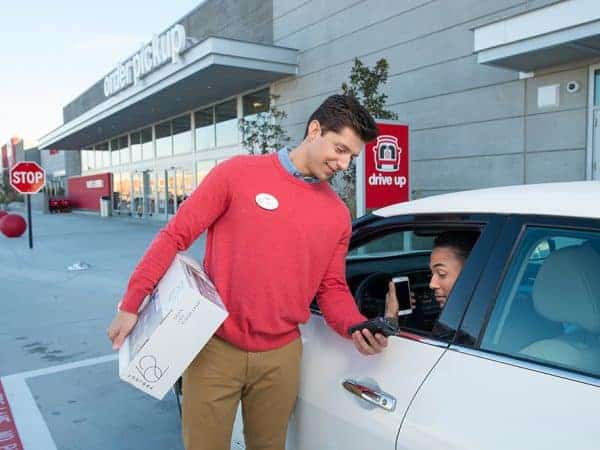 Target Grocery offers a variety of delivery and pickup options for grocery items and other products.
Through Same Day Delivery, you can get next-day delivery on groceries and other essentials. For RedCard holders, this service is free, while non-RedCard holders must pay $2.99 per order for delivery. There is also a $35 order minimum for both members and non-members.
Though Target Restock isn't offered in our area yet, their Same Day Delivery service, powered by Shipt, seems to be. You can sign up for a four-week free trial of this service, and then pay $99 a year to continue. A $35 order minimum also applies for Same Day Delivery services.
Target also offers free order pickup through its Drive Up service. To use, place your order in the Target app and then select Drive Up at checkout. Once your order is ready, you'll receive a notification, and you'll then have three days to head to the store. Most items are available through this service, but you won't be able to order perishable food, flowers, or adult beverages.
You can also order on the website or through the Target app and use the free Order Pickup service to pick up your purchases in-store. To use, choose your preferred store and select pickup when you're checking out.
They'll let you know when your order is ready, and your order will be held at the store's Guest Services desk for three days. If needed, you can extend your pickup window by three days by signing into your Target.com account or on the order details page.
How to order: For Same Day Delivery, visit target.com/shipt, the Shipt website, or use the Shipt app. For Drive Up, place your order through the Target app. For Order Pickup, use their website or the Target app
Cost: Target Restock is free for RedCard holders and $2.99 per order fee for non-RedCard holders. Same Day Delivery offers a four-week free trial and is then $99 per year. Drive Up and Order Pickup are both free
Minimum purchase: $35 for Target Restock and Same Day Delivery
Same-day delivery: Yes
Getting Groceries Delivered From Costco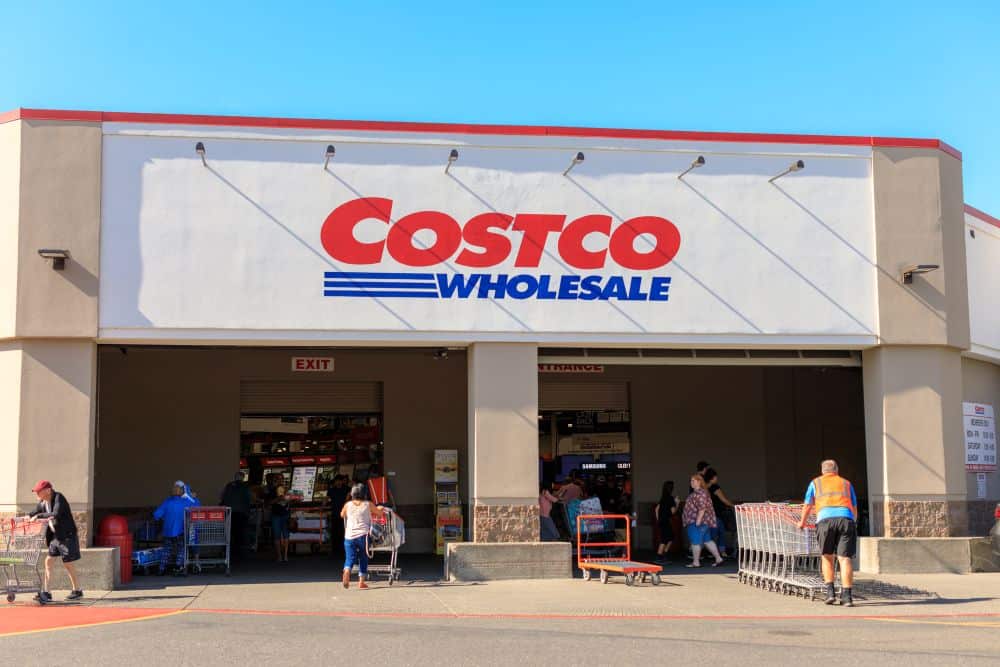 Costco Grocery offers both Same-Day Delivery and 2-Day Delivery. Only Costco members are able to shop using these options. Visit the website to shop both options, or shop Same-Day Delivery through the Instacart app.
The Same-Day Delivery is powered by Instacart, and includes all groceries, including perishables and household supplies. It is offered in the Denver area, although prices will be higher than your local warehouse and your order will include a service and delivery fee.
You must also place an order of at least $35. Orders will be delivered during a time slot of your choosing, although fewer time slots may be available currently due to increased demand. Note: Delivery is now running up to 5 days.
The 2-Day Delivery option allows you to shop non-perishable food items and household supplies. This service is offered nationwide, and does not offer weekend deliveries. The cutoff for the delivery is noon, with orders arriving two business days after they are placed. There is no minimum order, although orders under $75 will be subject to a separate delivery fee. Note: Delivery is currently taking 4 to 5 days.
How to order: Order Same-Day Delivery through the Instacart website or app, or on the Costco website, and order 2-Day Delivery through the website
Cost: Orders subject to a delivery fee. Free delivery on 2-Day Delivery orders of $75 or more
Minimum purchase: $35 for Same-Day Delivery
Same-day delivery: Yes
Getting Groceries From Multiple Stores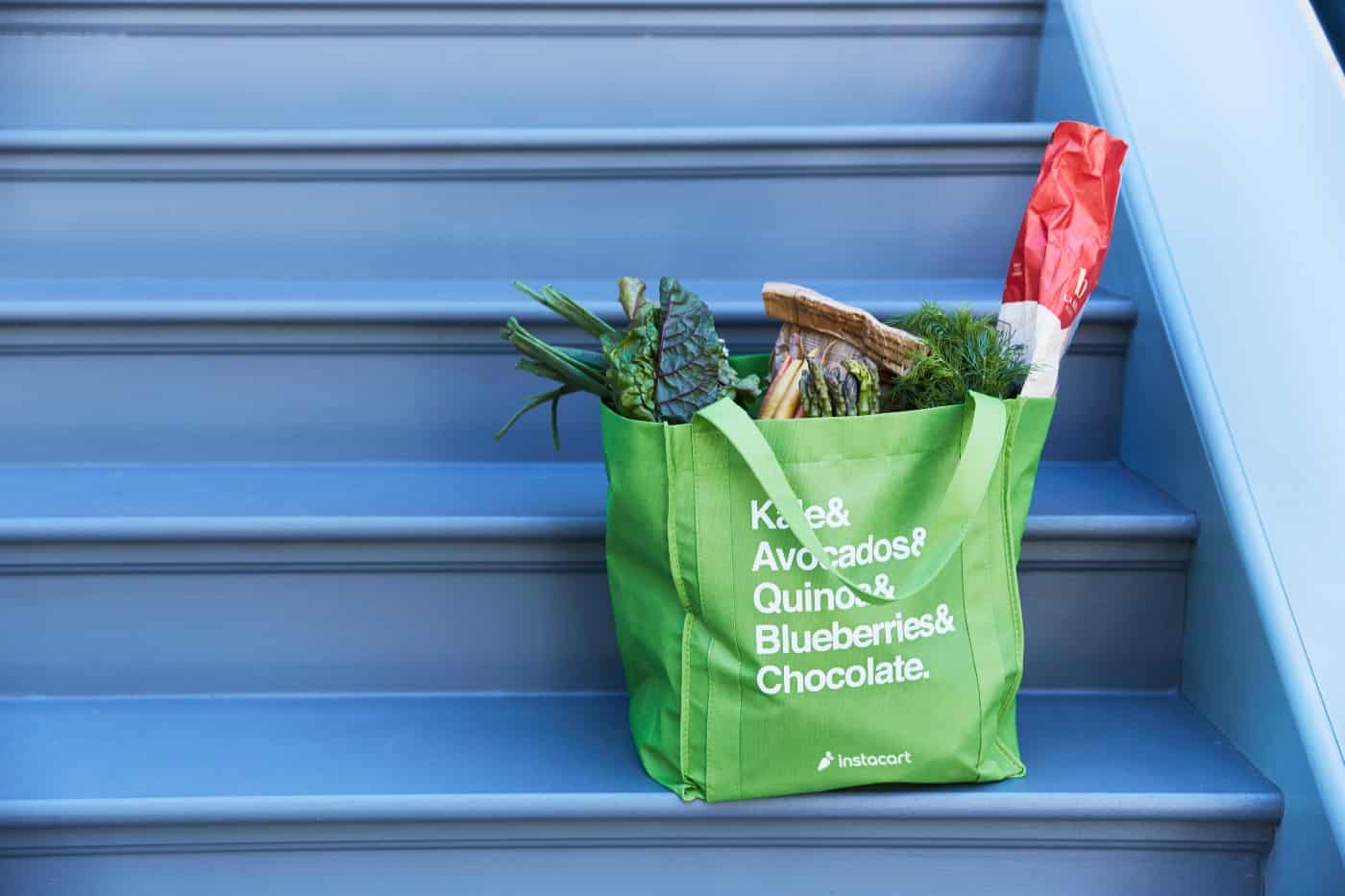 Shop from a variety of local and national chains, including King Soopers, Safeway, Sprouts, Costco, Natural Grocers, Marcyzk Fine Foods, Mercado and Sam's Club and more with Instacart. You can shop both perishable and non-perishable food items, as well as other household and everyday products. Once placed, your order is passed on to a personal shopper, who then visits your local store and shops for you.
Instacart offers same-day delivery, with you choosing a one- to two-hour time slot for them to arrive. Delivery is free on your first order. You do not need to be a member to shop with Instacart, although you can sign up for Instacart Express for either $9.99 per month or $99 per year. You can also try it for free with a 14-day free trial. With Instacart Express, you'll get free delivery for orders $35 and over.
There is also a service fee of 5 percent (or $2 minimum) applied to non-alcohol items for non-Express members. Express members also pay a service fee, but it's lower. Also, if you ask the shoppers to go to more than one store, there's a delivery fee per store.
How to order: Visit the website or order through the Instacart app
Cost: Orders are subject to a delivery fee for non-Express members, although your first delivery is free. Instacart Express is available for $9.99 per month or $99 per year. There is a service fee of 5% (or $2 minimum) on all non-alcohol items
Minimum purchase: $35
Same-day delivery: Yes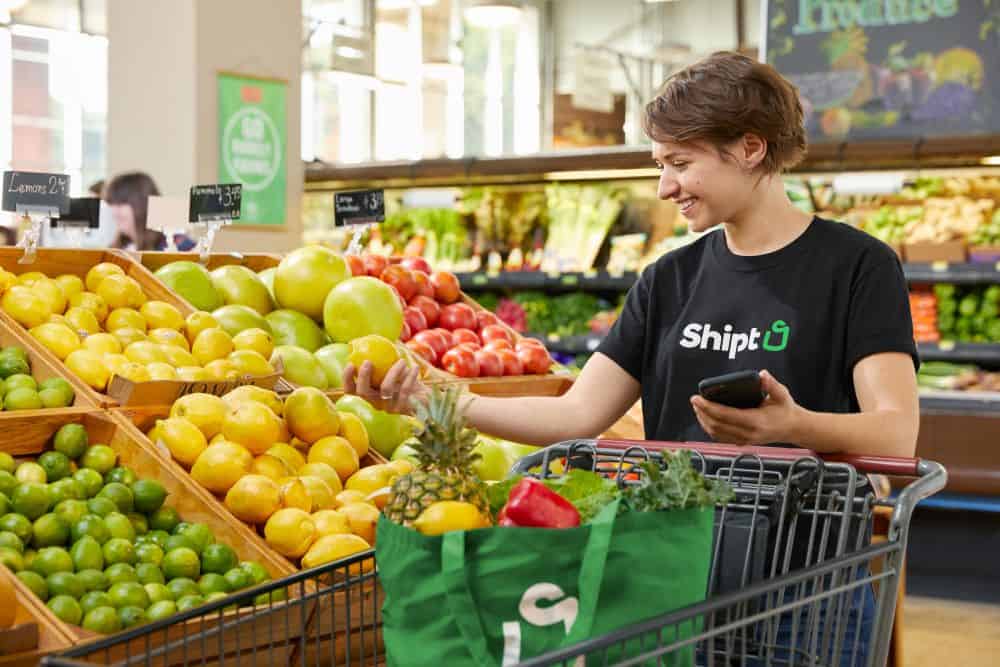 Shipt works by connecting members who place orders through their app to a local network of shoppers. These shoppers visit local and national retailers and do your shopping for you, then deliver your order to your door. You'll get frequent updates as they shop, allowing you to add or change your order if needed.
Shipt offers same-day delivery, with some orders arriving as soon as one hour after they've been placed. You'll also have the flexibility to change your delivery address or send a grocery delivery to friends and family. With current high demands, your delivery time and availability may be impacted.
Shipt offers an annual and a monthly membership plan. The annual plan is $99, and will be billed as one yearly payment. The monthly plan is billed at $14 per month. On both plans you're able to order as often as you want, and will have no delivery fee for orders over $35. Smaller orders will include a $7 delivery fee.
How to order: Visit the website or download the Shipt app
Cost: $99 per year or $14 per month
Minimum purchase: None, but there's a $7 delivery fee for purchases under $35
Same-day delivery: Yes
Although best known for delivering food from restaurants, Postmates also offers delivery from grocery stores. Place your order on the website or through their app, and they'll send someone to do your shopping for you and then drop off your order at your door. They are unable to visit multiple stores, but you can place multiple orders for different stores simultaneously.
Postmates offers same-day delivery. Delivery times vary, but are usually within 25 to 60 minutes after your order is placed. The delivery fee also changes depending on the time of the order and the location of the store.
You can sign up for the Postmates Unlimited service, which offers members free delivery on every order over $12. The service is $9.99 per month or $99 per year after a seven-day free trial. Additionally, both Postmates Unlimited members and non-members will pay a percentage-based service fee.
How to order: Visit the website or order through the Postmates app
Cost: Delivery fee and service fee on each order, depending on location of store and items purchased. Postmates Unlimited, which offers free delivery on orders over $12, is available for $9.99 per month or $99 per year
Minimum purchase: None, although Postmates Unlimited members get free delivery on orders over $12
Same-day delivery: Yes