The sweet deal was last offered on September 2, 2019. (The offer was cancelled for the summer of 2020.) We've contacted Sonic Drive-In and have been unable to confirm any details for 2021. If we get any details, we will update the post accordingly. Sonic Drive-In is "shaking up" late nights again with one of its most popular deals, Sonic Nights. This spring and summer, make a sweet stop to hit your sweet spot for ice cream at a bargain price.
The burger chain's daily half-price Happy Hour on drinks and slushes from 2 p.m. to 4 p.m. does not include shakes. However, if you're willing to wait a few hours, enjoy even sweeter savings — topped with whipped cream and a cherry.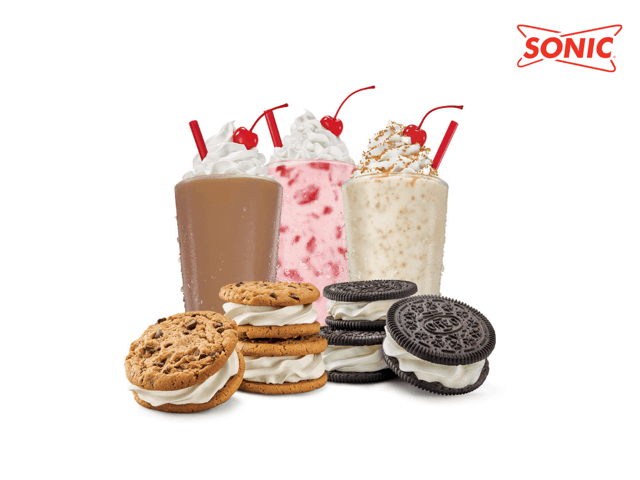 From March 28 to September 2, after 8 p.m., the chain's real ice cream shakes are 50% off at participating locations. With so many flavors and options, every one can find the perfect late-night treat to satisfy their sweet tooth.
SONIC's shake menu is divided it into two types — Classic Shakes and Master Shakes.
The sizes and prices before the discount for Classic Shakes (vanilla, chocolate, strawberry, fresh banana and peanut butter) are a mini for $2.69; small for $3.19; medium for $4.09; and large for $4.89.
The sizes and prices before the discount for Master Shakes (made with premium ingredients mixed in) are a mini for $3.19; small for $3.79; medium for $4.39; and large for $5.29.
New this year, the nightly offer also includes the chain's new ice cream sandwiches. Customers can choose OREO cookie wafers or Nestlé Toll House chocolate chip cookies for their sandwich at the discounted price of $1.49 (regularly $1.99), after 8 p.m.
With no limit, everyone in the family can enjoy a summer favorite without breaking the budget.
Prices may vary by location.
Hungry for more food deals?
Thursday, November 30, 2023
Friday, December 1, 2023
Saturday, December 2, 2023
Sunday, December 3, 2023
Monday, December 4, 2023
Tuesday, December 5, 2023
Wednesday, December 6, 2023