Going to the movies is just a given in the summer for families looking for blockbuster fun, especially under a beautiful Colorado evening sky. In a typical year, there are dozens of outdoor film series at community parks and sports fields. Unfortunately, as with most summer events, many have been canceled. However, all is not lost. Drive-in movie theaters, both permanent and pop-up, are making a big comeback all over town.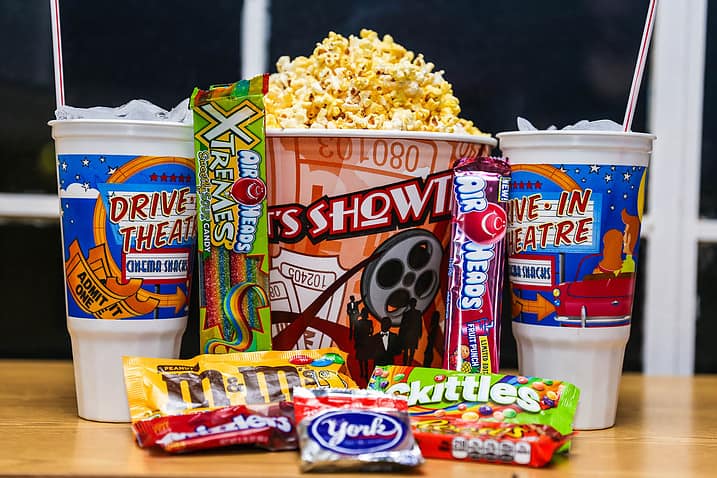 Most of the films are your typical family fare, namely animation and comedy — usually G- or PG-Rated. Not just for kids though, some line-ups include classic pop culture films from the 80s and 90s and even a few recent flicks for adults.
With so few community concerts and events on the summer schedule, tickets for many of the drive-ins are selling out quickly and well in advance. Plus, space is limited for most of the pop-ups. Plan accordingly and get tickets now.
Permanent Drive-In Movie Theaters
The Denver-Boulder area has two "permanent" drive-in movie theaters.
Features first run films, on the largest screen in the region and incorporates a digital projection system to provide the ultimate viewing experience in the comfort and safety of your own car.
Has room for 140 cars per night. (Normally, they could accommodate 275 cars, but, because of social distancing, they've reduced the number of cars allowed.)
Tickets are $10 per person (7 and up), with kids (6 and under) admitted for FREE.
Located at I-25 and 58th Ave. — just one exit north of the I-70 / I-25 interchange. 451 E. 58th Ave., Denver.
Uses a state-of-the-art digital projector — all on a 40′ by 70′ screen.
You must have a working FM car stereo or portable radio in order to hear the films. (Note: Radio apps do not work because they don't stream the sound through the Internet.)
They are only admitting 250 cars each night to maintain social distancing. Parking will be strictly enforced. Bring your lawn chairs and set them up in your personal space.
Tickets are $9 per person — with children 11 and under admitted for FREE. Admission includes all movies, usually a triple-feature. (They guarantee at least two current Hollywood hits.) The first feature starts at approximately 8:20 p.m. The box office opens at 6:30 p.m.
8780 Rosemary St., Commerce City.
Pop-Up Drive-In Movies
In addition to these permanent drive-in theaters, we're seeing some venues and organizations start to host pop-up drive-in movies, both series and one-off events.
Arvada Festivals Commission is hosting a pop-up drive-in at Soccer Stenger Complex on July 10. Tickets are $30 per vehicle and includes two scoops of ice cream. Plus, you can play trivia by text prior to the movie. We'll add future drive-in movies to our calendar and post.
BIFF Drive-In is produced by the Boulder International Film Festival at the Boulder Municipal Airport. The summer series will feature award-winning films from past film festivals, a few classic films and new films not yet released in Boulder. Takes place every Saturday night — from June 20 to September 26.
Gates open at 7:30 p.m. with live music at 8 p.m. Film starts at dusk — around 9 p.m. A new film is announced each week.
All tickets must be purchased online. (No cash or card transactions on-site.) Tickets are $30 (plus a small processing fee) and sold per vehicle, not per person. A limited number of single-occupant tickets are available at $15 per vehicle.
City Church Boulder at 2801 Jay St. has been showing movies every so often. Two more are scheduled for July 24 and 25. Both evenings starts at 8:30 p.m. and the movie at 9 p.m. Organizers are giving away FREE popcorn, snow cones and cotton candy. You can tune in with your car radio or bring an AM/FM radio with you to listen to the movie. We'll add future drive-in movies to our calendar and this post.
Dairy's Drive-In Cinema is in the parking lot of the Dairy Arts Center at 2590 Walnut St. in Boulder. They're showing Labyrinth starring David Bowie on July 10 and 11. The movie starts at dusk. Tickets are $25 per car and you must buy in advance. We'll add any additional movies to our calendar and this post.
Dick's Sporting Goods Park is partnering with the surrounding community to host a pop-up movie theater in its parking lot. The series runs through August. Show starts at dark (around 8:30 p.m.) in Field Lot G. Cars are welcome to arrive as early as 7 p.m. Space is limited. The event is FREE and open to the public.
Erie Community Center hosts a pop-up drive-in theater in its parking lot on July 18 and August 22. The series is FREE to attend. However, pre-registration is required. Space is limited and Erie residents get priority.
Firestone Food & Flick Fridays will use a drive-in format at the Firestone Sports Complex through July, then switch to more of an outdoor picnic setting at Harney Park in August. Food trucks set up at 6:30 p.m. with movies starting at 8:30 p.m. Parking is limited, so arrive early.
Loveland Pop-Up Drive-In. A drive-in theater during the day? Yes, it's possible and there are movies at night, too. Single movie shows are offered three days a week (Friday to Sunday), three times a day: 9 a.m., 5 p.m. and 8 p.m.
Tickets are released on Wednesday evenings, prior to the upcoming weekend. Movies change weekly.
Tickets are by donation from each vehicle — with suggested donation of $20. All donations above the event production cost go directly to the Thompson Education Foundation. The pop-up pops up at The Outlets at Loveland (5661 McWhinney Blvd.) in the north parking lot.
Northglenn Summer Movie Series. Admission is FREE. The series will take place at Northwest Open Space as a drive-in event. Each vehicle must register prior to the event. There is a limit of 30 cars per show. (Note: Space will not be provided for walk-ups.)
Registration is only open to Northglenn residents for the first few days and, then, become available to the general public.
Red Rocks Church at 5810 W. Alameda Ave. in Lakewood is hosting a pop-up drive-in theater to benefit The Action Center on July 21. The cost is $10 per car. You must be registered in advance to attend. We'll add future drive-in movies to our calendar and post.
Summit Church of Castle Rock is hosting a pop-up drive-in theater in Castle View High School's parking lot Fridays in July and August. The cost is a suggested donation of $5 for adults and $3 for children. 5254 N. Meadows Dr. If they add screenings, we'll add them to the calendar.
Movies On The Ridge, hosted by Localworks, is changing its format this summer — now, it's pop-up drive-in theater. The fun takes place at the Pediatrics West parking lot within the Lutheran Medical Center Campus on July 31 and August 21. Admission is FREE, but registration is required.
Out Boulder County hosts its first drive-in screening at Boulder Reservoir on September 9. The cost is $25 per car with VIP reservations also available. Registration is required.
Car-sharing company Turo hosts FREE drive-in screening exclusively for healthcare workers on August 31 in Ft. Collins. Registration required, which begins on August 17.
Outdoor Movies
As of now, all of the annual traditional (non-drive-in) outdoor movie series have been canceled. If the health conditions improve, or if some venues can think of ways to modify their events to make them safer, we will add them right here.
List of summer movies by date
The following day-by-day list of outdoor movies will include both drive-in movies (both at permanent and pop-up drive-in theaters) and traditional outdoor movies, when and if they're scheduled.
Thursday, December 14, 2023