Some orders may still be placed today for pickup tomorrow. Check with individual restaurants or stores. If the thought of spending your Thanksgiving in the kitchen instead of watching holiday movies or football fills you with dread, don't despair. Grocery stores and restaurants are happy to take care of most, if not all, the work. We did the math and found that most of these dinners work out to $7.50 to $10 per person.
Some of the more basic dinners don't include dessert, but a few hours of baking something scrumptious might be just the recipe for getting into the holiday spirit.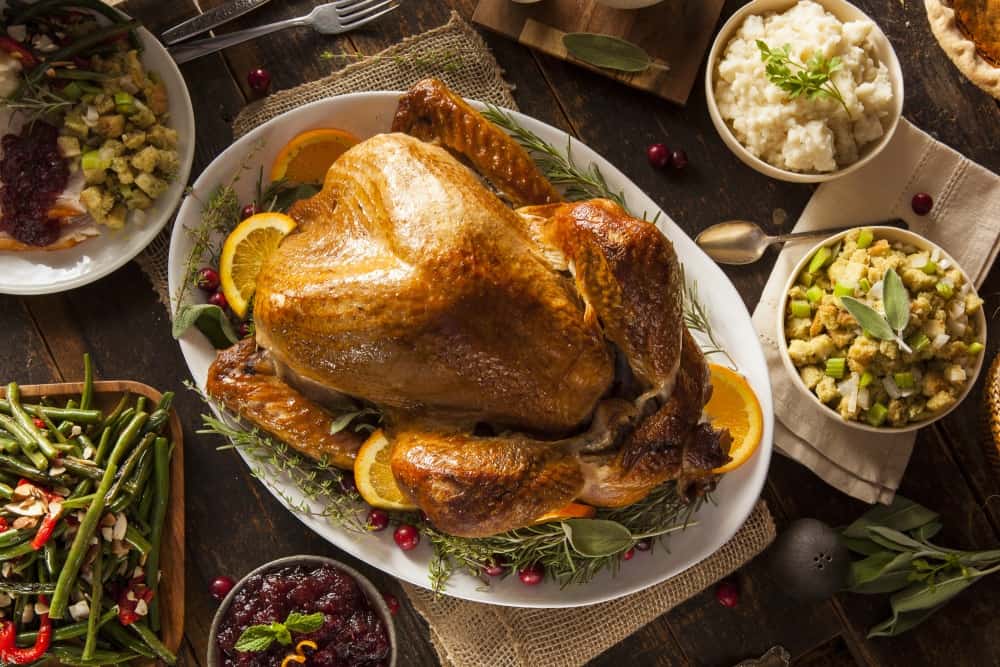 Remember, dinners typically come precooked and cold, so allow two to three hours at home for heating. Most outlets will take your orders online or by phone.
But, don't delay. You'll want to order sooner rather than later. Here are some options from meals for two to a social-distanced "full" house (or to ensure plenty of leftovers).
If you know of any grocery stores or restaurants planning to offer Thanksgiving "to-go", please drop an email to info@milehighonthecheap.com and we'll add to the list.
Bone-In Roasted Turkey Meal serves 6 to 8 and costs $70. Meal includes:
Fully cooked 10- to 12-lb. oven roasted turkey
Home Chef Green Bean Casserole
Home Chef Sweet Potato Souffle
Home Chef Mashed Potatoes
Home Chef Turkey Gravy
12 Kings Hawaiian Rolls
Home Chef Dressing
Pumpkin Pie
Also offering a Boneless Turkey meal for $55 and a Bone-In Smoked Turkey meal for $70. Order online here and choose Holiday Bundles, at the Deli Counter or call: 877-894-3707.
Updated for 2020.

Traditional whole turkey dinner serves 6 to 8 people and costs $69.99. Includes:
Fully cooked 9- to 10-lb. turkey
Home-style stuffing
Mashed potatoes
Gravy
Cranberry sauce
Kings Hawaiian Rolls
An In-Store Turkey Breast Dinner (approx. 3.5 pounds of boneless turkey breast) for 8 to 10 is $59.99. Also available are a spiral ham dinner for $69.99 (serves 8 to 10) and a prime rib dinner for $79.99 (serves up to 6). Additional sides are also available.
To order: Visit the deli counter, call the order line: 888-358-7328 or order online at order-ahead.safeway.com.
Updated for 2020.
Fully-cooked meal for 6 to 8 people is $69.99. Meal includes:
Sprouts Natural, Fully Cooked Whole Turkey 11-13 lb.
Creamy Mashed Potatoes 48 oz.
Homestyle Stuffing 30 oz.
Creamed Kale & Spinach 24 oz.
Homestyle Gravy 24 oz.
Cranberry Sauce 14 oz.
12 ct. Hawaiian Dinner Rolls
There's also a Boneless Turkey Breast Meal for 2 with turkey, mashed potatoes, stuffing, gravy, cranberry sauce and rolls for $35.99. Order online, at any Sprouts store or call 888-5-SPROUT.
Updated for 2020.

Classic Roasted Turkey dinner for four people starts at $79.99 (dinner for 8 people is $129.99) and includes:
Classic Roast Turkey
Green Beans with Roasted Shallots (V)
Creamy Mashed Potatoes
Traditional Herb Stuffing
Turkey Gravy
Cranberry Orange Sauce (V)
Other options include turkey breast dinner for 4, $69.99; smoked turkey breast dinner for 4 (with sweet potatoes, green beans, cornbread & sausage dressing, cranberry-orange sauce and gravy), $89.99; vegan meal for 2, $39.99. Most of these meals can also be ordered for 8 or 12 people.
Order at your local Whole Foods or online from the website by selecting a nearby store and then go to "Meals and Catering" and select the Holiday Meals option.
Updated for 2020.
Offers a Schwan's Thanksgiving Meal for 8 people. Cost is $89.99 if ordered by November 19; after that date the price is $104.99. This meal is shipped to you, frozen. You don't pick it up. No thawing required. You cook from frozen. Membership required. Orders only ship on weekdays.
Includes:
2 2.5 lb. Ready-to-Roast turkey breasts
Creamy mashed potatoes and gravy
Roasted sweet potatoes
Whole green beans
Corn
Southern-style biscuits
Pumpkin pie
Old-fashioned apple pie
Vanilla ice cream
Updated for 2020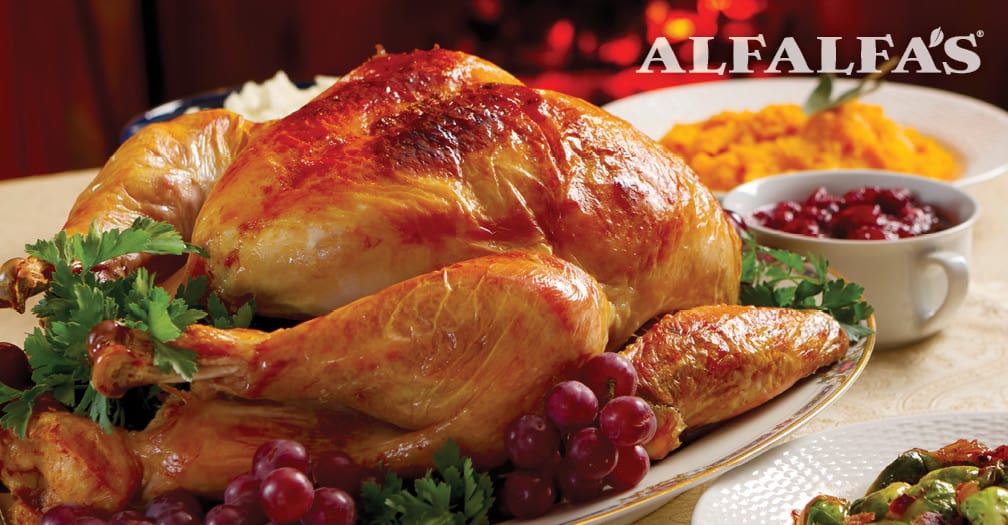 This local pioneer in organic foodstuffs has the most flexible holiday dinner ordering process we have found. Click here and scroll down to make selections of traditional turkey or ham (both non-GMO) or vegan dinners in quantities to feed from 2 to 10. A complete traditional turkey dinner that feed up to 6 people starts at $99 and includes:
Diestel all natural non-GMO turkey
Whipped potatoes
Apricot & Sage stuffing
Toasted almonds & green beans
Herb gravy
Spiced maple cranberry marmalade
Breadworks dinner rolls.
You can also choose sides, desserts, pick-up location options (choice of three) and pick-up times (through 3 p.m. on Thanksgiving Day).
Updated for 2020.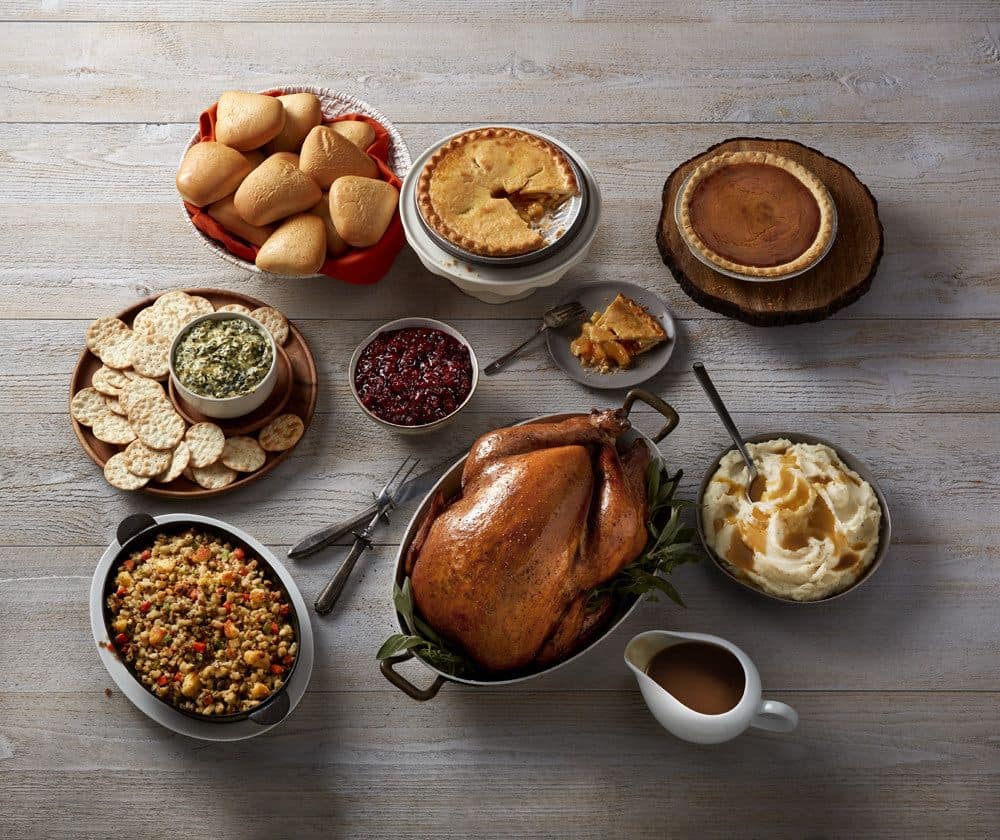 An Essential Thanksgiving Meal for 12 is $109.99 and includes:
Whole roasted turkey
Mashed potatoes
Gravy
Vegetable stuffing
Dinner rolls
The Complete Thanksgiving Meal for 12 costs $129.99 includes:
Whole Roasted turkey
Vegetable stuffing
Mashed potatoes
Gravy
Cranberry Walnut relish
Dinner rolls
Spinach artichoke dip & crackers
Cranberry walnut relish
Apple pie
Pumpkin pie
A Complete Prime Rib Meal for 12 is $159.99 and a Complete Combo Meal for 12 including roasted turkey breast and honey-glazed ham is $129.99.
There's also a Boneless Roasted Turkey Breast or Half Boneless Honey-Glazed Ham meal for 4 to 6 at $89.99. The menu includes several variations (and pricing) based on number of people and options. Order online or call 1-866-977-9090.
Delivery: Boston Market has a home delivery program for its holiday meals. Orders ship frozen and then you thaw and reheat. Shipping starts at $25.
Updated for 2020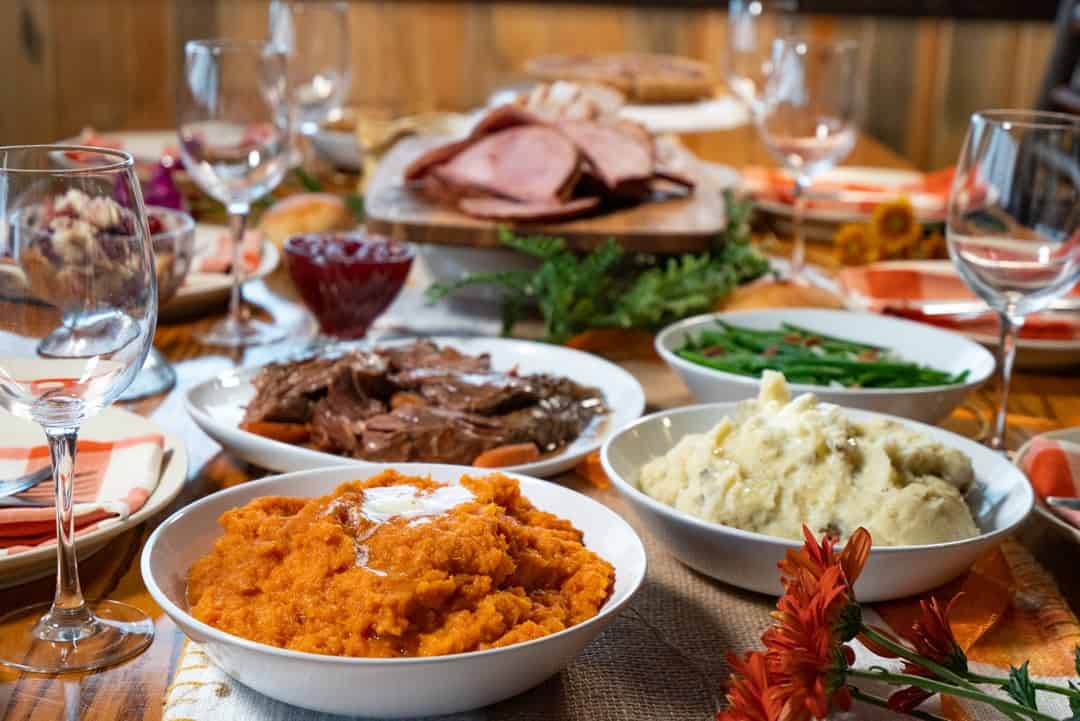 The Holiday Feast Family Pack serves 5 to 6 and costs $100. Meal includes:
Choice of roasted turkey, glazes ham or pot roast
Mashed potatoes
Choice of two sides
Homemade wheat rolls
Choice of pumpkin pie or cherry cobbler
Call any of the nine Front Range locations to pre-order and pick up your meal on November 26.
Updated for 2020
Thanksgiving Feast feeds up to 5 people for $138.00, up to 10 people for $219.99. Available for pick-up hot or cold. Feast includes:
Sliced white meat turkey
Homestyle gravy
Roasted garlic mashed potatoes
Spicy Italian sausage stuffing
Green beans
Ocean Spray cranberry sauce
Pumpkin pie
Updated for 2020
The Thanksgiving Heat N' Serve Feast Comes chilled and ready to heat in 2 hours. Serves 8 to 10 and costs $139.99. Meal includes:
2 Oven-Roasted Turkey breasts
Cornbread dressing
Turkey gravy
Cranberry relish
Choice of 3 sides
Sweet yeast rolls
Pumpkin pie
Pecan pies
The smaller Family Dinner at $69.99 serves up to 6 and includes one turkey breast, dressing, gravy, cranberry relish, two sides and yeast rolls.
There are also meal options featuring sugar-cured ham, as well as several a la carte sides. All packages can be customized.
The single-portion Turkey n' Dressing Meal will be available to order online closer to Thanksgiving.
Updated for 2020
The Louisville restaurant offers a Thanksgiving Dinner that serves 4 to 6 for $80. Must order by November 23 for pickup on the 25th. Dinner includes:
Bacon Wrapped Smoked Turkey (mix of dark & white meat)
Italian Sausage Stuffing
Empire Mashers
Bourbon Candied Pecan Sweet Potatoes
Green Bean Casserole
Citrus & Gran Marnier Cranberry Sauce
Parker House Rolls & Whipped Cinnamon Apple Butter
Baby Lettuces Salad (upgrade to another signature salad +$5)
Traditional White Turkey Gravy
Updated for 2020
The Hickory Smoked Turkey Feast serves 10 to 12 people and costs $124.99. Must order at least 72 hours in advance for pick-up. Available at Aurora, Central Park and Thornton locations. Feast includes:
Whole turkey, slow-smoked over hickory wood and rubbed with a blend of spices
Corn Bread Stuffing
Garlic Red-Skin Mashed Potatoes
Buttered Corn Niblets
Turkey Gravy
Also offers a Hickory Smoked Family-Style Feast with both turkey breast and beef brisket that serves up to 5 people for $79.99.
Updated for 2020
The Thanksgiving Dinner served 12 to 16 people and costs $139.95. Dinner includes:
Honey Baked Ham – Bone-In Half (9 lb)
Whole Roasted Turkey (11-13 lbs.)
Green Bean Casserole with mushrooms and red peppers, tossed in a cream sauce, topped with crispy fried onions
Creamy Russet Mashed Potatoes
Roasted Turkey Gravy
Updated for 2020
Turkey Take-Home Feast at $109.99 serves up to 10 people. Pickup begins November 20 and is available through November 25. Includes:
Whole Herb-Buttered Turkey
Chef-Made Gravy
Cranberry Orange Relish
Whipped Mashed Potatoes
Candied Pecan Mashed Sweet Potatoes
Buttered Cornbread Stuffing
Green Bean Casserole with crispy onion strings
Carrot Raisin Nut Loaves
Pumpkin pie
Pecan Pie
Updated for 2020
This is an all-American, no-frills, traditional Thanksgiving feast that serves 4 people. Priced at $80. Pre-order ends at 8 p.m. on Monday, November 23. Pick-up will be available Wednesday ONLY from 11 a.m. to 8 p.m. All items will require re-heating for the big day. 4401 Tennyson St., Denver, 303-561-0234. Includes:
Fully pre-cooked roasted turkey in oven-ready pan
1-16oz container of broth for use on the turkey & the stuffing (for reheating)
2-32oz containers of truffle mashed potatoes
2-32oz containers of sage stuffing
1 large container of green beans
2 soup containers of gravy
4 individual cups of pumpkin tiramisu
1 loaf focaccia bread
Updated for 2020
Thanksgiving Dinner for one person costs $24, for two is $48, for four is $96, for eight is $160. Carry-out, pre-paid orders only. Schedule your order for November 26 and select one of the times to pick up your order. 2334 S. Colorado Blvd., Denver, 303-758-0315. Includes:
Fresh sliced roasted turkey breast
Sage cornbread dressing
Old fashioned turkey gravy
Whole berry cranberry sauce
Mashed white cheddar potatoes
Green beans
Pumpkin pie
Updated for 2020
Take and Bake Thanksgiving Package for 5 is $95, for 10 is $190. Meal comes cold to be heated at home. Place your order before November 22 for pickup on November 24, 25 or 26. Order online or call 888-MAC-GRILL to place your order. Delivery also available. Includes:
Choice of salad
Roasted turkey breast
Garlic mashed potatoes
Sausage & apple stuffing
Choice of brussels sprouts or broccolini
Choice of dessert
Updated for 2020.
Thanksgiving Family Pack to serve 4 people costs $69.99. Family Packs will be prepared and packaged cold to heat up at your convenience. Locations in Westminster and Parker. Includes:
Turkey
Gravy
Mashed Potatoes
Green Bean Casserole
Stuffing
Cranberry Sauce
Salad
Bread & butter.
Upgrade Mashed Potatoes to Macaroni & Cheese for an extra $4
Updated for 2020
Complete warm-and-serve Thanksgiving dinner box serves 4-6 people and is available for pickup on Tuesday, November 24 or Wednesday, November 25. Store the prepared dinner in your refrigerator and simply reheat on Thanksgiving in less than an hour to enjoy. The restaurant is located at 8325 Park Meadows Center Dr., Lone Tree; 303-799-0252.
Priced at $150 and includes:
Choice of Field Greens or Romaine Caesar
Roasted Turkey
Savory Pan Gravy
Yukon Mashed Potatoes
Brioche and Sage Stuffing
Green Beans
Mashed Butternut Squash
Housemade Cranberry Relish
Choice of 6 mini-indulgences: Pumpkin Pie, Raspberry Chocolate Chip Cannoli or Turtle Cheesecake
Updated for 2020
Thanksgiving Feast To-Go feed 4 to 6 people and costs $95. Available at all Colorado locations. Meal includes:
Roasted turkey breast
Choice of 4 sides
Salads, desserts, wines are extra
Updated for 2020
Offering Thanksgiving Dinner in single "per person" portions to-go, as well as its famous and delicious pies. Price varies by location. Order online for pickup. Includes:
Slow Roasted Turkey
Cornbread stuffing
Mashed potatoes
Turkey gravy
Cranberry sauce
Buttermilk biscuit
Updated for 2020