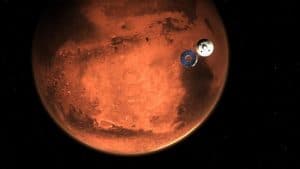 If you're looking for something to do this Thursday, why not watch history being made? NASA's Mars 2020 Perseverance rover is scheduled to land on Mars on Thursday, February 18. Touchdown is schedule for approximately 1:55 p.m. MST. It's been a long journey for the rover which launched on July 30, 2020, from Cape Canaveral Air Force Station in Florida.
Perseverance is the most sophisticated rover NASA has ever sent to the Red Planet. It will collect carefully selected and documented rock and sediment samples for future return to Earth, search for signs of ancient microbial life, characterize the planet's geology and climate, and pave the way for human exploration beyond the Moon.
Perseverance is also ferrying several cutting-edge technologies to the surface of Mars – including a helicopter named Ingenuity, the first aircraft to attempt powered, controlled flight on another planet.
Read on for a number of ways to watch the landing, the rover's mission, as well as some pre and post landing events. There's even a way to get a picture of yourself with a background of Mars or mission control.
How to watch the Perseverance rover land on Mars
Live coverage with landing commentary from NASA's Jet Propulsion Laboratory in Southern California will begin at 12:15 p.m. MST, and you can watch on a number of platforms, including:
How will the Perseverance rover land on Mars?
During landing, the rover will plunge through the thin Martian atmosphere at more than 12,000 mph. A parachute and powered descent will slow the rover down to about 2 mph.
During what is known as the sky crane maneuver, the descent stage will lower the rover on three cables to land softly on six wheels at Jezero Crater.
Perseverance also is carrying a technology experiment – the Ingenuity Mars Helicopter – that will attempt the first powered, controlled flight on another planet.
You get to ride along
The Mars 2020 Perseverance mission carries more cameras than any interplanetary mission in history, with 19 cameras on the rover itself and four on other parts of the spacecraft involved in entry, descent, and landing.
If all goes well, the public will be able to experience in high-definition what it's like to land on Mars — and hear the sounds of landing for the first time with an off-the-shelf microphone affixed to the side of the rover.
Another microphone on SuperCam will help scientists understand the property of rocks the instrument is examining and can also listen to the wind.
Perseverance's mission
A key science objective of Perseverance's mission on Mars is astrobiology, including the search for signs of ancient microbial life.
The rover will characterize the planet's geology and past climate, pave the way for human exploration of the Red Planet, and will be the first mission to collect and cache Martian rock and sediment for later return to Earth.
Subsequent NASA missions, in cooperation with ESA (European Space Agency), would send spacecraft to Mars to collect these sealed samples from the surface and return them to Earth for in-depth analysis.
This mission is part of a larger NASA initiative that includes missions to the Moon as a way to prepare for human exploration of Mars.
NASA Virtual Guest Experience
NASA will provide a virtual guest experience for members of the public during landing, with notifications about mission updates, curated mission resources, and a virtual passport stamp available after landing.
Sign up for the Virtual Guest Experience.
More Ways to Experience Perseverance
Upload a picture to the Mars Perseverance Photo Booth and put yourself on Mars, or at mission control.
NASA televised event schedule for Perseverance landing
NASA TV will air a number of events leading up to, including, and following the landing. Please check NASA TV Schedule for any updates. Times below are Mountain Standard Time.
Wednesday, Feb. 17
11 a.m. – News conference: Mission landing update
1 p.m. – News conference: Searching for Ancient Life at Mars and in Samples Returned to Earth
Thursday, Feb. 18
12:15 p.m. – Live landing Broadcast on the NASA TV Public Channel and online.
In addition, an uninterrupted clean feed of cameras from inside JPL Mission Control, with mission audio only, will be available starting at 12 noon on the NASA TV Media Channel, and at JPL's Raw YouTube channel.
A 360-degree livestream of the Mars landing from inside mission control, including landing commentary, will be available at the JPL's main YouTube channel.
12:30 p.m. – "Juntos perseveramos," the Spanis1h-language live landing commentary show, will air on NASA en Español's YouTube channel.
Approximately 1:55 p.m. – Expected Perseverance touchdown on Mars
No earlier than 3:30 p.m. – Postlanding news conference
Friday, Feb. 19
11 a.m. – News conference: Mission status update
Monday, Feb. 22
12 p.m. – News conference: Mission status update