Scroll down for more information about reusable bag giveaway dates and times. Every shopper in Denver is going to have to bag a new fee, come this summer. Unless you've been living under a rock, you should know the environmental challenges plastic bags cause for all of us. (Actually, you've probably found a plastic bag under that rock!) An estimated 250 million bags are used by Denver residents every year, according to city officials. Unfortunately, only about 5% of those bags are recycled. The rest end up in the waste system.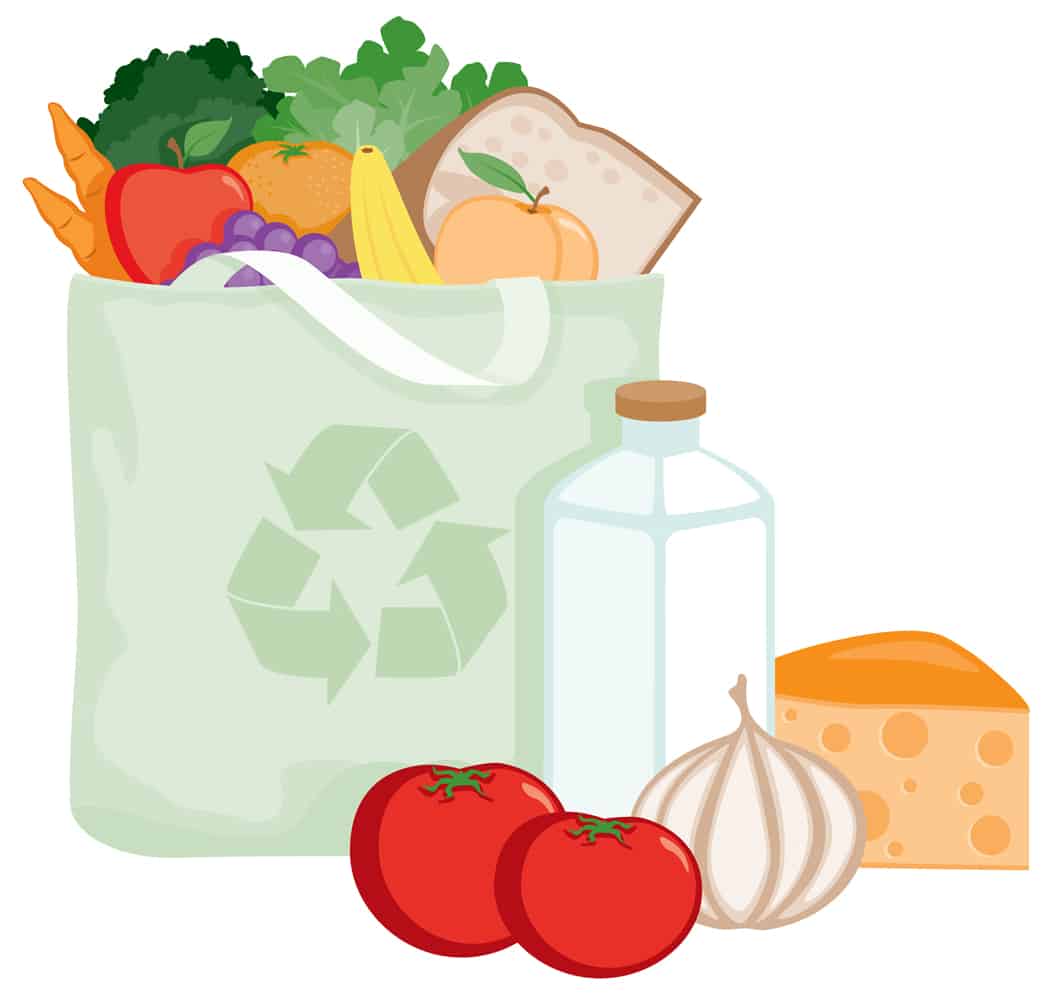 While many Denverites have long recycled plastic bags or used reusable bags for years, there will now be a financial incentive to be more environmentally-conscious. In 2019, the City of Denver passed a new law requiring a fee on all plastic bags. (The law was to go into effect on July 1, 2020, but the pandemic changed the timeline.)
Here's what you need to know:
When does the new law go into effect?
The fee is 10¢ per bag. The law goes into effect on Thursday, July 1. (And, technically, it is a fee, not a tax.)
Where will the new fee be enforced?
The new law will only be enforced within the City and County of Denver. If you shop outside the city limits, you will not be charged the fee — except for those cities that also assess a plastic bag fee.
There are a dozen or so cities in Colorado with similar plastic bag fees or bans, including Boulder and Breckenridge.
The exact details of how it will be enforced are yet to be determined. (If it's similar to Seattle, the program works on an honor system. The clerk simply enters the number of bags used at checkout. At self-checkout, the system simply asks the customer to enter the number of bags used, prior to paying.)
What bags are included?
All plastic and paper bags will incur the fee.
Bags used for produce, fresh meat/fish, dry cleaning, prescription drugs and newspapers are exempt.
What stores are affected?
The fee covers any retailer selling "consumer goods, household items or groceries."
Many only think of grocery stores, when "plastic bags" are mentioned.
However, all retailers will be affected, including department, convenience, liquor, hardware and drug stores. Basically, any retailer (local or national) will be required to enforce the new law.
The only exception are restaurants.
If I have my groceries delivered, will I still be charged?
Yes. No matter how you obtain your groceries, you will be charged the bag fee — if any bags are used in the process.
Is anyone exempt from the fee?
Yes, low-income people are exempt from the fee. Those citizens receiving support from the Supplemental Nutrition Assistance Program (SNAP) will not be assessed the fee.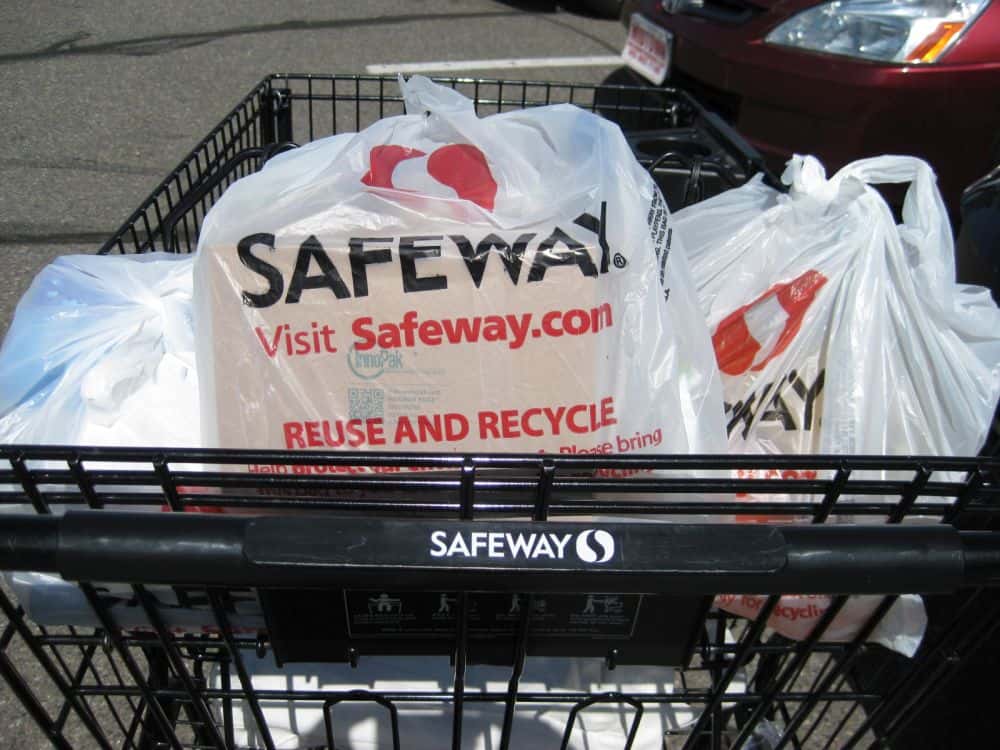 What will the average fee be for most shoppers?
It's estimated that, on average, most shoppers walk away from the grocery store with 10 bags (and, yes, double-bagging heavy groceries will cost an extra dime.), according to Simple Ecology, a website that sells reusable produce and tote bags.
Ten bags will cost you an additional $1 at checkout.
For bargain hunters, every dime counts. And, when you do the math, the fee adds up. Assuming you shop for groceries twice a week, that's an extra $8 a month and $96 annually. And, that's just for grocery shopping.
Add in your quick trips to Target, Walgreens or Walmart and you could easily top a few hundred dollars annually in bag fees alone.
When you think about it long-term, for many smart shoppers, a few hundred dollars a year is "big bucks." It could help pay off a bill or help with an unexpected home repair.
Or, for others, it could be used for a few date nights or much-needed massage. The point is that it's money you're just throwing away…literally.
What will be the fee be used for?
Of the fees collected, the City of Denver keeps 60% and retailers retain the remaining 40%. Respectively, that is 6¢ and 4¢, per bag sold.
(Retailers are expected to use their take for public education about the fee and providing free reusable bags to customers.)
Part of the fees will be used for the administration and enforcement of the new program. In addition, some of those dimes will go to the public education and marketing of waste reduction efforts. Most important for many, some of the revenue will be used to produce and distribute FREE reusable bags to the public.
BAG GIVEAWAY: The City of Denver and its partners are giving away reusable bags for FREE, while supplies last. More giveaway dates will be added throughout the summer, so check back for updates. Limit one bag per person.
Here's the current schedule:
June 12 — Whittier Café (1710 E. 25th Ave.) from noon to 3 p.m.
June 15 — Our Lady Church (665 Irving St.) from 1 p.m. to 3 p.m.
June 20 — 14th Annual Reach 4 Peace Parade & Picnic (12000 E. 47th Ave.) from 1:30 p.m. to 4 p.m.
June 20 — La Raza Park Celebration (1501 W. 38th Ave.) from 3:30 p.m. to 5:30 p.m.
June 24 — Levitt Pavilion (1380 W. Florida Ave.) from 5:30 p.m. to 6:30 p.m.
June 26 — Vaccine Clinic at Abraham Lincoln High School (2285 S. Federal Blvd.) from noon to 3 p.m.
June 26 — 15th Annual Heal the Hood Celebration (5300 Crown Blvd.) from 1 p.m. to 5 p.m.
August 21 — South by Southeast Community Festival (6802 E. Yale Ave.) from 11 a.m. to 7 p.m.
September 22 — Bike To Work Day at City & County Building (1437 Bannock St.) from 6:30 a.m. to 9:30 a.m.
To review the giveaway schedule, click here and scroll down to "How To Get a Reusable Bag."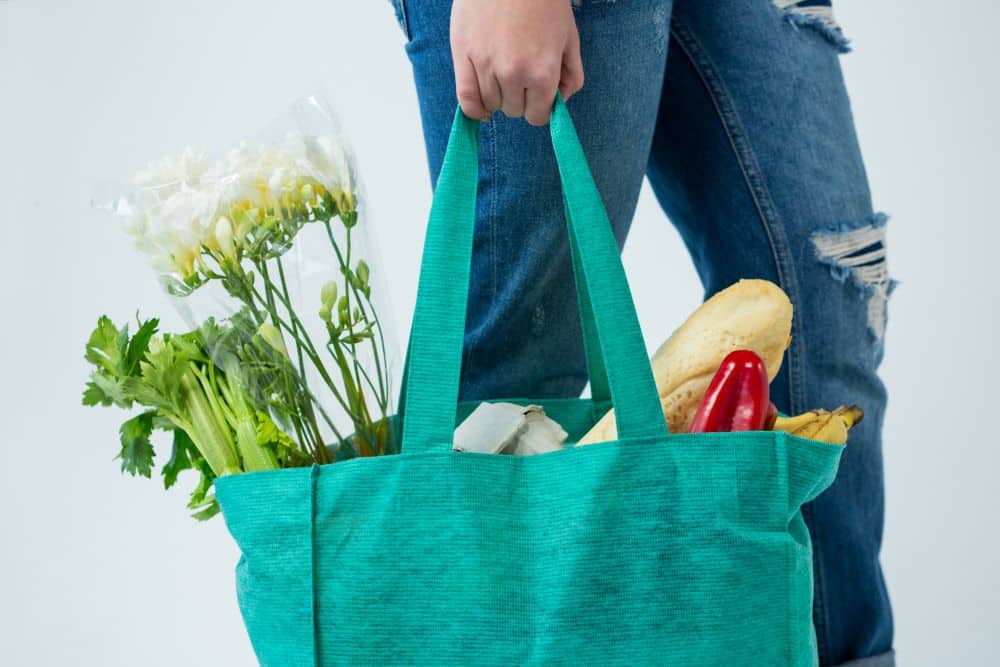 Helpful tips for bargain hunters
♦ Start collecting plastic bags now for use after the law goes into effect. Just collect them in a large trash bag in the garage or kitchen closet. By July 1st, you'll have a bagful of bags.
♦ Some shoppers find cardboard boxes carry more groceries and are easier to transport. (Think Costco or Natural Grocers.) You may want to find a durable cardboard box or plastic container as your go-to shopping courier.
♦ Many retailers already offer low-cost reusable bags at checkout (King Soopers and Safeway) — often for just a buck or two. Now's the time to pick up one or two every few grocery trips, so you're ready for the change. You'll also find inexpensive and durable reusable bags at retailers such as TJ Maxx and Bed, Bath & Beyond. For most, 8 to 10 reusable bags should suffice — unless you have a large family.
♦ You get what you pay for. There's nothing wrong with "cheap" reusable bags. However, there are lots of options for reusable bags. Many shoppers like canvas bags, because they are durable and last a long time. (Plus, they're great for carrying heavier items.) While they are more expensive, canvas bags don't have to be replaced as often and they're washable.
♦ The biggest mistake for shoppers? (Drum roll, please!) We forget to take the reusable bags with us to the store. To get in the habit, leave a sticky note on your dashboard now — "Don't forget reusable bags!" After a few months, you won't even need a reminder. It will become second-nature.
♦ Leave the reusable bags in the trunk of your car. That way, if you do forget, you won't have to travel all the way back home.
♦ And, for those who love doing double-duty, forget bags altogether. Hear us out! You could easily just put the groceries back in the cart, take them to your car and put them in the trunk or back seat one-by-one. Then, when you get home, do the same. True, it means multiple trips from the car to the kitchen, but it also means lots of extra steps in your exercise routine. It's all a matter of how you look at it. Rather than seeing it as "a chore", see it as an opportunity to get in a quick work-out a few times a week!