Say cheese! There are lots of cheesy reasons for bargain hunters to smile on National Cheeseburger Day, Sunday, September 18. While there are many stories regarding the birth of the cheeseburger, many believe it all started right here in Denver. Back in 1935, a trademark for the name "cheeseburger" was awarded to Louis Ballast of the Humpty Dumpty Drive-In in Denver. Who knows the truth?
The only true story is that everyone loves a juicy cheeseburger. Even better, when it's with a fries and a shake!
And, because of the endless possibilities of the bun, cheese, condiments and toppings, everyone can create and enjoy their own "perfect cheeseburger."
The following deals are only valid at participating locations and cannot be combined with any other discount or promotion. Limit one offer per person, while supplies last.
For most, there are no protein substitutions allowed — only beef burgers. Plus, none of the offers are available for third-party delivery.
Sweet dreams are made of cheese on National Cheeseburger Day at 7-Eleven! On September 18, 7Rewards and Speedy Rewards loyalty members can enjoy a cheeseburger for only $2.
The cheesy deal is also available for delivery through the 7NOW app.
Topped with gooey, melty Kraft American Cheese and served on a delicious brioche bun, 7-Eleven's cheeseburger features a 1/4 lb. flame-broiled patty.
In celebration of National Cheeseburger Day, Applebee's is offering an online Burger Bundle deal on September 18.
Applebee's Burger Bundle includes one of the following burgers: Bacon Cheeseburger, Whiskey Bacon Cheeseburger, Quesadilla Burger, Classic Cheeseburger, Classic Hamburger or the Impossible Cheeseburger, as well as classic fries and a fountain drink – all for only $10.99.
Customers can order the special online at Applebees.com or the Applebee's app. The offer is only available online.
Get treated like royalty on National Cheeseburger Day at Burger King. From September 16 to 18, the popular fast-food restaurant is giving its Royal Perks members a FREE cheeseburger with a minimum purchase of $1. The offer is only available via the BK app.
And you can't enjoy any burger without fries. Burger King is offering FREE any size fries every week for its loyalty members through the end of 2022. However, unfortunately, you cannot combine the offers in the same transaction.
Take a stand on National Cheeseburger Day at Hamburger Stand! The chain is offering a buy-one-get-one FREE cheeseburger on September 18. The offer is only available online at hamburgerstand.com — use promo code CHEESEBURGER.
The chain's cheeseburgers are made with a 100% beef patty grilled to perfection, topped with American cheese, mustard, ketchup, pickle and minced onions — all inside a caramelized bun.
Hamburger Stand has 6 locations in Colorado — Aurora, Englewood, Denver, Lakewood, Thornton and Westminster.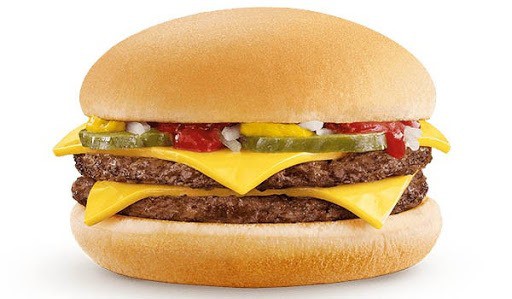 McDonald's has been serving cheeseburgers for more than 80 years, so it's the perfect stop to celebrate the cheesy day.
On September 18, the fast-food giant is offering a FREE Double Cheeseburger with a minimum purchase of $1. The deal is only available via the McDonald's app.
National Cheeseburger Day shines like a gem at Ruby Tuesday. The restaurant is offering a cheeseburger with tots or fries for just $6.99. You can upgrade to a Smokehouse Burger or Bacon Cheeseburger for an additional $3. The offer is available September 18 and 19.
There are only two locations is Colorado — Denver and Pueblo.
In honor of National Cheeseburger Day, the Denver-based Smashburger is offering a cheesy deal.
On September 18, the popular burger joint is offering a buy-one-get-one FREE SmashBurger. The deal is available in-restaurant and online — use promo code BOGO22.
Mix & match single or double patties and/or any of Smashburger's protein options, including chicken, turkey burger or black bean burger.
The burger features two 100% certified Angus beef patties, two slices of American cheese, lettuce, tomato, onion, pickles, Smash Sauce and ketchup — all on a classic bun.
Smashburger has 27 locations in Colorado.
Go local for National Cheeseburger Day! Denver-favorite Snarfburger is offering its Snarfburger Doubles for the price of a single. That means a Snarfburger Double will only be $5.95 on September 18. (The Double regularly sells for $8.45.)
Snarfburger Doubles are made with two all-beef patties, cheese, lettuce, tomato, onion, pickle, mayo, mustard, ketchup and hot sauce. Of course, you can customize it to your tastes!
There are 3 locations in Colorado — Boulder and Denver (2).
While this isn't a National Cheeseburger Deal, Sonic Drive-In offers lots of cheesy savings every week. Every Tuesday, the fast-food restaurant offers 50% off cheeseburgers — from 5 p.m. to closing. The offer is only available via the Sonic app.
In addition, app users can sip half-price drinks and slushes all day. Combine the deals and add some fries for your very own discounted meal deal.
There's nothing better than a burger and milkshake! If you're celebrating National Cheeseburger Day at Steak 'n Shake, consider joining the chain's Rewards Club. New members receive a FREE milkshake just for signing up.
Plus, the chain offers a Happy Hour special every weekday from 2 p.m. to 4 p.m. — get 50% off all shakes and drinks.
There is only one location in Colorado — 3502 River Point Pkwy. in Sheridan.
Celebrate National Cheeseburger Day at Wendy's. The popular fast-food chain is offering a juicy buy-one-get-one special — enjoy a premium sandwich for just $1 with the purchase of another at regular price.
The offer is only available in the Wendy's app, every week in September.
Plus, Wendy's just brought back its popular $5 Biggie Bag with lots of food and savings!
Hungry for more food deals?
Wednesday, March 29, 2023
Thursday, March 30, 2023
Friday, March 31, 2023
Saturday, April 1, 2023
Sunday, April 2, 2023
Monday, April 3, 2023
Tuesday, April 4, 2023