This post is long, so, if you're not a PRINCE fan, feel free to drop out at any point. No hard feelings. If you've read "Bryan Blathers" with any regularity, you know I'm a die-hard PRINCE fan. You also know I'm a die-hard cheapskate. However, my one indulgence has always been PRINCE. No matter the expense, I traveled every opportunity I had to see him in concert, including to Boston, Las Vegas and Los Angeles. (Obviously, I never missed a Denver concert. I've seen him at McNichols Arena, the Pepsi Center, DU Magness Arena and the Ogden Theatre.) I also had the privilege of meeting the icon three times (albeit brief and somewhat awkward) — read about my interactions here. My purple dream was always to go to Paisley Park and this past week it finally came true!
My Minneapolis vacation started with attending the Official PRINCE Tribute Concert on October 13. (The show lasted almost 5 hours and they performed 45 songs. By the end, I was exhausted!) While some of the performances were great, it only served to remind me that no one will ever compare to PRINCE's stage presence, charisma, energy and immense talent. (It's been six months since he passed away and I'm still very sad.) In any case, the sole purpose of the trip was to visit the mysterious Paisley Park.
I opted for the VIP tour for $100, of course. (There is also a general admission ticket for $38.50.) The museum opened October 6, but, because of issues with the City of Chanhassen, it will only operate on a temporary basis until a final decision can be made later this year. As of now, the dates are very limited. I'm lucky to be one of the first (and few) to walk through the doors. One of my lifelong dreams became a reality on October 14. As a fan, I always envisioned Paisley Park to be far off in some magical forest full of elves, rainbows and unicorns. (It is PRINCE's home, after all, right?) To my surprise, it was just off a busy road near strip malls and retail stores. Plus, it was smaller than I expected.
First, just like his concerts, there are no smartphones or cameras allowed. Smartphones are bagged and locked in small grey bags, so you can keep it with you throughout the tour. Then, in the gift shop, there's an unlocking station. It's a very strict policy. If you take the VIP tour, there is an exclusive photo opportunity with his purple piano. (For the photo, bring your own flash drive. Otherwise, you'll be forced to buy a Paisley Park one for $10. A photographer takes your two photos and then downloads them to the flash drive immediately.)
My group was told the facility was largely left the same, since his passing on April 21. Of course, they made some modifications for security and display purposes. First, you're greeted with a large mural of PRINCE's eyes looking down on you. (It felt as though PRINCE was reminding you to "behave" in his home.) The walls and ceiling are painted with clouds. The carpet is covered throughout with stars and moons.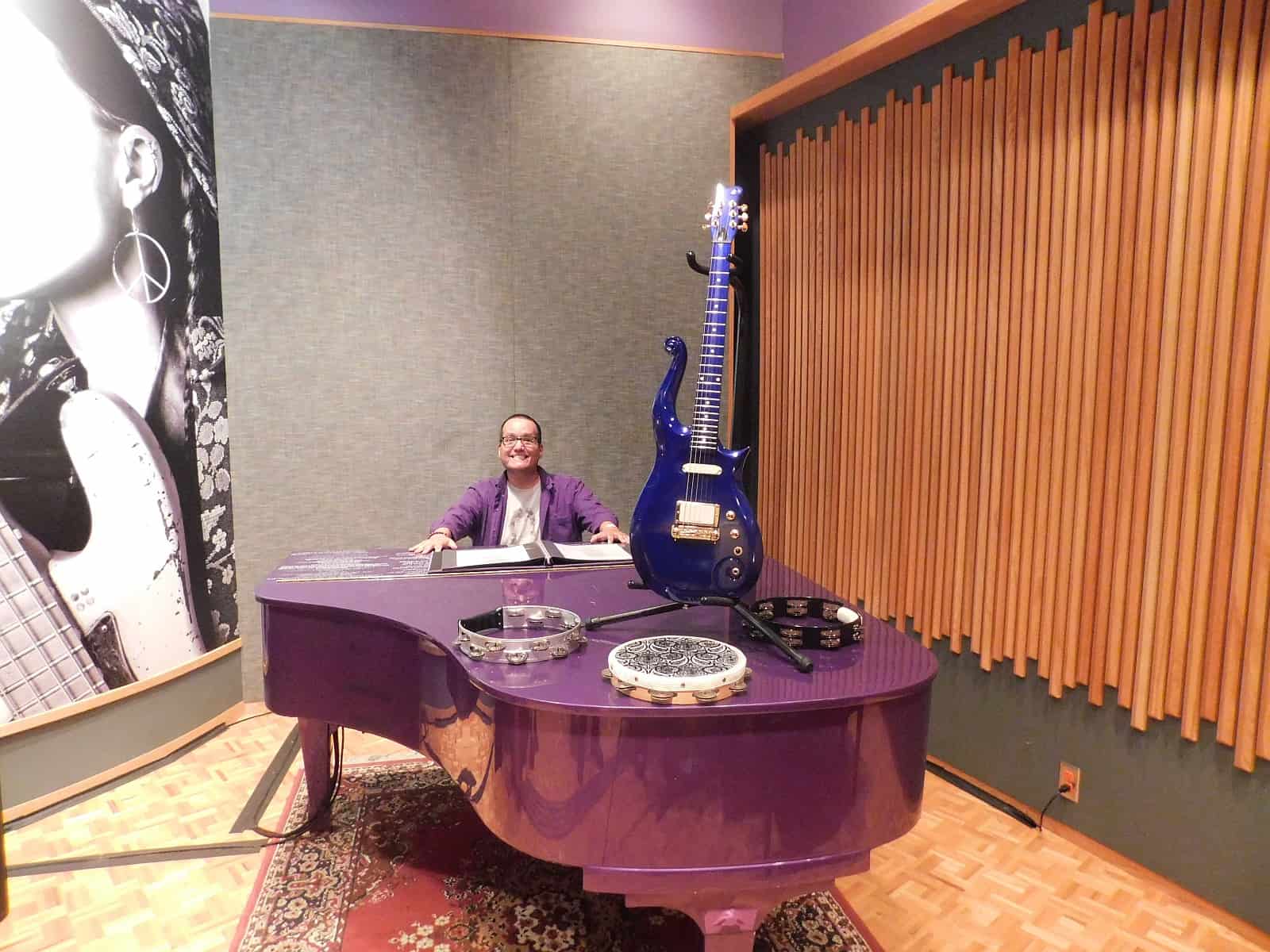 The whole complex felt very "heavenly" and "whimsical", just like you'd think. All of the furniture and décor was swirly, quirky and unique, with lots of candles everywhere — everything was just "PRINCE-y." (The whole place had a very flowery, incense scent about it, too.) Plus, his music was playing throughout the tour. Visitors are strongly encouraged to dance, just as he would have liked.
The first stop was the atrium, with his doves Majesty and Divinity cooing from above in their huge white cage. (Yes, actual white doves!) This was the most emotional part of the tour because his ashes are on display in the middle of the room. (The urn was a small replica of Paisley Park, with his signature symbol in purple and encrusted with crystals at the front.) From the atrium, you could enter various rooms highlighting different albums with costumes, instruments and hand-written lyrics. You can also step into one of his private offices and an editing suite.
Plus, throughout, you can view various awards and plaques on the walls. Right off the atrium was small kitchen/dining area, which you could peek into through the French doors. It felt more like a small diner, but with much more flair. There is also a small couch in the kitchen, where he enjoyed snacks and watching basketball on TV.
Next, you're directed to two recording studios, where all the musical magic happened. Studio A was huge and Studio B was smaller, more intimate. As a special treat, fans are given the opportunity to listen to the final track he was working on for a jazz album. Plus, PRINCE was a huge fan of ping-pong. And, in Studio B, you could pick up a paddle and play on his actual table. (Our guide told us it was the original table, but another guide was overheard telling her group it was not. For me, I'm telling everyone I played ping-pong on PRINCE's actual table!)
Studio B was also where I got to sit at his piano and have my picture taken. Something over came me and I shouted, "I love you, PRINCE!" right before the photo was snapped. Some visitors giggled, but I wasn't embarrassed. I'm glad I got to say those words aloud in Paisley Park. (I just wish I could have said them to the man himself.) Yes, I know I look a little goofy in the picture, but I was really excited. (FYI – Since my tour, because of disrespectful fans, you can no longer sit at the piano. It's now all behind a purple velvet rope and you can just stand in front of it.)
Next up, you step into the purple-lit "Purple Rain" room. With the iconic movie playing in the background, you can see the motorcycle, "Purple Rain" coat and purple piano used in the film up-close, as well as his personal script and the Oscar he won for Best Original Score. Off this room, there are two displays (with costumes and props) highlighting his two other movies, "Under The Cherry Moon" and "Graffiti Bridge."
You then head down what PRINCE called his "History Hallway" with various photos and awards highlighting major milestones in his distinguished career. Next, you're shown another small office and then you head to the soundstage. The soundstage was huge, with concert footage playing on the large screen. (I got emotional again because I realized I will never see him in concert again.) There were also more displays of costumes and instruments. Finally, you can sit in his NPG Music Club VIP room. I sat down and reflected on the man, his music and creative influence. (Yes, I had lots of Kleenex with me throughout the tour.)
Before you head to the ubiquitous end-of-tour gift shop, there's a room highlighting his Super Bowl halftime performance in 2007, which many critics consider to the one of (if not, the) best halftime shows of all-time. Next, they have a display of some of the gifts, notes and mementos fans left on the Paisley Park fence following his death. It will be a rotating display, as thousands of items were left.
The gift shop merchandise was mostly black t-shirts with large prints, a few beanies and Paisley Park tour book. (If you can believe it, no purple items, except for ping-pong balls!) They also tote bags, mugs, posters, a key chain and necklace. The prices ranged from $10 to $33. Interestingly, there was no actual Paisley Park merchandise — no t-shirt, polo or hat with the Paisley Park logo and "Chanhassen, MN" underneath it. (I was ready to spend big bucks, but nothing appealed to me. All I purchased was a key chain.) In the gift shop, you can also enjoy some of PRINCE's favorite food and snacks, all vegetarian in accordance with his wishes. I tried the sampler platter, cookies and cake — all very good. The food prices ranged from $5 to $12.50.
Now, my love for PRINCE did not cloud my judgement. Many fans have decided to wait for a year or so before visiting, so all of the kinks could be worked out. Part of me wishes I had. There were too many people. The "expert" tour guides knew very little about PRINCE. And, to be quite honest, the whole experience was very disorganized and chaotic.
No one was checking for VIP wristbands, so there was absolutely no need to pay the extra $60. Many general admission ticket holders just tagged along with VIP groups or wandered into any room they wanted. (The only exception was the photo opp, but, if you had a flash drive, you could have easily had your picture taken.) If you're a fan, I would encourage you to wait awhile before visiting. They need to have better structure and organization for both VIP and general admission tours.
It feels like they rushed into the venture. In my opinion, it might have been wise to open up the museum on or around the first anniversary of his passing. (The love is always in the details.) Plus, as a fan, I wish the urn had been at the end of the tour — in a simple room with low purple lights and an instrumental version of "Purple Rain" playing softly in the background. It was hard to pay your respects with so much chaos and noise all around, especially since it's the very first stop on the tour.
By next year, I bet many of the rooms will be off-limits or more restricted. I also suspect much of the original carpeting and décor will have to be changed or replaced. Unfortunately, people are disrespectful, so I assume there will be lots of damage and/or theft. (I witnessed one guy nearly knocking over a coffee table, as he tried to rush the crowd. I also saw another fan touching items in one of the offices.)
It will no longer be "as PRINCE left it" very soon, so I'm glad I got to experience it right from the beginning. I was deeply grateful to be in his home — truly a purple dream come true! Many fans may never get the chance to visit, so I extremely fortunate to be one of the first to experience Paisley Park. I love you, PRINCE!
(By the way, Minneapolis was a great city with lots to do and see. It feels very similar to Denver in many ways.)
Are you a PRINCE fan? Do you ever plan to visit Paisley Park? What's your one indulgence in life, no matter the cost?
I look forward to our next chat. Remember, there's always a deal, you just need to look for it! :-)