Mmm…doughnuts and sweet savings! Did you know Hanson Crockett Gregory is the inventor of the modern day doughnut? The sea captain claimed he invented the round doughnut with a hole in the middle aboard his ship in 1847. Of course, there are many different tales and theories about exactly how the donut-with-a-hole-in-the-middle came to be in existence.
In the end, does the story really matter? We just know everyone loves doughnuts and we're grateful they exist!
To honor the achievement, Voodoo Doughnut is celebrating Hanson Gregory Day with a sweet special.
Today, Tuesday, August 18, the high-in-demand doughnut shop is selling its popular The Homer doughnut for just $1. All other doughnuts are at regular price. The special is available in-store or online for pick-up.
Even more exciting, the shop's Broadway location just opened again for business on August 11. The chain's original Denver location on East Colfax Avenue is also open.
What's The Homer doughnut?
The Homer is a raised yeast doughnut ring dipped in strawberry-flavored frosting and a smattering of round sprinkles.
It's the favorite doughnut of a certain iconic and yellow cartoon character, who's the patriarch of a wacky TV family. Ay, caramba!
In this case, we think it's better to refer to these pink treats as "D'oh-nuts". Get it?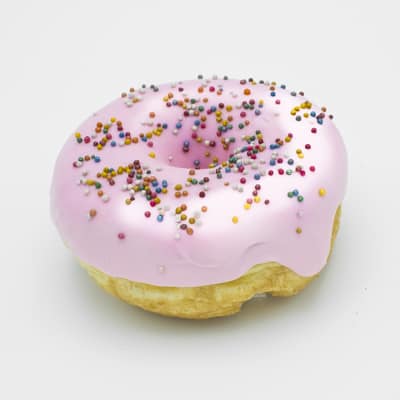 Hungry for more food deals?
Wednesday, December 6, 2023
Thursday, December 7, 2023
Friday, December 8, 2023
Saturday, December 9, 2023
Sunday, December 10, 2023
Monday, December 11, 2023
Tuesday, December 12, 2023