Some people prefer to serve Thanksgiving dinner at home, but don't always want to prepare every single dish from scratch, while others like to go out. Grocery stores and restaurants are happy to take care of most, if not all, the work. Whatever your style, here are some options for under $30 per person — sometimes way under $30.
Most outlets will take your orders or reservations online. Regardless, you'll want to order or book as soon as possible. And note, that typically when you dine out, taxes, tip and beverages are not included in the dinner price. We'll be adding more restaurant options as we hear about them, so keep checking this post.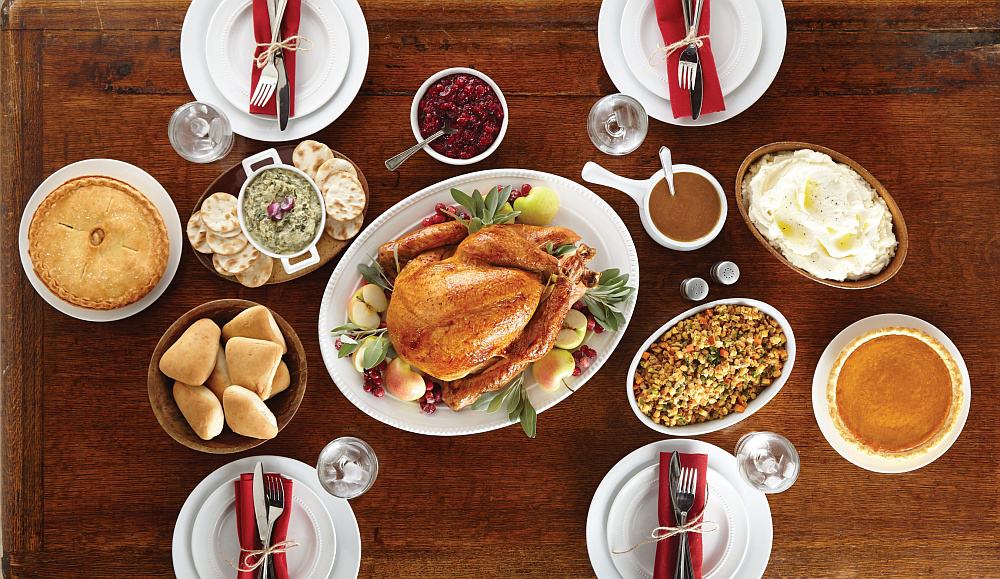 Restaurants (taxes, gratuity and beverages additional)
Restaurants are listed from lowest to highest price per person.
Will be open all day. The Turkey and Dressing dinner includes stuffing, gravy, cranberry sauce, two sides and dinner bread. Regular menu items will also be available.
Restaurants are open with a Roasted Turkey Dinner on the menu. Enjoy slices of roasted turkey breast atop a bed of savory stuffing and topped with warm turkey gravy, served with creamy mashed potatoes and broccoli. Hours and pricing vary by location.
Open and serving traditional Holiday Turkey or Ham dinner, with a slice of Pumpkin Pie. At participating locations. Check with your nearest restaurant for hours.
Starts serving its Traditional Thanksgiving Dinner from 11 a.m. to close on Turkey Day for $12.99 / $7.99 for children (prices may vary by location). The Homestyle Turkey n' Dressing Meal comes with turkey breast, a sampling of sugar-cured ham, sweet potato casserole, cranberry relish, choice of a country side, a refillable beverage, buttermilk biscuits or corn muffins and a slice of pumpkin pie. Pie slices can be topped with salted caramel but ice cream at no additional charge. There are locations in Northglenn and Loveland.
Open on Thanksgiving Day (hours vary by location) and offer the Thanksgiving Day Meal, which features roasted turkey breast or half-rotisserie chicken with two sides, a dinner roll and a slice of apple or pumpkin pie for $13.99. A "Feast for 3" includes sliced turkey or signature chicken (1 ½ chickens), plus 3 large sides, 3 dinner rolls and a whole pumpkin or apple pie for $39.99. Dine-in or carry-out.
Serves a traditional dine-in meal beginning at 11 a.m. The three-course meal includes choice of soup or salad, roasted turkey, gravy, cornbread stuffing, mashed potatoes, candied pecan sweet potatoes, green bean casserole, cranberry-orange relish and choice of pumpkin or pecan pie. Price is $19.99 for adults, kids $9.99. Reservations suggested.
Serving a Thanksgiving plate at all three of its locations (Ballpark, Littleton and Centennial). The meal includes herb-roasted turkey, brown gravy, brioche sweet potato stuffing, sour cream & onion whipped mashed potatoes, steamed green beans and cranberry jelly. Dessert is extra. An adult plate is $20, kids plate is $9. Reservations suggested.
Plans to serve a family style meal ($22.99 per individual or $68.99 for service for three) starting at 11 a.m. The turkey dinner comes with gravy, mashed potatoes, green beans, whole cranberry sauce, spicy Italian sausage stuffing, and pumpkin pie for dessert. The traditional Turkey Dinner is also available "to-go". 615 Flatiron MarketPlace Dr., Broomfield, 303-464-7673.
Serves classic roast turkey with stuffing, gravy and all the trimmings for $24.95. Open from noon to 6 p.m. 962 S. Monaco Pkwy., Denver, 303-320-1104.
Offers a Traditional Three-Course Thanksgiving Dinner for $24.99. Includes choice of Caesar salad, fresh green salads or soup, roasted turkey breast, mashed potatoes, apple & sausage stuffing, choice of crispy brussels sprouts or broccolini and traditional cheesecake with pumpkin creme anglais. Kids meal costs $12. Regular menu also available. All locations open from 11 a.m. to 9 p.m. Reservations suggested.
Serves up a rockin' Thanksgiving experience menu with roasted turkey breast, roasted fresh vegetables, home-style classic stuffing, creamy sweet potato mash, cranberry sauce and traditional turkey gravy for $26.95. A slice of Hard Rock's pumpkin pie with caramel sauce, toasted walnuts and whipped cream is $8.95. Open 11 a.m. to 11 p.m. 500 E. 16th St., Denver.
In addition to their self-proclaimed "famous" Thanksgiving menu, both Murphy's locations are also serving up their regular menu from 10 a.m. to 6 p.m. Enjoy a 7-course Thanksgiving meal for $28 per person. It includes roasted turkey, apple cider gravy, sweet potatoes, whipped potatoes, cornbread and apple stuffing, green beans, cranberry compote, choice of chocolate pecan pie or pumpkin pie and coffee or tea. Reservations accepted. 2731 Iris Ave, Boulder, 303-449-4473; 657 S. Broadway, Boulder, 303-494-7626.
Traditional Roast Turkey Feast is $29. Includes side salad or cup of soup or chili, roasted turkey and gravy with garlic mashed potatoes, herb dressing, buttered carrots, squash casserole, cranberry sauce and apple pecan crisp. Call your nearest location for reservations.
On the menu: roasted turkey, pan gravy, herb stuffing, Yukon mashed potatoes, butternut squash, green beans, cranberry relish and pumpkin pie. Adults $29.95, children $14. Reservations strongly suggested. 8325 Park Meadows Center Dr., Lone Tree.
Additional restaurants such as Del Frisco's, Fleming's Prime Steakhouse, Morton's and Ruth's Chris open on Thanksgiving can be found on OpenTable. Most require reservations and are not included on our list because they are above our $30 maximum per person price point.
Prepared Dinners: Fully Cooked or to Cook at Home
An Essential Thanksgiving Meal for 12 is $119.99 and includes whole roasted turkey, mashed potatoes, gravy, vegetable stuffing and dinner rolls. The Complete Thanksgiving Meal for 12 costs $139.99 and adds spinach artichoke dip & crackers, cranberry walnut relish, an apple pie and a pumpkin pie to the basic package.
There's also a Boneless Roasted Turkey Breast or Half Boneless Honey-Glazed Ham meal for 4 to 6 at $89.99. The menu includes several variations (and pricing) based on number of people and options. Order online or call 1-866-977-9090.
Delivery: Boston Market has a home delivery program for its holiday meals. Orders ship frozen and then you thaw and reheat. Shipping starts at $24.99. Learn more here.
Turkey Take-Home Feast at $104.99 serves up to 10 people. Includes a whole Herb-Buttered Turkey, Chef-Made Gravy, Cranberry Orange Relish, Whipped Mashed Potatoes, Candied Pecan Mashed Sweet Potatoes, Buttered Cornbread Stuffing, and Green Bean Casserole with crispy onion strings. Your guests will enjoy two Carrot Raisin Nut Loaves, one Pumpkin and one Pecan Pie for dessert.
"Home Chef Medium Turkey Dinner" is fully cooked 10- to 12-lb. oven roasted turkey, mashed potatoes, bread Stuffing, green bean casserole, sweet potato soufflé, gravy, King's Hawaiian Rolls (12 count) and pumpkin pie to serve 6 to 8, $70. Order online, at the Deli Counter or call: 877-894-3707.
Fully cooked 10- to 11-lb. turkey, home-style stuffing, mashed potatoes, gravy, cranberry sauce, Kings Hawaiian Rolls to serve 6 to 8, $59.99. An In-Store Turkey Breast Dinner (approx. 3.5 pounds of boneless turkey breast) for 6 to 8 is $49.99. Visit the deli counter or call the order line: 888-358-7328.
Fully-cooked meals for 6 to 8 people include an all-natural turkey dinner with mashed potatoes, cornbread stuffing, creamed kale & spinach, home-style gravy, cranberry sauce and Hawaiian dinner rolls, $69.99.
There's also a Boneless Turkey Breast Meal for 2 with turkey, mashed potatoes, stuffing, gravy, cranberry sauce and rolls for $35.99. Order online, at any Sprouts store or call 888-5-SPROUT.
Classic Roasted Turkey dinner for four people starts at $79.99 and includes creamy mashed potatoes, traditional herb stuffing, green beans, cranberry orange sauce and turkey gravy.
Also, turkey breast dinner for 4, $69.99; smoked turkey dinner for 4 (with sweet potatoes, green beans, cornbread & sausage dressing, cranberry-orange sauce and gravy), $89.99; vegan meal for 2, $39.99.
Order at your local Whole Foods or online from the website by selecting a nearby store and then go to the Holiday Meals page.
This purveyor of natural, organic and sustainably farmed ingredients offers a $89.99 holiday meal that feeds 4 to 6 and consists of with a pre-roasted all-natural turkey, traditional herb stuffing, fresh cranberry relish, classic mashed potatoes, green beans almondine, turkey gravy and a 12-pack of Parker House rolls.
It is also possible to get a pre-roasted 12- to 14-pound turkey for $59.99, a selection of holiday sides (herb stuffing, cranberry relish, mashed potatoes, turkey gravy and rolls) to feed 4 to 6 for $29.99. Order online or in store. Click here for store locations.
This local pioneer in organic foodstuffs has the most flexible holiday dinner ordering process we have found. Click here and scroll down to make selections of traditional turkey or rib roast (both non-GMO) or vegetarian dinners in quantities to feed from 2 to 10, some preparation options, sides, desserts, pick-up location options (choice of two), choice of pick-up times (through 3 p.m. on Thanksgiving Day). Other meats, game birds, starters and sides are also available.