Some people prefer to serve Thanksgiving dinner at home, but don't always want to prepare every single dish from scratch, while others like to go out or take out. Grocery stores and restaurants are happy to take care of most, if not all, the work. Whatever your style, here are some options for under $35 per person — sometimes way under $35.
Most outlets will take your orders or reservations online. And note, that typically when you pick up, taxes, tip and beverages are not included in the dinner price.
We'll be adding more restaurant options as we hear about them, so keep checking this post.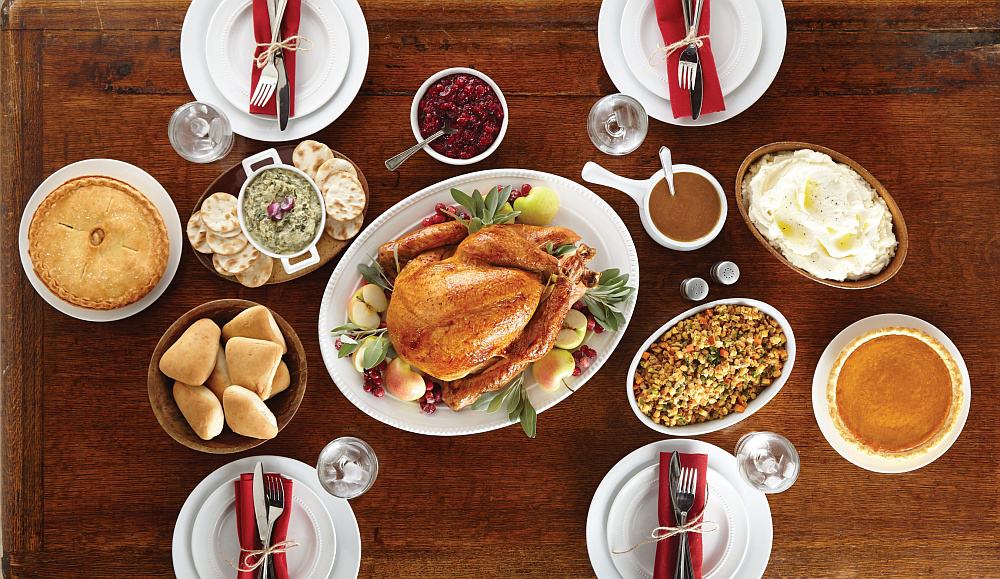 Restaurants (taxes, gratuity and beverages additional)
Restaurants are listed from lowest to highest price per person.
Will be open all day. The Turkey and Dressing dinner includes carved turkey breast, savory stuffing, gravy, cranberry sauce, two sides and dinner bread. Regular menu items will also be available. Available for pickup or delivery. Pricing varies by location.
Restaurants are open with a Roasted Turkey Dinner on the menu. Enjoy slices of roasted turkey breast atop a bed of savory stuffing and topped with warm turkey gravy, served with creamy mashed potatoes and broccoli or corn, plus side salad or two buttermilk pancakes. Hours and pricing vary by location. Order online for pickup.
Open and serving traditional Holiday Turkey dinner served with cornbread stuffing, red-skin mashed potatoes, turkey gravy, cranberry sauce and a buttermilk biscuit. End your meal with a slice of your favorite pie. At participating locations. Check with your nearest restaurant for hours.
Starts serving its Traditional Thanksgiving Dinner from 11 a.m. to close on Turkey Day for $14.99 / $9.99 for children (prices may vary by location).
The Homestyle Turkey n' Dressing Meal comes with roasted turkey breast, cornbread dressing and gravy, sweet potato casserole, cranberry relish, choice of a country side, a refillable beverage, buttermilk biscuits or corn muffins and a slice of pumpkin pie.
Enjoy dine-in or to-go. There are locations in Northglenn and Loveland.
Select locations open from 10 a.m. to 4 p.m. Same day pickup of Cajun deep-fried turkey meal, a Holiday Chicken Meal or sides.
Select locations offer a Thanksgiving Day meal for $15.99 that includes roasted turkey breast or half rotisserie chicken with mashed potatoes & gravy, stuffing, dinner roll and a slice of apple or pumpkin pie. Check your nearest location for hours and confirm they are open.
Serves a Thanksgiving Day Plate with Turkey, Gravy, Garlic Mashed Potatoes, Green Bean Casserole, Stuffing, Cranberry Sauce, Choice of Soup or Salad, Bread & Butter for $21.99. Both Westminster and Parker locations open from 11 a.m. to 4 p.m. on Thanksgiving.
Serves a special holiday buffet from 11 a.m. to 4 p.m. (later in some locations) with freshly carved cuts of roasted turkey, glazed ham and the new Holiday Beef Roast along with traditional sides such as mashed potatoes and gravy, cranberry sauce, stuffing and more. Pricing varies by location but starts at about $22 per person. Call your nearest location to confirm.
Thanksgiving menu is stuffed with holiday favorites you can enjoy from 10 a.m. to 4 p.m. For $23 get an entree (roast turkey, ham, pot roast or combo), two vegetables of your choice, homemade rolls, cornbread and dessert. Kids meal is $10. Check here to find your nearest location.
Thanksgiving Plate Special includes herb roasted slice turkey, gravy, sweet potato stuffing and sour cream and onion whipped potatoes for $23. Reservations suggested for all locations.
The Thanksgiving Turkey & Ham Feast features roast turkey and ham, turkey stuffing, red-skinned mashed potatoes, turkey gravy, green beans, cranberry sauce and a slice of pumpkin pie. Price is $23.95 for adults, kids $14.99. Full menu also available. 8911 N. Yates St., Westminster.
A Traditional Thanksgiving Meal includes roasted turkey breast, green beans, miso mashed potatoes, gravy, brioche stuffing, and cranberry sauce for $32. Opt for the macadamia nut-crusted turkey breast meal for $34. Make reservations here. Located at the Cherry Creek Shopping Center.
Offers a Traditional Three-Course Thanksgiving Dinner for $34. Includes choice of Caesar salad, fresh green salads or soup, roasted turkey breast, garlic mashed potatoes, apple & sausage stuffing, crispy brussels sprouts or broccolini and cannoli or pumpkin tiramisu. Kids meal costs $17. Regular menu also available. Open from 11 a.m. to 9 p.m. Reservations required. 10411 Town Center Dr., Westminster.
Thanksgiving Dinner is $34.95 for adults, $16 for children. Menu includes roasted all-natural turkey, pan gravy, Yukon mashed potatoes, brioche stuffing, French green beans, mashed butternut squash, green beans, cranberry relish, and pumpkin pie mini indulgence. Reservations required. 8325 Park Meadows Dr., Lone Tree, 303-799-0252.
The turkey dinner comes with sliced white meat turkey, gravy, roasted garlic mashed potatoes, seasonal vegetables, whole cranberry sauce, spicy Italian sausage stuffing, and pumpkin pie for dessert.
The traditional Turkey Feast is available for dine-in or take-out. The dinner for 3 is $105, for 6 is $192. 615 Flatiron MarketPlace Dr., Broomfield, 303-464-7673.
Additional restaurants such as Ruth's Chris, Elway's Downtown, The Original, The Nickel, Fogo de Chao, Local Jones, Capital Grill, STK and others open on Thanksgiving for dine-in or take-out can be found on OpenTable. They are not included on our list because they are above our $35 maximum per person price point.
Prepared Dinners: Fully Cooked or to Cook at Home
An Essential Turkey Meal for 12 is $139.99 and includes whole roasted turkey, mashed potatoes, gravy, vegetable stuffing, dinner rolls, an apple pie and a pumpkin pie. The Complete Thanksgiving Meal for 12 costs $159.99 and adds spinach artichoke dip & crackers and cranberry walnut relish to the basic package.
A Complete Combo Meal for 12 including roasted turkey breast and honey-glazed ham is $169.99.
There's also a Complete Boneless Roasted Turkey Breast or Half Boneless Honey-Glazed Ham meal for 4 to 6 at $109.99 to $111.99. The menu includes several variations (and pricing) based on number of people and options. Order online or call 1-866-977-9090.
The Thanksgiving Heat N' Serve Feast Comes chilled and ready to heat in 2 hours, with two turkey breasts, dressing, gravy, cranberry relish, sweet potato casserole, two sides, rolls and pumpkin & pecan pies. Serves 8 to 10 and costs $154.99. The smaller Family Dinner at $104.99 serves up to 6 and includes one turkey breast, dressing, gravy, cranberry relish, sweet potato casserole, one side and rolls.
There are also several a la carte sides. All packages can be customized. Guests who pre-order and pick up a Heat n' Serve Feast on the Monday or Tuesday before Thanksgiving will receive a $10 gift card.
The Holiday Meal serves 6 to 12 people for $99.99 and features a deep fried Cajun turkey. Order ahead for pickup and then reheat. It includes deep fried Cajun turkey, mashed potatoes, gravy, creamy coleslaw and buttermilk biscuits. The Holiday Feast for $119.99 includes all of the above, plus family size mac and cheese, corn, and a chocolate cake. Order at your favorite location or online.
Roasted Bone-In Turkey Dinner is fully cooked 10- to 12-lb. oven roasted turkey, mashed potatoes, bread Stuffing, green bean casserole, sweet potato soufflé, gravy, King's Hawaiian Rolls (12 count) and pumpkin pie to serve 6 to 8, $80. Order online, at the Deli Counter or call: 877-894-3707.
Fully cooked 9- to 10-lb. turkey, home-style stuffing, mashed potatoes, gravy, cranberry sauce, Kings Hawaiian Rolls to serve 6 to 8, $79.99. A Turkey Breast Dinner For Two is $39.99. Visit the deli counter, order online or call the order line: 888-358-7328.
Fully-cooked meals for 6 to 8 people includes an all-natural turkey dinner with mashed potatoes, cornbread stuffing, creamed kale & spinach, home-style gravy, cranberry sauce and Authentic French Brioche Petite Rolls, $85.99.
There's also a Boneless Turkey Breast Meal for 2 with turkey, mashed potatoes, stuffing, gravy, cranberry sauce and rolls for $43.99. Three-day lead-time needed. Order online, at any Sprouts store or call 888-5-SPROUT.
Classic Roasted Turkey dinner for four people starts at $109.99 and includes creamy mashed potatoes, traditional herb stuffing, green beans, cranberry orange sauce and turkey gravy.
Also, turkey breast dinner for 4, $89.99 and vegan meal for 2, $49.99.
Order at your local Whole Foods or online from the website by selecting a nearby store and then go to the Holiday Meals page or call 844-936-2428.