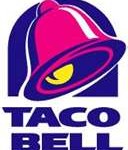 Taco Bell is always crave-able, no matter the time of day. Even more so, with its money-saving Cravings Value Menu. There are now 8 items available for just $1 each at participating locations. With just a few dollars, hungry bargain hunters can definitely bite into an inexpensive meal that's sure to fill them up. Frugal families can enjoy a frugal fiesta without breaking the dining budget!
The line-up changes periodically, so check double-check the menu before ordering.
The Cravings Value Menu includes the following:
Beefy Potato-Rito
Spicy Potato Soft Taco
Chicken Chipotle Melt
Beef Burrito
Cheesy Bean & Rice Burrito
Cheesy Roll-Up
Chips and Nacho Sauce
Cinnamon Twists
For added value, the chain also offers a Happier Hour special every day from 2 p.m. to 5 p.m. — get a medium drink or regular Freeze for just $1. Combine the deals for maximum savings!
Hungry for more food deals?
Saturday, October 23, 2021
Sunday, October 24, 2021
Monday, October 25, 2021
Tuesday, October 26, 2021
Wednesday, October 27, 2021
Thursday, October 28, 2021
Friday, October 29, 2021