From Boulder to Denver and all points in between, the Front Range plans to "Go Green" with dozens of St. Patrick's Day festivities. With St. Patty's falling on a weekend, Saturday, March 17, expect plenty of parties, pub crawls and festivals all over town. A handful of events will be on Sunday.
While we have a post for Denver's St. Patrick's Day Parade, here are other FREE and low-cost ways to "get your Irish on" across the Front Range, including the world's "shortest" St. Patrick's Day Parade. You'll find plenty of Irish music, step dancers, pipe bands and more.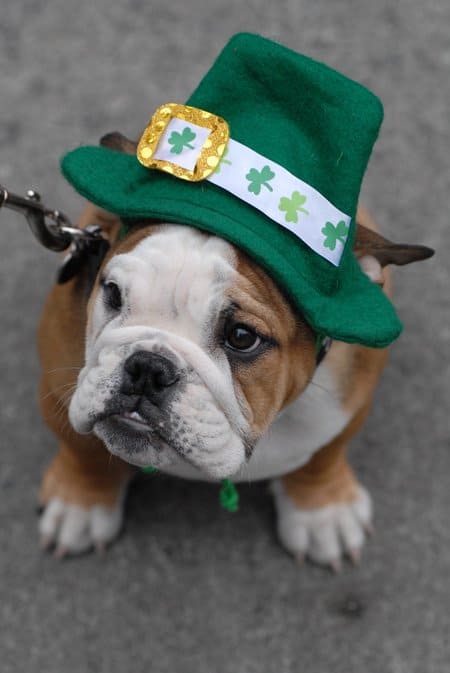 All events take place on Saturday, March 17 unless otherwise noted.
Parades & Festivals
St. Patrick's Day Parade in downtown Denver. — 9:30 a.m. The route starts at 19th and Wynkoop then proceeds down Wynkoop to 17th, south to Blake and then marches down Blake to 27th and beyond. This is one of the largest St. Patty's parades in the country (an estimated 200,000 spectators along the 15-block route) with some 10,000 marchers, including floats, clowns, pipe bands, Irish step dancers, military honorees, horses, stagecoaches and more. The entire parade lasts up to four hours!
Arvada Saint Patrick' Day Festival — Noon to 6 p.m. Historic Olde Town Arvada, Grandview Ave., & Olde Wadsworth Blvd. Live music, beer, wine, food, and family fun. Entertainment by Wild Mountain, Celtic Steppers, Centennial State Pipes and Drums, The Champions and Big Paddy. Admission FREE, tickets to purchase drinks sold in the event area. Best parking spots are long-term lots near the Jeffco Library and on Vance St.
Sun Harley-Davidson — Noon to 5 p.m. FREE corned-beef & cabbage served from noon to 2 p.m. (while supplies last). Kid-friendly Cornhole & adult Green Soda Pong from noon to 4 p.m., weather permitting. Pick from the Pot of Gold Prizes with every Genuine MotorClothes purchase or spin the Lucky Discount Wheel with every Harley-Davidson Parts purchase. 8858 Pearl St., Denver.
Inversion Covenant Church — 3 p.m. to 6 p.m. $10. A fun, family-friendly celebration of St. Patrick and Irish culture. Activities include: petting zoo, Sumo wrestling, Irish dancers, Irish music, games, face painting, and crafts. 401 W. Mineral Ave., Littleton.
St. Patrick's Day Outdoor Festival — 10 a.m. to 10 p.m. $20. Denver's biggest St. Patrick's Day celebration is going down in LoDo. Put on by Fadó Irish Pub (yes, they closed their doors last year, but are back as event organizers) and band Howl at the Moon, it'll feature an all-day, outdoor festival, complete with live bands, outdoor bars, and three food trucks. 21+ only after 4 p.m. 1901 Wazee St. (just south of Coors Field), Denver.
Parties & Celebrations
American Legion Post 193 — 7 p.m. to 11 p.m. $10 (at the door only). St Patrick's Day Dance with music by Los Martinez Bros. To reserve seating, call Paige at 720-273-7334. 5110 Morrison Rd. Denver.
Baker Street Pub & Grill — 11 a.m. to Sunday 2 a.m. Live Music by Josh Blackburn, DJ and 6 Million Dollar Band. Green beer, food and lots of fun. 7260 W. Alaska Dr., Lakewood.
Breckenridge Brewery Farm House — 10 a.m. to 11 p.m. Irish dancers and bagpipers, food specials and Nitro Irish Stout glass giveaways to the first 100 people to buy a pint of NIS. From 2 p.m. to 11 p.m. only get a FREE Lyft ride to or from the Farm House by using Lyft code BRECKBREW18. This is on a first-come/first-serve basis. 2920 Brewery Lane, Littleton.
Great Harvest Bread Co. — noon. Performance by Irish dancers from the Wick School of Dance. Everyone wearing green also receives a FREE cookie. 5910 S. University Blvd., Greenwood Village.
Irish Snug — Noon to midnight. The Capitol Hill Hooley features music, drink specials, traditional Irish food (full Irish breakfast before 2 p.m. and Corned Beef & Cabbage, Shepherd's Pie, Fish 'n Chips and Bangers 'n Mash all day), Irish step dancers, bag pipers. Under a Blood Red Sky (U2 tribute band) headlines. $5 admission benefits Make A Wish Foundation. 1201 E. Colfax Ave., Denver.
Knights of Columbus — 6 p.m. $10. St. Patrick's Day Irish dinner. 2911 W. 104th Ave., Denver.
Maggie Smith's Irish Pub — Performances start at 1 p.m. with The Commoners playing until 3:30 p.m. 6631 South Peoria St., Centennial, 303-999-2010. Irish bands, step dancers, pipes and drums.
New Terrain Brewing Co — Open from noon to 10 p.m. Irish Tunes by Burn It Blue from 3 p.m. to 7 p.m. Irish food by J.Street all day. 16401 Table Mountain Pkwy., Golden.
Resolute Brewing Company — 11 a.m. to 11 p.m. They will be tapping their Rye Irish Red with Clover Honey (a fun version of this Irish beer), Rock N Lobster Roll will serve delicious lobster with a special Irish addition to their menu and The Dollhouse Thieves will have you rocking out to their all original jams from 2 p.m. to 4:30 p.m. 7286 S Yosemite St, Ste 110, Centennial.
On Sunday, March 18, 11 a.m. to 9 p.m. Brewery Boot Camp will be here to help you work off some of those extra calories you may have consumed this weekend from 10 a.m. to 11 a.m. Basic Kneads Pizza will be here serving pizza pies. The MileHighlanders Bagpipe band with their Irish Dancers performs at 1 p.m. UnWined will be on hand guiding you through painting festive shamrock beer glasses. 7286 S Yosemite St, Ste 110, Centennial.
Rory's Irish Tavern — 2 p.m. to 9 p.m. At 2 p.m., the Celtic Friends kick off the party with traditional Irish music. Then, there's The Celtic Steps Dance Troupe at 4 p.m., Michael Collins Pipes and Drums at 5 p.m., and excellent music from Great F'n Deal starting at 6 p.m. No cover, drink and food specials – come in and be Irish. 400 Broadway, Denver.
Scruffy Murphy's Irish Pub — Scruff's is located two blocks off the Parade route. Opens at 7 a.m. There will be step dancers, live music on two stages, three bars, a heated beer tent on Murphy's back patio, corned beef, whiskey, plenty of libation. 2030 Larimer St., Denver.
Sheabeen's Irish Pub — Doors open at 9 a.m. 2300 S. Chambers Rd., Aurora. Showing of the movie "The Quiet Man" at 10 a.m. At noon, enjoy corned beef & cabbage. Live music starts at 12:30 p.m., also step dancers, pipe band. Cover charge starting at 3 p.m.
South Suburban's Party at Lone Tree Grill — 4 p.m. to 7 p.m. $12. South Suburban Parks & Recreation hosts a family-friendly St. Patrick's Day Party at Lone Tree Grill in the Lone Tree Golf Club. The food special is (of course) corned beef and cabbage with potatoes, carrots, and a roll.  Also enjoy beer specials: $2 pints of Coors Light/Bud Light and $4 drink specials. Live music by Dawn of the Suns from 4 p.m. to 7 p.m. 9808 Sunningdale Blvd., Lone Tree.
The Abbey Tavern — Noon to 10 p.m. Starting at noon on the outdoor stage enjoy music, pipe bands and Irish dancing. 5151 E. Colfax Ave., Denver.
ViewHouse Ballpark — Shenanigans begin on Saturday with post-parade performances by Michael Collins Pipes and Drums and Potcheen (2 p.m. to 6 p.m.). Irish food specials and green beer. 2015 Market St., Denver.
World's Shortest St. Patrick's Day Parade — Spend your St. Paddy's Day at Boulder Beer on Walnut. Opens early at 10 a.m. for brunch and drinks. Irish food specials all day. Live music beginning at 11 a.m. followed by Timber! at 2 p.m. and Steepland String Band at 7 p.m. World's Shortest Parade begins at 3 p.m. in front of Boulder Beer on Walnut. Bring your best St. Patrick's Day spirit and be prepared for fun! 1123 Walnut St., Boulder.
WOW! Children's Museum – Sunday, March 18. Get into the St. Patrick's Day spirit with a special performance at 11 a.m. by the McTeggart Irish Dancers. Included with Museum admission.
Bar Crawls
Irish Stroll Bar Crawl — Noon to 2 a.m. Sunday. $10 to $15. Buy tickets here. Show your appreciation for the makers of Guinness this St. Patrick's Day with a full day of boozy shenanigans. Satisfy your thirst at Denver's Irish Stroll, featuring free admission and drink specials. Venues include: Society Sports and Spirits, Lamark 15, Tryst Lounge, The Drink and Lucky Pie Pizza and Taphouse.
Luck of the Irish St. Patrick's Day Bar Crawl — Starts at 5 p.m. FREE to $5. Buy discounted tickets here. Break out your green shirt and your shamrock shades and join PubCrawls.com for a party-filled day and night of bar hopping through the heart of Denver. Your ticket gets you entry to all participating locations along with a pub crawl map to local bars and clubs, all offering drink specials. Participating venues include 1515 Bar N Lounge, Howl at the Moon, View House, Zanzibar, Tarantula and more.