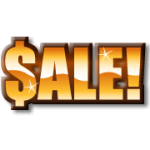 All Seasons Rent All's semi-annual sale of used table linens is a great opportunity to prepare for Easter, graduation and other spring parties and family gatherings. The sale runs from Monday, January 16 to Tuesday, January 31, 2023, and includes large rounds, banquet cloths and napkins in lots of sizes and colors.
We got the lowdown from General Manager Matt Gershaw and here are some of the deals.
There is a large quantity of tablecloths — 60″ x 60″, 60″ x 120″, 90″ round, 90″ x 132″, 118″ round, 130″ round, 90″ x 156″ and more, including floor-length — from $7 to $20 each. Buy 10 or more and get an extra 20% off your purchase.
The store will also have an assortment of tools (sanders, saws, etc.) and yard and garden equipment for sale at deeply discounted prices.
Hours: Monday thru Saturday from 9 a.m. to 5 p.m.
6550 S. Yosemite St., Greenwood Village, 303-770-2980.