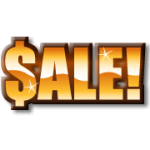 All Seasons Rent All's semi-annual sale of used table linens comes in time to help prepare for holiday parties and family gatherings. The sale runs from Friday, November 5 to Monday, November 22 and includes large rounds, banquet cloths and napkins in lots of sizes and colors (even more than usual this time, because they haven't held a sale in some time).
We got the lowdown from General Manager Matt Gershaw and here are some of the deals. Napkins are $1. There is a large quantity of tablecloths — 60″ x 120″, 90″ round, 90″ x 132″, 118″ round, 90″ x 156″ and more, including floor-length — from $10 to $20 each.
White wedding chairs are $12 each and rolltop chaffing dishes are $80 each. There are also tools, garden equipment and other odds and ends.
Hours: Monday thru Saturday from 9 a.m. to 5 p.m. and Sundays from 9 a.m. to 4 p.m. 6550 S. Yosemite St., Greenwood Village, 303-770-2980.