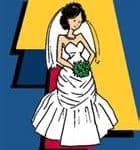 The Quality Hill Bridal Show at the Grant-Humphreys Mansion, Sunday, January 19, 11 a.m. to 3 p.m. is a FREE opportunity for brides, grooms (even their guests) to meet vendors – wedding wear, caterers, bakers, musicians, photographers, entertainers and more, for any kind of wedding from an intimate home ceremony to a large celebration for hundreds of guests. It's one of a handful of shows that offers so much for no cost.
This year, there are seven caterers and bakers exhibiting so expect tons of food samples. Organizers present informative drop-in/drop-out workshops, while models wear the latest gowns and formal attire.
A pianist performs, and guests can tour one of Denver's most historic landmarks. Attendees receive a FREE canvas re-usable goodie bag.
No reservations are required; just show up and have fun. 770 Pennsylvania St., Denver, 303-946-4442.