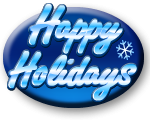 Looking to survive and embrace the holidays without burning a hole in your wallet? We'll show you how during "Holidays on the Cheap" — a FREE workshop at the Englewood Public Library on Saturday, November 2, from 2 p.m. to 3:30 p.m. In this fast moving workshop, Laura shares ways to save on gifts and gift giving, holiday decorations, craft shows, visits with Santa and entertainment (check out Mr. Scrooge or The Nutcracker), as well as the tried-and-true and new-to-you cultural events.
Map a plan of attack for Black Friday and Cyber Monday, as well as get tips for buying a Christmas tree. Laura will also take a bit of time for some advice on holiday grocery shopping — how do you get the real steals and deals? (Note: This is NOT a craft-making workshop.)
This class is for both guys and gals, so bring your friends and your questions. Plus, in true MHOTC style, there will be a door prize. Registration isn't required.
The workshop is in the Anderson Room. The library is at 1000 Englewood Pkwy., Englewood.