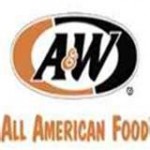 A&W Restaurants has updated the promo page, since announcing its annual giveaway earlier this year. This year, there are no participating locations in Colorado. A&W Restaurants all started with a tiny root beer stand in 1919. Entrepreneur Roy W. Allen set up shop on the streets of Lodi, California, offering a new creamy and refreshing drink served in a frosty mug. It was a hot June day, so Allen thought his concoction would be the perfect accompaniment for the parade honoring the return of World War I veterans.
His root beer was a hit—a unique and tasty American beverage that has remained a symbol of celebration and camaraderie ever since.
And, to this day, the chain's signature beverage is still made fresh on-site with real cane sugar and a proprietary blend of herbs, bark, spices and berries.
Did you know August 6 is National Root Beer Float Day? To celebrate, A&W Restaurants are giving customers a FREE small root beer from 2 p.m. to 8 p.m. on Friday, August 6 at participating locations, while supplies last. No purchase necessary. Limit one per customer.
As a part of the celebration, the restaurant chain will also be collecting donations for Disabled American Veterans.
All good deals always float to the top!
Hungry for more food deals?
Friday, September 17, 2021
Saturday, September 18, 2021
Sunday, September 19, 2021
Monday, September 20, 2021
Tuesday, September 21, 2021
Wednesday, September 22, 2021
Thursday, September 23, 2021