Seems like comfort food has a whole new meaning now that many of us are hunkering down in the kitchen to bake, saute, fry and grill. Cooking is a great way to relieve stress, but if you are a cooking newbie you may want to up your game, learn a new skill or tackle an entirely new style, say Thai or Ethiopian.
Whether your specialty is preparing lasagna like Mama used to or you do well to make toast that isn't burnt around the edges, you can bone up on the basics or snag some serious gourmet tips with these 10 FREE cooking sites.
This list first appeared on Birmingham on the Cheap. If you have friends in Alabama, please tell them about Birmingham on the Cheap!
These are the classes for you if you're a cooking newbie. With six total lessons ranging from information about cooking supplies, knife skills, pan-frying, sauteing, boiling, simmering, stewing, baking, and roasting these classes will get you started off on the right foot.
Kitchn also starts you out with the basics but offers 20 lessons in 20 days with the goal of becoming a better cook at home. Starting with knife skills on day one, you'll advance to baking on day twenty.
Although America's Test Kitchen is only free during the 14-day trial period, you'll have access to over 230 classes with engaging exercises and quizzes. From simple skills to advances recipes, this site is for everyone. There are over 50 of its most recent cooking show episodes available to stream now for free!
Interested in broadening your cooking skills to worldwide cuisine? Tastemade brings you classes on the art of cooking from around the world as well as specialty cocktails and fancy party dishes.
Brought to you by Texas A&M's Agrilife Extension (Go, Aggies!), this site helps you figure out healthy eating and cooking that quick and easy. It also focuses on meal planning. This is a fantastic site for busy people trying to juggle a healthy lifestyle with the demands of daily life.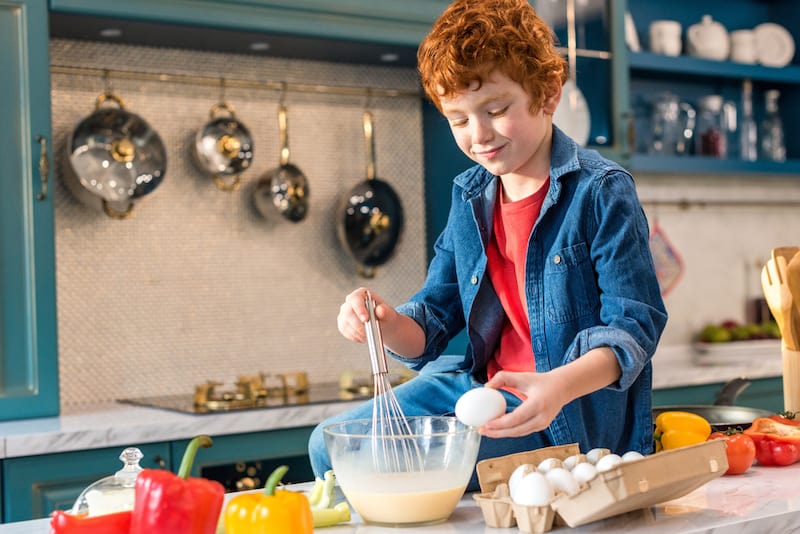 Bring your kids in on the fun with these fun cooking classes geared toward parent/child cooking. Classes are happening on Mondays, Wednesdays, Fridays, and Saturdays for the month of April on Facebook Live Stream. PDFs of recipes are online now so you can gather ingredients. Completed classes will be archived if you miss one. Donations are appreciated.
Christopher Kimball's Milk Street Magazine has a fantastic cooking school which is not regularly free-of-charge. Recently, they've taken down the paywall for over a dozen classes which help you learn through videos, photo guides, and related articles from the magazine. These are great for people who already know the basics.
Michael Symon is hosting live cooking classes on Food Network's Facebook page. These classes help you turn common items found in your pantry into delicious dishes which is perfect for our current predicament. Other top chefs are presenting brief tips and short classes and the page often points you to other free online classes. The Food Network Kitchen is also offering a free 30 day trial with 25 live lessons and over 800 on-demand classes.
Delia Online offers step-by-step instructions for chefs of all levels. Learn how to cook shellfish, prepare sauces, and even make preserves. Learn how to cook perfect rice and pasta. Get recipes for holidays, too.
MIT (Massachusetts Institute of Technology) is offering a "hands-on learning experience of applied chemistry" as seen in cooking, the oldest and most ongoing chemistry experiment ever! Cooking experiments help you understand the fundamentals of why and how ingredients react to each other.
MHOTC Tip: Even if you don't want to deal with supermarkets right now, there are many places to buy ingredients that don't involve a trip to the grocery store. Some offer curbside pick-up, delivery or both.