Celebrate traditional Latin American (and the rest of the world) culture during Día del Niño (Day of the Children) on Sunday, April 24, 2022. This year, the Denver Art Museum, Clyfford Still Museum, History Colorado Center, Boulder Museum of Contemporary Art and WOW! Children's Museum (in Lafayette) will offer FREE general admission on either the 24th or the following weekend Saturday, April 30 and Sunday, May 1. Plus, there are other free and low-cost events across the metro area. Here's what's happening:
Sunday, April 24
10:30 a.m. to 12:30 p.m. Stop by the Museum's forecourt to explore tin folk art by making a Hojalata with Visual Arts Educator Victoria Martinez, and explore Clyfford Still, Art, and the Young Mind, an exhibition curated by and for children. These activities are free and no registration is required. This is also a SCFD Free Day so everyone can visit the museum from 10 a.m. to 5 p.m.
10 a.m. to 5 p.m. Bi-lingual activities, hands-on art projects, musical and artistic performances both outdoors and inside. Among the performing groups: Comparsa Morelos, ARCINDA, Celtic Steps, Montbello Drumline and Chihera African Marimbas.
The Denver Preschool Program will also be on-site with local celebrity guests who will read to children in English and Spanish at 2:30 p.m. A FREE book will be given to each child who attends the reading.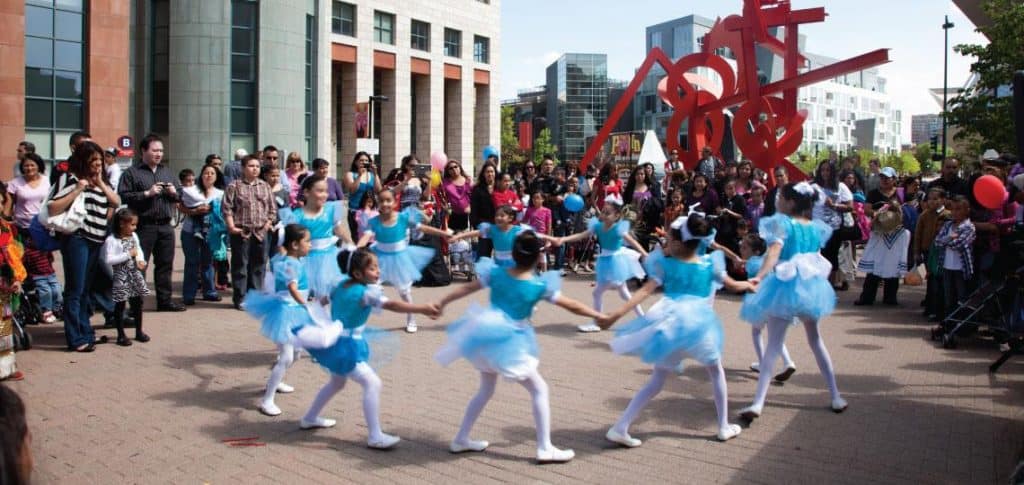 10 a.m. to 5 p.m. Enjoy family-friendly programming, live music and dances that celebrate children from around the world.
1 p.m. to 5 p.m. Come for the Grand Opening of the newly renovated Children's Library at Central Library. Celebrate with a ribbon cutting ceremony at 1 p.m. There will also be performances, special treats and family friendly activities throughout the day. 10 W. 14th Ave. Pkwy., Denver.
Saturday, April 30
11 a.m. to 1 p.m. Celebrate all children with BMoCA at Día del Niño! Family-friendly day of multicultural festivities, including art-making, live dance, and musical performances. Museum is FREE on Saturdays. 1750 13th St., Boulder.
9 a.m. to noon & 1 p.m. to 4:30 p.m. Bilingual storytimes, a visit from the Kona Ice truck, The Colorado Youth Mariachi program from 11 to 11:30 a.m., crafts, and more. Admission (normally $5 to $10) is FREE all day.
1 p.m. to 3 p.m. Dance performances, art activities, book giveaways, food, and piñatas. 12955 Albrook Dr., Denver.
Sunday, May 1
9 a.m. to 5 p.m. Music and dance performances, face painting and crafts. Performances by Los Chinelos, the Colorado Asian Cultural Center and Cleo Parker Robinson Dance. Additional activities include CaveSim and face painting. FREE admission to the museum but you must reserve tickets in advance. Guests get 50% off admission to the temporary exhibition "Egypt: The Time of Pharaohs."