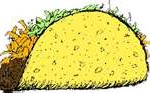 According to Cafe Rio, today is the final day for its Tasty Tuesdays special. However, many locations appear to have already ended the promotion — please ask before ordering. If you're looking for a frugal fiesta, head to Café Rio Mexican Grill for its Tasty Tuesdays — perfect for hungry bargain hunters looking for spicy savings. Most locations are open from 10:30 a.m. to 9 p.m. on Tuesdays. If you go during lunch or dinner at just about any location on Tuesday, expect very long lines. The promo is very popular, especially because the chain doesn't offer many discounts or deals.
Tasty Tuesdays include the following entrées at $7.99 each:
Burrito
Salad
Quesadilla
Taco Meal
Choose from shredded pork, beef or chicken. There's an extra charge for grilled meat, fish, sour cream and/or guacamole. (FYI – The quesadilla comes with sour cream and guacamole.)
It's one of the favorite food deals for bargain hunters because the dishes are always flavorful and fresh.
There are 8 locations in Colorado.
If you're a regular (or become one), join its loyalty program, My Rio Rewards.