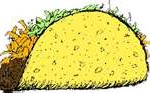 They've increased the price! If you're looking for a frugal fiesta, Café Rio Mexican Grill offers Tasty Tuesdays — perfect for hungry bargain hunters looking for spicy savings.
Every Tuesday, get a burrito (reg. $8.29), salad (reg. $8.49), tacos (reg. $7.99, includes two tacos, rice and beans) or quesadilla (reg. $8.49) for just $5.99 at participating locations. Most locations are open from 10:30 a.m. to 9 p.m. on Tuesdays.
Choose from shredded pork, beef or chicken. There's an extra charge for grilled meat, fish, sour cream and/or guacamole. (FYI – The quesadilla comes with sour cream and guacamole.)
It's one of my favorite food deals because the dishes are always flavorful and fresh. It's definitely well worth the discounted price. Expect to wait in line, if you go during lunch or dinner hours. The chain does little to no advertising, but word-of-mouth from its loyal customers is obviously working! There are 8 locations in Colorado.
If you're a regular (or become one), Café Rio has a loyalty program, My Rio Rewards — click here for more details. They offer lots of discounts and bonus point days, so it's worth the time to sign-up.
$5.49 Tasty Tuesdays at Cafe Rio
When
Weekly on Tuesday @ 10:30 am-9:00 pm (starting October 16, 2018)
What
$5.49 Tasty Tuesdays at Cafe Rio
Where
Cafe Rio Mexican Grill – Multiple Locations
Reader Interactions