If you're a true-blue bargain hunter, like me, you have a deep passion and love for seasonal clearance. We are the ones who wait until after a holiday to go shopping for decorations, wrapping paper, candy, gifts and more. Smart shoppers believe you should never pay full price and stocking up on seasonal clearance is one of the best tricks for saving money. Whenever I see carts full of holiday merchandise in early December, I smile and shake my head — knowing I did most of my shopping last year and paid well below retail prices.
It doesn't matter the holiday (Valentine's Day, Easter, July 4th, Halloween, Thanksgiving and Christmas), you'll always find lots of seasonal clearance the day after the holiday. That's the time to stock up for next year. And the longer you can wait, the better the savings.
Typically, seasonal clearance starts at 50% off and slowly works it's way to 90% off. (The schedule varies widely by store — some start at 75% off, just to get their shelves cleared quickly.)
This is where it's a bit of a gamble because the longer you wait for a better discount, the more likely you'll have a more limited selection of merchandise. If you're a die-hard cheapskate, you'll check with the store every morning following a holiday for the current percentage off.
The key is to get there early, when the clearance hits the sweet spot, which, for many bargain hunters, is 75% off. The window period for clearance is usually about 10 to 14 days after a holiday. After that, it's all gone. (Did you know Target clearance that doesn't sell often ends up on the shelves at the Goodwill?)
When the clearance hits the right percentage off for you, you'll want to make "a Target run." Selection varies widely by location. Therefore, you'll want to make a quick run to every location for the best chance of getting everything you want.
Can you imagine getting $100 worth of holiday merchandise for $25 or, even better, if you can wait for 90% off, for only $10? It's possible, you just need to work for it a little. I find the best deals at Target and Walgreens. And don't forget to check out grocery stores.
Before you jump into the world of seasonal clearance, you have to be somewhat organized, so you don't forget what you have "in stock" at home. Plus, you'll need to have a little storage space to keep your items clean and undamaged before they're ready to be used, which, in some cases, may be months.
My best piece of advice is to look for seasonal merchandise that's "transitional" — meaning the items can work for other holidays, occasions or celebrations. (As an example, Easter's pastel-colored and spring-themed merchandise makes the perfect backdrop for a Mother's Day brunch or gathering — just skip the items with pictures of jelly beans and chocolate rabbits!)
Here are the seasonal items I stock up on and why:

Wrapping Paper
If you look closely, not all wrapping paper has tiny Christmas trees, penguins or snowmen on it. I always look for wrapping paper that's a solid color or has no-holiday related design (just festive or colorful) because it can be used for other gifts year-round.
Tip: Lots of kids-themed holiday wrapping paper is just covered in princesses or superheroes — perfect for birthdays! And, even if there are tiny snowflakes in the background, will the kids even notice?
Bows, Ribbons & Gift Bags
Many of these items can easily work for other occasions, especially gift bags — just look for solid colors or even plain bags that you can decorate however you want. All of the shiny, colorful bows and ribbons work perfectly to top of any present throughout the year.
Plus, the discounted ribbon is great for craft projects or decorating for a party. Because most people aren't thinking long-term, you can usually find these items at 90% off, if you wait. I often get many of these items for under 50¢.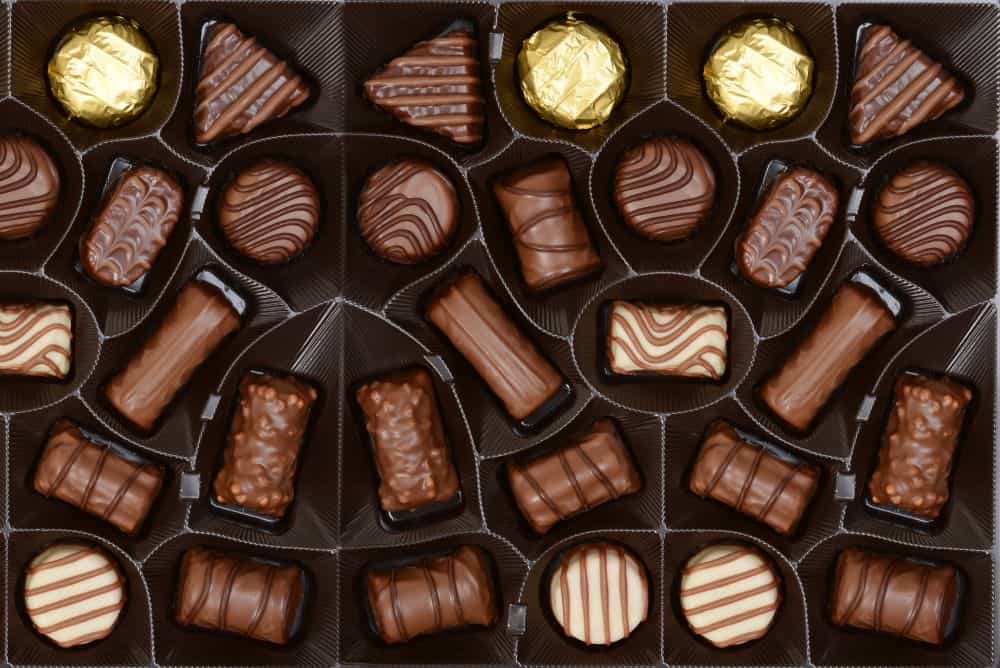 Candy
Candy seems to be central to every holiday. And that's why there's always tons of holiday-related candy on clearance, especially after Easter, Halloween and Christmas. This is where it pays to read expiration dates.
Many hard candies have expiration dates more than a year out, which makes them perfect for the following year's holiday. (I once found Hammond's candy canes for 10¢ that didn't expire for more than a year — regularly $2!)
For chocolates, you can use them for your candy dish at work or home. Let's be honest, people don't care if they're eating a peanut butter egg in July, they just want something sweet, right?
Clearance candy is perfect for other dessert or cookie recipes. Who is going to know that little bits of chocolate bats are in their Christmas cookies?
Another trick is all of the red and green M&Ms (or any other candy) at Christmastime. You could easily separate the colors for a batch of Valentine's Day and St. Patrick's Day candies for your candy dish or desserts. The key is to think outside the box and look for other ways candy can be used.
With Valentine's Day just a few months away, clearance Christmas candy can prove to be a huge savings. Many of those boxed chocolates are simply wrapped in seasonal paper or with a bow.
Most boxed chocolates are shrink-wrapped underneath. Simply remove the paper or bow and, voilà!, you have a box of chocolates for Valentine's Day! I have regularly found fancy Godiva chocolates in department stores at 75% off. It's considered "Christmas" simply because of a red bow with holly. I just remove the plastic holly!
You definitely don't want to give old or expired chocolates. That would be tacky! Therefore, always look for an expiration date and, then, be sure to store it properly (cool and dry) at home.
Toys
January is the time to check stores for toy clearance because there's always lots and lots (and lots) of it, thanks to "Santa's elves." This is the time to buy birthday presents for your little ones, as well as for all of those birthday parties they're bound to get invited to throughout the year. If you're a true planner, you might even start prepping for next Christmas.
Gifts
Christmas time is when stores bring in lots of seasonal gifts — shaving kits, beauty/manicure sets, desk top toys, games and more. Again, this is the time to stock up on gifts for birthdays, Valentine's Day, Mother's Day, Father's Day, graduation, etc.
You can often get gifts for under $5. Bargain hunters always like to have a stash of "cheap" gifts on hand for thank-you or congratulations gifts, dinner party host gifts or unexpected birthday invites.
If you have a gift closet, you'll never show up "empty-handed" and the recipient will never know that you paid next to nothing. It's the thought that counts, right?
Greeting Cards
This category is tricky because most individual greeting cards are pulled by the distributor at grocery and specialty stores. The secret here is that they often hold onto them and bring them back out of inventory for sale the following year.
Now, for boxed holiday cards, the story is different. You can usually find most of those marked down, alongside all of the other holiday merchandise. Find a style/design you like and stock up. Just remember where you stored them.
If you're looking for savings on individual greeting cards, the only place I've found big savings is at Papyrus — that super fancy brand of cards with all the detail and "accoutrements." The boutique runs a semi-annual clearance sale in-store and online, often offering many items for just a buck.
You can often find cards for 75% off or more. I have regularly found ultra-fancy cards for just about every holiday and occasion that normally sell for $8 to $15 for just $1. Sign-up for its e-mail updates for advance notice of sales, specials and promo codes. They have locations at the Cherry Creek Mall, Park Meadows Mall and Denver Pavilions.
How do you use seasonal clearance throughout the year? What's the best deal you've found in the seasonal clearance aisle?
Yours in Cheapness – BKC