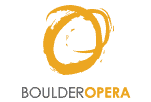 Call this a tale of the little opera company that won't let a nasty virus stand in its way by taking creativity to the max. Boulder Opera plans to presents Giacomo Puccini's La Bohème — fully staged and in accordance with strict local, state, and national safety guidelines at the Dickens Opera House in Longmont from November 13 to 22. There will be four live shows with limited (50 seat per show) attendance.
Boulder Opera's unique production of La Boheme tells the classic, heart-rendering tale of an
intimate group of bohemian artists trying to survive in 1830s Paris — re-imagined to take place
within the COVID-19 era of 2020.
The lives of the poet Rodolfo, his painter best friend, Marcello (along with Marcello's full-time singer/sometime girlfriend, Musetta) up-for-anything musician, Schaunard, and the stuffy-but-loveable philosopher, Colline, change forever when Mimì, a neighboring seamstress, knocks on the door.
Through them we encounter loyalty, humor, forgiveness, passion, tragedy, and love.
All four performances are in collaboration with pianist and Music Director, Steven Aguiló-Arbues,
and feature Phoenix Gayles as Mimi, Nathan Snyde as Rodolfo, Armando Contreras as Marcello
and Daniela Guzman as Museta.
Boulder Opera Stage Director Michael Travis Risner says, "My concept is a modern setting in COVID-era America. Please note this isn't political commentary, simply illustrating the world in which we now live.
"It is my sincere hope that audiences feel safe coming to our venue, having dinner and a drink with us, keeping those masks and hand sanitizer with you, and enjoy the fourth most performed opera in the world."
General admission is $30, students and seniors are $25. You can buy tickets here.
All performances will be complimented by a dining experience at Dickens Opera House in Longmont. It's recommended that attendees arrive early to reserve a table and enjoy Dickens Opera House's excellent American tavern cuisine, beer, and wine. Your meal is not included in the ticket price.
Dinner service and seating begins at 6 p.m. for all performances, with the exception of the Sunday matinee, which begins service/seating at noon.
Here is the full performance schedule:
Friday, November 13, at 7 p.m.
Saturday, November 14, at 7 p.m.
Thursday, November 19, at 7 p.m.
Sunday, November 22, at 1 p.m.
The Dickens Opera House is at 302 Main St., Longmont.