I hate audio books. I will never ever download an audio book. I love the feel and touch of an actual book and physically turning the pages. That was me a few years ago. I dug in my heels and would never budge. Now, 150+ audio books later, I can't get enough of them. (I average about one book a week because I'm on the road so often.)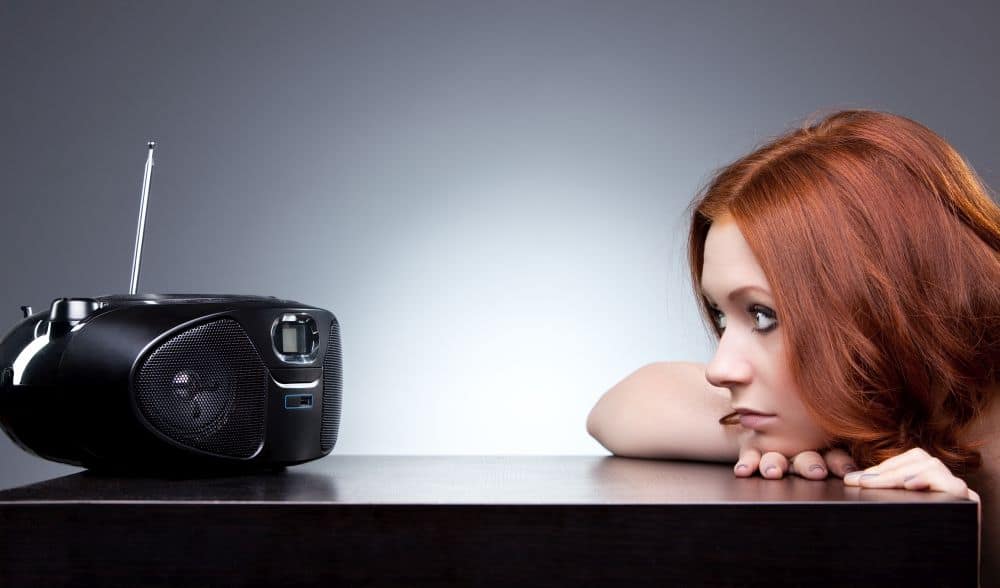 And now's the perfect time to consider audio books, if it's never been on your radar before. (With a wireless speaker, it can easily become a fun family activity. Hello, Harry Potter!) My go-to site is, of course, Audible. There are thousands of titles and so many genres from which to choose.
Here's why I love audio books so much:
Reading Comprehension
I consider myself a book worm — an avid reader since elementary school. However, as I've celebrated more birthdays than I'm willing to admit, I realized that my reading comprehension was not as strong as I had thought.
When reading a physical book, I regularly found myself a few pages in and realizing I didn't even know what I had just read — often going back to re-read sections. It was just too easy to be distracted with my own internal thoughts.
Eventually, I became one of those people with stacks of books on my desk or nightstand that I was "going to read." (I know I'm not alone, right?) I'm talking dozens and dozens of books.
Guess what? I never read them. (They all ended up at a garage sale at the bargain price of just a buck each — a total waste of money.) For me, reading became an activity that required lots of extra time and focus.
With audio books, it's the complete opposite. I find myself more engaged than ever before, easily digesting all of the information. Having the book read to me allows me to focus on the words and, as a result, I feel like I'm fully understanding the information.
Whereas before, I always felt a little lost or confused. Audio books renewed and reinvigorated my love of "books."
Time Saver
Yes, there is something to be said of curling up with a good book on a couch or under the covers. However, for me, audio books became much more convenient because I can listen to them anywhere. It's still comforting to put in my wireless ear buds and lie in bed enjoying a good story. In some ways, it's just as peaceful and relaxing.
But that's not where I listen to most of my audio books. It's in the car. I can play the audio book through the car stereo or sometimes wireless speaker. And, best of all, it's made fighting traffic more bearable and less stressful.
Who cares, if I'm stuck in a traffic jam, I'm enjoying Malcolm Gladwell's latest bestseller. Now, I actually enjoy the chore or running errand because I know there's a great story waiting for me. (I have even been known to sit in my driveway for 10 minutes or so, just so I could finish a rather exciting chapter or section.)
I also find household chores much more enjoyable, while listening to a book. At home, I enjoy audio books through a wireless speaker, headphone or Alexa. It's made folding laundry, cleaning dishes or dusting much more fun. I often get so caught up in the story that I forget I'm scrubbing the toilet.
Everyone Has A Story To Tell
Just as I'm not a fan of super hero movies, I can never get into fictional books or fantasy worlds. My preference, by far, are memoirs and biographies. I can't enough of learning about someone's journey, famous or not. (The celebrity memoirs are fun and interesting, but the story of someone overcoming a challenge or difficult journey has been so much more rewarding.)
I have gleaned so much insight and strength in learning about how others have survived or succeeded. Of course, preference is up to each individual person. I just find non-fictional books much more fascinating, insightful and, often, educational.
In any case, Audible offers a wide variety of books — something for everyone. Maybe one of these days, I will dip my toe back into a fictional story.
Voice of Reason
Okay, this can be either the best part or the worst part of Audible — the narrator.
For me, while the story is important, the narration has equal impact on the enjoyment of a book. I will always prefer audio books read by the author. When it's read by the author, it feels more authentic and has much more emotional gravitas.
This is especially true for memoirs. It becomes much more of an experience because you can feel the emotion behind the words, whether it's joy or sadness.
And I'm not afraid to admit that I've cried more than once while listening — most notably, when you hear someone sharing a breakthrough triumph or deeply tragic story and you can hear their voice catch or tremble. I feel like I'm part of the story. I never thought I'd cry listening to a book by Chelsea Handler, but I did!
On the flip side, many books are read by a professional narrator and most are great. They just lack a touch of that personal connection to the story. The difference here is that each narrator has a unique tone, cadence or pacing that can affect your enjoyment.
Again, most are wonderful and just perfect. However, on occasion, you'll find one that sounds "too robotic" or insincere.
Audible has two remedies for this: First, you can change the rate at which the book is read — you can slow the pace down or speed it up. (Speeding up the rate of speech to 1.25x or 1.5x often works for me.)
If that doesn't work, Audible has a very generous policy of returning or exchanging a book you don't like, no matter the reason. It's one of things I most appreciate audible. I can exchange a title, if I don't enjoy the story, have trouble with the narrator or realize it's not what I expected.
I can usually tell within the first chapter, if I will finish the book. With more than 150 books in my Audible library, I've probably returned about a dozen. Each time, it was simple and easy — no questions asked.
Price Points
Initially, I thought audio books were super expensive — mainly because my only reference were the CD versions. (Yes, I'm old!) Those audio versions were often around $30 to $50 — depending on the length of the book and number of CDs. (I don't think they even exist anymore. Do they?)
Those days of having to switch CDs to listen to the next section are long gone, everything is now digital — much more convenient and reasonable in price. Plus, I don't have a shelves and shelves of books that I have to maintain or clean.
The price of audio books isn't necessarily cheap, but it's reasonable. The longer the book, the more expensive it is. However, Audible has made it much more affordable through its membership services. You can join at different levels and get so many credits applied to your account.
Each credit is worth one audio book and this where the savings are helpful. The credit is good toward any book, regardless of the price. That same credit can be redeemed on a book that's $10 or $30.
Plus, members get 30% off the price of books, when your credits are used up for the month and you want to listen to more books.
This is where I encourage members to use their credits wisely. Take your monthly membership fee and divide by the number of credits you get each month. That's basically what you're paying for each book.
Let's say, it averages out to be about $12 per book. Then, why would you redeem that credit on a book that costs $8? You're losing money. You're better off just paying for that $8 book outright and saving your credit for a more expensive title. Make sense?
Another money-saving tip for members is to purchase the membership gift card for $30 found at most grocery stores at the gift card kiosk. While the gift card is intended to gift someone a three-month membership to Audible (one book a month), it has a different value for existing members.
If you already have an account, the redemption of the gift card simply immediately adds three credits to your account — making each credit just $10. This is usually cheaper than Audible's add-additional-credits-to-your-account rate, which usually equals out to about $12 per credit. Unfortunately, I learned this late in the game and lost several potentially "free credits" because I overpaid for months.
BKC's Bestseller List
As if my opinion has any value or impact (hello, ego!), here are the best 5 audio books I've listened to in the past year:
Know My Name by Chanel Miller
Okay, I loved this book for so many reasons. I don't even know where to begin. It's the best audio book for me, so far — so well-written, well-read and powerful. It's the memoir of the young woman raped by Brock Turner. I appreciated it so much, I even wrote my only review ever on Audible — click here. (It's the second review on the list.)
Life Will Be the Death of Me…And You, Too! by Chelsea Handler
I wasn't a huge fan of the comic and TV show host, but I liked her. However, this memoir changed it all for me — such a raw and honest story about her search for clarity and purpose in her life. Being read by her only makes it that much powerful. This one had me bawling, but in such a good way. I walked away about having more insights about my journey.
Love, Lucy by Lucille Ball
The book is the referred to as the "valentine the TV legend left for her fans — a warm, wise and witty memoir written by Lucy herself." (The manuscript was found years after her death.) It's read by her daughter Lucie Arnaz, so it feels even more personal. You almost feel like you're listening to the comedy legend herself.
Dreyer's English by Benjamin Dreyer
The book offers lessons on punctuation and the rules (and non-rules) of grammar. It's strictly for grammar nerds, grammar police and those who love word play. I wish I could take my red Sharpie everywhere and make edits!
The Beautiful Ones by Prince
I'm a huge Prince fan, so, of course, this is on my list. It's short, but so insightful about one of music's most enigmatic geniuses. I have listened to it multiple times with equal awe, joy and sadness each time.
There are two ways of joining

:

Get one (1) audiobook and two (2) Audible Originals each month for only $14.95 per month — sign-up here.

They also offer multiple month memberships.

Each month includes: Three (3) titles for each month: one (1) audiobook and two (2) Audible Originals and 30% off any additional audiobooks

One month – $15

Three months – $45

Six months – $90

The best value! Twelve months – $150

To join, click here.

Other benefits:
You can listen anywhere, anytime via the Audible app.
Enjoy easy audiobook exchanges.
You have access to Audible book library forever, regardless of membership status.
Love the Tattered Cover?
We also love promoting and supporting local businesses, so here's an option to support our beloved Tattered Cover:
Libro.FM is a service not unlike Audible. However, it's an indie company that markets only through independent bookstores. Every purchase made through Libro.FM, whether a membership or an audiobook, benefits local bookstores.
During the crisis, you can buy a one-month audiobook membership for $15 and all of the proceeds will go to the Tattered Cover.