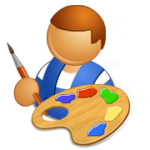 School's out, the weather's cold and the Denver Art Museum is FREE for kids 18 and younger. From Saturday, December 21 through Sunday, January 5, the museum amps up the fun as part of Winter Break. Create-n-Takes, First Light Family Space and more will be available every day. The Museum is closed on Christmas Day.
Stop in whenever the museum is open for hands-on creativity in the Paint Studio with artist demonstrations from noon to 3 p.m. on Saturday and Sunday.
Watch for performances of "Art Emergency: Monet Edition" weekdays during the break (except for December 24 and January 1). This is a fast paced, funny, and insightful look into some of Monet's most famous artworks. Journey through key moments in Monet's life and see how he shook up the art world with his take on color, light, and brushstrokes. Find performance times here.
While the DAM is always FREE for kids, adults general admission varies. All exhibits except "Claude Monet: The Truth of Nature" are included in general admission. The museum is at 13th Avenue between Broadway and Bannock, in downtown. For more information, call 720-865-5000.
More Holiday Fun
Friday, December 1, 2023
Saturday, December 2, 2023
Sunday, December 3, 2023
Monday, December 4, 2023
Tuesday, December 5, 2023
Wednesday, December 6, 2023
Thursday, December 7, 2023