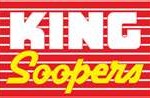 On the first Friday of the month, King Soopers offers a digital coupon for a product at no cost, which you download to your shopper's loyalty card. The Free Friday Download is one of the best ways to try a new product. Plus, it's one of the few grocery freebies out there. Sometimes shelves can be cleared early, especially if it's a popular or high-value item. As a result, you're better off picking up the freebie as soon as possible. King Soopers usually has a display of the month's free item — usually near the entrance or checkout lanes.
Today, Friday, March 6, it's a FREE cup of Yoplait Starburst yogurt (6-oz.)
The digital coupon must be redeemed by March 22.
Here's how it works:
1.) Visit the "Free Friday Download" page on select Fridays.
2.) Download the digital coupon from 1 a.m. Friday through 12:59 a.m. the next day (Saturday) MST.
3.) You have two weeks to redeem the coupon — just pick up the product and the digital coupon will automatically be applied at checkout.
Don't forget to add the item to your weekly grocery list!