There's a new Gift Card in town and it's not for some ginormous national chain. Instead the West Denver Marketplaces Gift Card can be spent at dozens of participating businesses in neighborhoods across West Denver, including retail, food and drink businesses, salons and services. From West Colfax to Florida Avenue and Sheridan to Santa Fe Drive, a diverse range of locally-owned and operated businesses await. Think of it as a great excuse to shop local.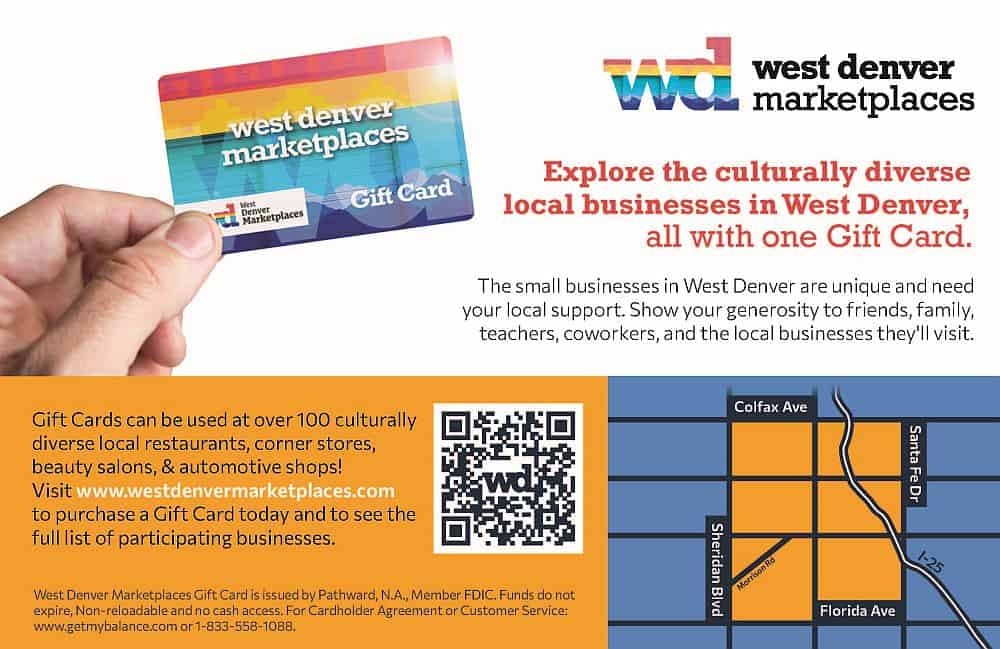 Latina owned bean-to-bar chocolate making company Cultura Chocolate is just one of the many retailers to accept the new card. "The impact of shop local is huge; it sustains the entire community," says its owner Damaris Ronkanen.
"People buy a drinking chocolate, chocolate bar or pastry at our café, or they pick up handmade locally produced earrings, prints and candles at our retail space, and it's more than the product, it's giving local people an income.
"It's helping businesses to employ local staff, and preserving age-old skills and techniques. The gift card will be a route to new customers for small businesses and is a very convenient and easy way to shop local," she says.
West Denver represents a high concentration of skilled makers and small business owners in a culturally diverse area, from craftspeople, chefs and bakers to stylists and mechanics. A lot of these businesses are very small, and rely heavily on local clientele for their survival.
There is lots of interest in keeping dollars local, and the West Denver Marketplaces Gift Card will make that a reality.
Here's how it works:
For now, Gift Cards can be purchased online and will be shipped to you within a few business days. Cards are available at $5 minimum and in $5 increments upward.
A $3 shipping fee is applied at your time of purchase regardless of the amount or quantities of cards purchased.
Preloaded cards also can be purchased in person at the BuCu (Business and Cultural District) West Development Association office (4200 Morrison Road, Unit 3, Denver) on Mondays through Fridays between 9 a.m. and 5 p.m.
In the coming months, preloaded Gift Cards will be found at pop-up markets and events in the area. Check this Events page for where to buy a Gift Card in person.
While the initial Gift Card purchase is at face value, Gift Card shoppers can keep their eye out for specials and deals exclusively for them at participating retailers.
You can also follow West Denver Marketplaces on social media to learn about sales and discounts from participating shops and restaurants.
The West Denver Marketplaces Gift Card is valid for in-person purchases at participating businesses ranging from restaurants and gift stores to auto shops and beauty salons. Click here to see a directory. Because the list is always growing, be sure to check back often.
Here are some of the current participants:
Food & Drink
Boba Chic
Pho 96
El Consome de Morelos
Kahlo's
Raices Brewing Company
Shopping
Little Saigon Supermarket
Drinks Liquor
Contreras Supermarket
Blooming Ideas Florist
Cultura Chocolate
Heath & Beauty
Estilistas Princess
Estetica del Sol
Extravagant Nails Spa
Morena's Beauty Salon
Tina's Estilistas
Automotive
Ruben's Transmissions
Pulidos Mechanics
Gonzales Tires
Guamex Auto Repair
Plus bakeries, ice cream shops, western-wear boutiques, jewelers, taco eateries, pho restaurants, boba tea shops, and more!
The connection between community members and locally-owned businesses is strong. Purchasing a Gift Card fosters social cohesion and promotes economic opportunities for residents by helping them to stay in their original neighborhoods.
A Gift Card also unlocks a new way for recipients to experience this part of town and all it has to offer.
Shop local. Explore new-to-you, small family-owned businesses. Maybe save money. That's what we call a win-win-win!
Buy A West Denver Marketplace Gift Card Here
West Denver Marketplaces Gift Card is issued by Pathward, N.A., Member FDIC. Funds do not expire, Non-reloadable and no cash access. For Cardholder Agreement or Customer Service: www.getmybalance.com or 1-833-558-1088.