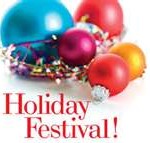 Time to wrap up your holiday shopping at the season markets still running this week. These shows are just the place to find that perfect locally-made, handmade gift. We have an entire page devoted to upcoming holiday craft shows, markets and fairs in the Denver/Boulder area. It includes an interactive map to help you find the ones closest to your shopping flight path. As always, we call out some of our favorite picks:
The Cherry Creek Holiday Market is set up in Cherry Creek North with dozens of vendors selling handmade wares. It will be open through December 24.
Some 40+ artisans have arts and crafts for sale at the Christmas in the Rockies Craft Show at the Aspen Grover Shopping Center in the space next to Kirkland's. The show is open through December 23.
And Next Gallery has gathered the works of 20 artists for a Winter Arts Market. They will be open Friday & Saturday.
Check out our Holiday Craft Shows list for more details (dates, times, entry fees, etc.) on these and other sales. And if you know of any upcoming shows, please email details to info@milehighonthecheap.com and we'll do our best to get them added.