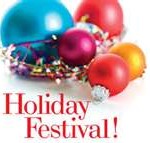 Now things are getting serious. This weekend begins the push for holiday craft shows with more than 25 scheduled. These shows are just the place to find that perfect locally-made, handmade gift. We have an entire page devoted to upcoming holiday craft shows, markets and fairs in the Denver/Boulder area. It includes an interactive map to help you find the ones closest to your shopping flight path. As always, we call out some of our favorite picks:
Ceramics fans wait all year for the Denver Potters Association Holiday Show at Sixth Avenue United Church. It runs Thursday to Sunday.
Some 275+ booths fills two buildings at the Adams County Holiday Craft Bazaar at Adams County Regional Park (the Fairgrounds site) on Saturday.
Bear Creek High School, Chaparral High School, Grandview High School and Academy Charter all have holiday fairs on Saturday.
And, if you are in the mood for a road trip, check out the Georgetown Christmas Market running the next two weekend.
Check out our Holiday Craft Shows list for more details (dates, times, entry fees, etc.) on these and other sales.
And if you know of any upcoming shows, please email details to info@milehighonthecheap.com and we'll do our best to get them added.