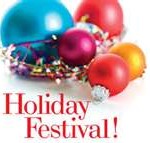 Hooray! Craft shows are back and vendors, many of whom were stuck at home for more than a year, have plenty of stock to sell. A craft show may be just the place to find that perfect locally-made, handmade gift. We have an entire page devoted to upcoming holiday craft shows, markets and fairs in the Denver/Boulder area. It includes an interactive map to help you find the ones closest to your shopping flight path. As always, we call out some of our favorite picks:
More than 100 vendors set up at Family in Christ Church in Westminster for its Holiday Craft Market on October 22 & 23. These are all handcrafted items (no commercial vendors).
If you head up to Estes Park for the end of leaf changing season, check out Treasure Tables Arts & Crafts Sale at the Estes Park Fairgrounds Pavilion on Saturday.
Check out our Holiday Craft Shows list for more details (dates, times, entry fees, etc.) on these and other sales. And if you know of any upcoming shows, please email details to info@milehighonthecheap.com and we'll do our best to get them added.