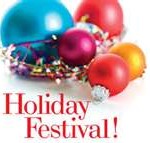 Typically Thanksgiving weekend is slim pickings in the craft show world. But, a number of shows are now taking the opportunity to stand-out by staging fairs that they hope will entice you away from the big malls. We have an entire page devoted to upcoming holiday craft shows, markets and fairs in the Denver/Boulder area. It includes an interactive map to help you find the ones closest to your shopping flight path.
As always, we call out some of our favorite picks: This weekend you'll find the insanely crowded, but always fun Horseshoe Holiday Market at the Highland Masonic Temple. The Friday Night Bazaar (on Friday, of course) lets you shop 80+ food, crafts and fashion vendors. Park Hill Masonic Lodge plays host to the Park Hill Holiday Market. And, Gypsy Farmhouse Holiday Market is at the JeffCo Fairgrounds.
Check out our Holiday Craft Shows list for more details (dates, times, entry fees, etc.) on these and other sales. And if you know of any upcoming shows, please email details to info@milehighonthecheap.com.