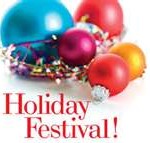 This third weekend in November finds more than two dozen shows where you can find that perfect locally homemade, handmade gift. We have an entire page devoted to upcoming fall and holiday craft shows, markets and fairs in the Denver/Boulder area. It includes an interactive map to help you find the ones closest to your shopping flight path.
As always, we call out some of our favorite picks: In Boulder Firefly Handmade Market sets up shop in the Embassy Suites Hotel and Mollie McGee's Holiday Market returns for a second show at the Boulder County Fairgrounds in Longmont.
More than 100 vendors will be at Christmas in Windsor. The Denver Botanic Gardens Winter Gift Market allows you to shop 50+ artisans but also wander the gardens at no charge. And Rue de Noel – A Paris Street Christmas Market fills the Douglas County Events Center in Castle Rock.
Check out our Holiday Craft Shows list for more details (dates, times, entry fees, etc.) on these and other sales. And if you know of any upcoming shows, please email details to info@milehighonthecheap.com and we'll do our best to get them added.