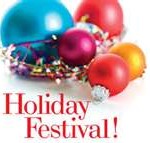 Last call! This is the final weekend for finding that perfect locally homemade, handmade gift at a fair or show. We have an entire page devoted to upcoming holiday craft shows, markets and fairs in the Denver/Boulder area. It includes an interactive map to help you find the ones closest to your shopping flight path.
As always, we call out some of our favorite picks: If you missed the Horseshoe Market over Thankgiving weekend, you get a second chance when 70+ vendors set up the Horseshoe Holiday Market at Belmar. More than 80 vendors are expected at the Firefly Handmade Market in Boulder. Another 100 vendors plan to participate in the Gypsy Farmhouse Holiday Market in Aurora and the Last Chance Gift Fest draws 100+ artisans and crafters to the Boulder County Fairgrounds. And if you still need a few items, National Jewish Health holds a small craft fair on Tuesday, December 19.
Check out our Holiday Craft Shows list for more details (dates, times, entry fees, etc.) on these and other sales. And if you know of any upcoming shows, please email details to info@milehighonthecheap.com.