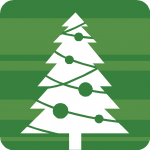 Las Posadas is celebrated in Mexico from December 16 to 24 to commemorate Mary and Joseph's journey from Nazareth to Bethlehem in search of shelter on the night of baby Jesus' birth. The Tesoro Cultural Center and the Christian Life Movement have again partnered to present this traditional event at The Fort Restaurant on Tuesday, December 24 from 4 p.m. to 5:30 p.m.
In addition to a piñata for kids to hit for candy, the public is invited to join in the more solemn candlelight procession, singing the Posadas songs, escorting a live donkey and sheep to the manger in the outdoor courtyard of The Fort.
Following this FREE family-friendly, interactive celebration, the restaurant again serves complimentary biscochitos and hot beverages.
It is an outdoor event, so dress accordingly. The restaurant, a replica of Bent's Old Fort, is at 19192 Hwy. 8, Morrison, 303-839-1671.
More Festive Holiday Fun
Saturday, October 23, 2021
Sunday, October 24, 2021
Friday, October 29, 2021