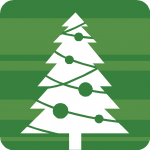 Las Posadas is celebrated in Mexico from December 16 to 24 to commemorate Mary and Joseph's journey from Nazareth to Bethlehem in search of shelter on the night of baby Jesus' birth. The Tesoro Cultural Center, in partnership with The Fraternas, presents a condensed version of this traditional event at The Fort Restaurant on Saturday, December 24, 2022, from 4 p.m. to 5:30 p.m.
Children are invited to participate in a reenactment of the biblical scene. Musicians play Los Posadas songs. Kids can strike a seven-point piñata for candy.
Following this FREE family-friendly, interactive celebration, the restaurant again serves complimentary hot cider, Mexican hot chocolate and biscochito cookies.
It is an outdoor event, so dress accordingly. The restaurant, a replica of Bent's Old Fort, is at 19192 Hwy. 8, Morrison, 303-839-1671.
More Festive Holiday Fun